---
Hurricane Season Could Pummel American Supply Chains
By Craig Fuller of FreightWaves
No one wants a hurricane to make landfall. Among nature's most damaging events, hurricanes that hit land in the United States usually cause death, destruction and misery. They can also cause havoc to supply chains. 
In 2005, Hurricane Katrina was a 100,000-truckload event, requiring one of the largest relief and recovery supply deployments in U.S. history. In 2017, Hurricane Harvey prompted one of the greatest truck capacity crunches in recent history. 
Hurricane Lee could cause massive supply chain disruptions if it lands in the United States
Hurricane Lee, which strengthened from a tropical storm to a hurricane on Wednesday, will likely become a major hurricane by Friday and a Category 4 hurricane with winds up to 150 mph by Saturday.
Lee is now in the Atlantic Ocean well east of any land. But the National Oceanic and Atmospheric Administration (NOAA) expects Lee to intensify quickly and become an extremely dangerous major hurricane. At this time, it is too early to know if Lee will hit any of the major Caribbean islands or the United States.
However, if Lee — or any major hurricane — did make landfall near a major city, it could cause massive capacity disruptions for U.S. shippers just prior to the peak season run-up.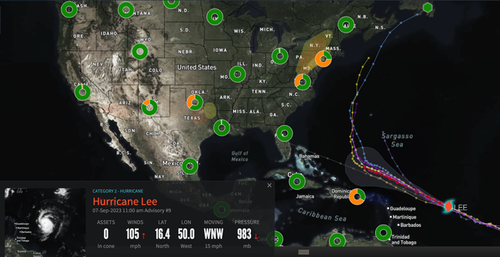 If a major hurricane is forecast to make landfall, the Federal Emergency Management Agency (FEMA) and state-level agencies will soak up every available truck in the market for relief activities. 
Shippers will face much higher freight rates. Shippers would be wise to lock in secure commitments (even at higher contract rates) for a potentially chaotic fourth quarter. At worst, they may be left without trucks to haul goods.
Hurricanes create massive demand surges. Rates that shippers locked in to carriers anticipating a slow second half may not work in a tight capacity environment. Many carriers will chase the higher-paying FEMA freight, often ditching shippers that they view as cheap or undesirable.
For shippers unsure about what to pay in the market, they could resort to high-frequency freight rate benchmarking tools, such as SONAR, or the implementation of index-linked contracts. 
Impact on infrastructure
Depending on where a hurricane hits and its subsequent path over land, a variety of infrastructure can be impacted. Seaports in the path of a hurricane close and may take time to reopen, particularly if there is any damage. The same is true for airports, rail yards and track and certainly bridges and highways. 
Some hurricanes have done significant damage to key infrastructure, while others have done very little damage. 
Regardless, these storms usually impact key parts of a state's or region's infrastructure, if only in the sense of delays. Supply chains break down because of hurricanes; sometimes they are back up and running quickly, while at other times they can be subject to significant delays. 
Hurricane relief efforts
Years before founding FreightWaves, I ran Xpress Direct from 2002 to 2005. Xpress Direct was the on-demand emergency unit of U.S. Xpress. Over the course of four years dealing with hurricane activity, Xpress Direct handled in excess of 20,000 shipments and billed over $100 million in revenue in disaster-relief loads alone.
Hurricane-relief loads offer an opportunity for trucking companies to demonstrate to the public how critical trucking is, regardless of how challenging a mission might be. 
Hurricane relief is the biggest dog-and-pony show you will ever see in trucking. But there is a certain satisfaction in being able to help people who are suffering.
FreightWaves' ongoing coverage
Since FreightWaves.com went online in 2017, it has covered the impact to the nation's transportation and supply chain of all the hurricanes that have hit the United States. 
FreightWaves will cover Hurricane Lee's path, preparations to deal with it and more — and will continue to do so through any major relief efforts. FreightWaves will do so for any and all natural disasters that strike the nation.
Loading...