---
More Than Half Of Small Businesses Believe The US Is Already In Recession
Sorry economic miracle that is "Bidenomics" but the people just don't buy it.
According to the latest NFIB survey released on Monday, more than half of US small business owners believe the economy is already in a recession, marking a slight decrease between July and April, despite most firms reporting their own financial condition was strong, a
The survey conducted in July from the National Federation of Independent Business focused mainly on small businesses' views on the state of banking and their credit needs, and also showed small businesses are less worried about the health of their bank than they were in the immediate aftermath of this spring's bank failures, including that of Silicon Valley Bank (it won't take much for this to quickly reverse).
When it comes to the national economy, over half (58%) of owners assessed the national economy as poor, only 1% reported excellent, 9% reported good, and 32% reported okay. As for when the U.S. economy will enter the next recession, 52% of small businesses already think the U.S. is already in a recession. Two percent think the next recession will start in the July-September period, 17% believe a recession will occur in the October-December period, 20% reported the January-June 2024 period, and 10% reported July 2024 or later.
Expectations for an imminent recession abound despite the generously "seasonally adjusted" and "birth-death" signs that the economy could avoid a downturn. Unfortunately, as discussed extensively, much of this sugar high is on the back of a massive "war-time equivalent" deficit spending binge, which may have boosted economic strength now but will lead to dire debt consequences in as little as one quarter, when the total interest on US debt is expected to surpass $1 trillion annualized.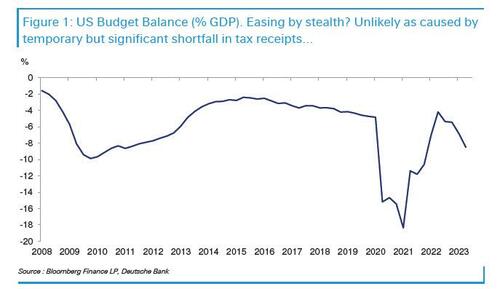 While the majority expects a recession, there was a silver lining: businesses see their own financial condition as strong and their local economies relatively healthy.
For instance, more than two-thirds of all firms said that the financial state of business was "excellent" or "good," a slight decline since April, but still strong as consumer spending continues to surpass expectations, and expectations for third-quarter gross domestic product growth continues to get revised upwards. On top of that, 80% of firms reported that the local economy was at least "okay."
Optimism about the banking sector improved as well, recovering from the second-biggest U.S. banking collapse on record in March, as over half of all owners were not at all concerned about the health of their bank, an increase from 31% in April. There was heightened concern among small businesses at the outset of the collapse since 80% of all small businesses use a small, mid-sized or regional bank for financial needs.
Much more worrisome is the chokehold on small business delivered by the highest interest rates in 4 decades:
Over half (58%) of small business owners who borrowed or tried to borrow reported high interest rates as their largest complaint in accessing financing.
Fourteen percent of owners reported the amount of credit approved being too low as their largest complaint, and another 9% reported that the application, approval, or closing process was too slow.
Seven percent of owners reported too much paperwork, 6% reported that the repayment schedule was too short, and 3% reported collateral requirement was too big.
Additionally, 40% of owners reported that interest rates were a significant issue. Twenty-three percent reported it was a moderate issue and 13% said it was a mild issue.
Regarding collateral requirements, 16% reported it was a significant issue in the process of accessing credit and another 16% reported it as a moderate issue. Fourteen percent reported it was a mild issue and 55% reported it was not an issue.
Six percent of owners reported that the repayment schedule was a significant issue, 15% a moderate issue, and 12% a mild issue. Sixty-eight percent of small business owners reported that the repayment schedule was not an issue.
Thirteen percent reported that the paperwork requirements associated with accessing financing were a significant issue. Fifty-eight percent reported it was not an issue.
The amount of approved credit was not an issue for 62% of owners. The application, approval, or closing process was not an issue for 60% of respondents.
More in the full NFIB note here.
Loading...