---
Shocking Drop In Auto Loans Results In Weakest Consumer Credit Print Since 2020
Last month, when both revolving credit (i.e., credit card debt) and interest charged on credit cards hit a record high, we said that this trajectory was unsustainable and it was only a matter of time before the debt-funded US consumer hit a brick wall. One month later, the brick wall is finally here, because according to the Fed's just released consumer credit report, in May US consumer credit grew by a paltry $7.24BN, down more than 50% from the downward revised $20.3BN in April...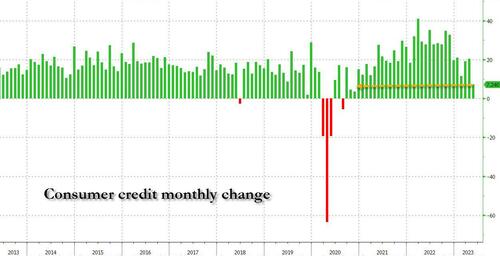 .... and a huge miss to the consensus forecast of $20 billion. In fact, this was the 4th miss in the past 6 months.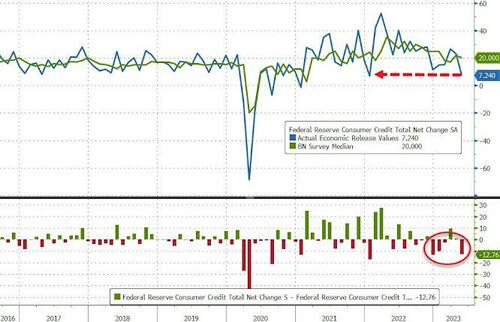 This was the lowest monthly increase in consumer credit since Nov 2020, and for an economy that - like the US - is entirely reliant on constant credit growth, a semi-stagnant print such as this one is tantamount to contraction.
However, while one may think that after several months of near-record increases in revolving credit we would finally see a drop in this series, that was not the case; in fact, in May revolving credit rose by a respectable $8.5 billion.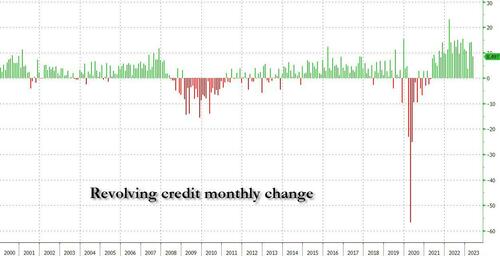 The shocker was in the non-revolving segment, also known as student and auto loans, and which unexpectedly dropped by $1.3 billion. This is a shocker because while the monthly change in revolving credit can fluctuate significantly month to month, the non-revolving credit increase has historically been a consistent $10+ billion. Only in the past 6 months, that has not been the case, and as shown below, we have seen a sharp drop in in the monthly increase in non-revolving credit, which after 5 months of drops finally printed negative to the tune of -$1.26 billion, the first negative print since April 2020!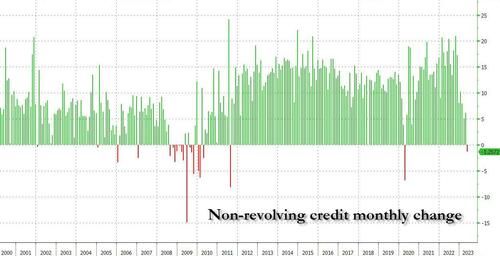 While we don't know whether this decline was driven by a reversal in student or auto loans - the Fed publishes that data quarterly and the next month we will get the Q2 update - it is safe to assume that at a time when student loans are still in forbearance if only for a few more weeks, and nobody has any qualms about taking out more debt they don't have to repay, the driver behind the slowdown is auto loans, which is hardly a shock with the rate on new 60 month car loans approaching the highest on record at 7.81%, just a fair below the all time high of 7.82% hit in Q3 2006.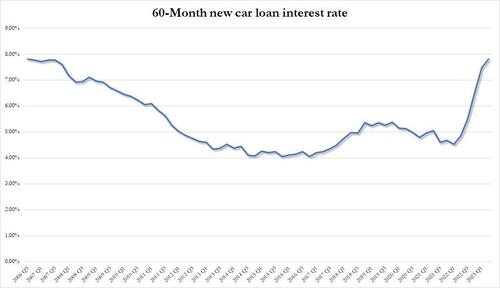 And with non-revolving credit now shrinking, the final straw will be the reversal in (record) credit card debt. With credit card interest rates also at a record 22.16%...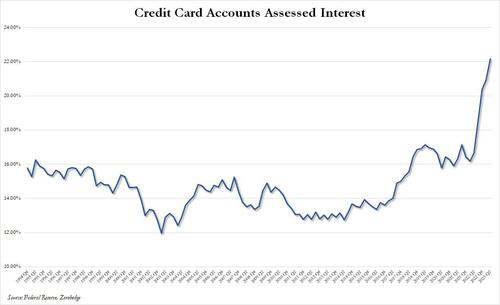 ... we won't have long to wait.
Loading...