---
"They Are Lying Every Day": Backlash As China Stops Releasing Data On Soaring Youth Unemployment
As we reported in July, China's youth unemployment in prior months reached new record highs against a backdrop of disappointing second quarter GDP growth. China's jobless rate for 16-to-24-year-olds surpassed 20% in June for the first time (at 21.3%, compare this to 12% just before the pandemic), with the next round of data out this week showing the official national figures had risen to 5.3% in July.
But now it seems in classic CCP fashion the "solution" is to simply make these troublesome figures disappear. 
And so, the overseers of the world's second-largest economy are taking firm steps to do more to shore up confidence the only way they know how - Beijing will now stop releasing youth unemployment figures altogether.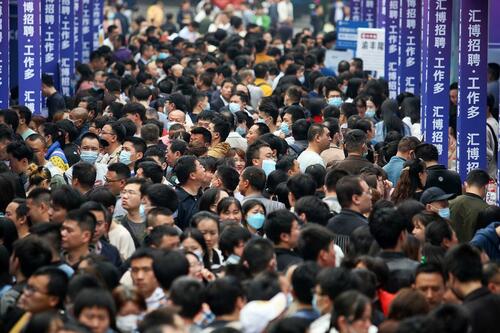 A government spokesman confirmed the decision Tuesday, vaguely alluding to a "generally stable" employment situation among recent college graduates. Fu Linghui of the National Bureau of Statistics claimed that withholding the data going forward is a matter of refining the way unemployment figures are calculated.
"The economy and society are constantly developing and changing. Statistical work needs continuous improvement," the spokesman stated.
The decision appears to confirm the very thing Beijing authorities are the most concerned about, and it's been met with swift backlash online, at a moment China's post-pandemic economic recovery is obviously slowing, and amid growing concerns over the crisis-hit property market. 
"They are lying every day," 24-year old Cassie Sun, who is unemployed, said to NBC.
One commenter on Weibo complained, "The National Bureau of Statistics is being capricious," and added:
"The unemployment rate is an important indicator of national economic development and should not be arbitrarily decided whether to release or not. The public has the right to know the truth."
"As long as I don't announce it, then nobody is unemployed," another poster said. If only...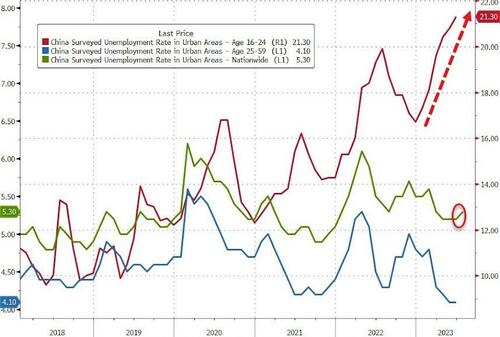 Problematically, the youth population is an important driver for overall consumption: the 15-24 year-old group accounted for 17% of total consumption (2010 data, based on household surveys and academic research). This age group tends to spend more on culture and education, residence (for example paying rents), transportation and communication.
Compounding the emerging unemployment crisis is, as FT notes, the news that China has officially fallen into deflation:
"Deflation is feared because declining prices persuade people to defer purchases, cooling the consumer vigor that Beijing has been trusting to propel a recovery from the pandemic," the outlet observes.
Concerning unemployment, if there is one thing Beijing wants no part of, it is tens of millions of young Chinese sitting idle, doing and earning nothing as they watch their big city pals sport the latest gadget du jour, and getting angry - if not regime changey - thoughts.
FT presents an example of how President Xi's dominant "comprehensive national security" emphasis is weighing heavy on the young, adding to the uncertainty...
The concerns of Wang Ning (not his real name), who works for a technology consultancy in Beijing, help demonstrate the way in which worries over China's political direction are crimping people's desire to spend. Even though he earns an above-average salary of Rmb35,000 a month, Wang has begun imposing spending quotas on himself, arranged by specific categories.

Dining out, for instance, is limited to Rmb1,000 a week while spending on clothes and other items is similarly subject to fiscal discipline. The reasons for his austerity are a mix of big picture geopolitics and job market insecurity. Like many big city dwellers these days, his long-held belief in a better tomorrow has been undermined by what he sees as Beijing's preoccupation with national security at the expense of generating GDP growth.

"I save as much as I can to prepare for black swan events like an invasion of Taiwan or a collapse in real estate markets," Wang says. Speculation over whether and when China might seek to attack Taiwan — which it regards as its own territory — has become a feature of private conversations in large cities, with 2027 often cited as a likely date.
Meanwhile, the government has given no timeline on this temporary suspension on publishing youth joblessness data.
This is China.

A country with an economy so bad (and getting worse by the day) and a government so oppressive (and getting worse by the day) that the best it can do for its economy is to prohibit talking about it.

This is China. https://t.co/KRjTwye4IV

— Dan Harris (@danharris) August 15, 2023
What we can be sure of though, is that the censors are busy clamping down on those Chinese citizens brave enough to vent their anger and frustration online.
Of course, this kind of censorship is nothing new, as the FT reports, Chinese authorities are (again) putting pressure on, which is a polite way of saying barring, prominent local economists to "avoid discussing negative trends such as deflation, as concerns mount about Beijing's ability to boost a flagging recovery in the world's second-biggest economy."
Finally, although a little tongue in cheek, we did offer a 'solution' to China's youth unemployment crisis.
Commodore Research notes that "it is becoming increasingly uncomfortable that the world's concerns of a coming war in Taiwan are intensifying at the very same time that China's youth unemployment is surging."
And while caveating its prediction, the firm cautions that "the record level of China's youth unemployment, concerns over Taiwan, and countless Ukrainian and Russian youth already engaged in a European land war all continue to weigh heavily on our mind."
Loading...