---
Truckers Are Accepting Rates 15-25% Below Their Costs
Authored by Mike Shedlock via MishTalk.com,
A friend of mine in the shipping business has comments on a trucking article he sent. Let's tune in...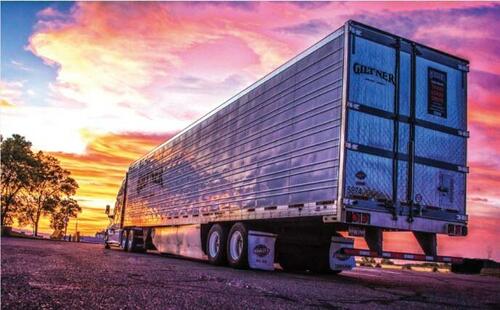 Truck image courtesy of Produce News
Truck Rates Abysmal, But Some lanes Active
Produce News reports Truck Rates Abysmal, But Some lanes Active
Two transportation brokers report that truck rates are extremely low without a lot of hope of overall improvement on the horizon. On the other hand, a San Joaquin Valley grape shipper said his rates have been climbing as he recently secured a load to Texas that was about 15 percent higher in mid-August than it was earlier in the month.

"Trucking is not a way to get rich right now," said Mark Durfee, general manager of Giltner Logistics, based in Twin Falls, ID. "There are no earth-shattering rates out there. Oregon, Washington, Idaho and Utah are soft. The Southeast is soft. The Midwest is soft. You tell your California grape shipper to give me a call. I'll find him a truck."

Durfee added that "Southern California and Arizona are just wastelands right now if you are on the spot market. The rates are horrible."

Yet Jared Lane, CEO of Grapeco Farms, based in Delano, CA, insists his rates have been climbing and as California grape shipments are expected to continue to increase for at least another month. He said truckers have the upper hand. "The rates are not as high as they were a couple of years ago, but they are increasing. The rate (to his Texas buyer) was $4,600 last week and this week it was $5,200," he said on Aug. 16.

"Both statements can be true," said John Stenderup, vice president of sales and marketing for Vektor Logistics, based in Monterey, CA. "This market is so incredibly depressed right now. We're getting winter rates in the middle of summer, but there are still some lanes that can demand a higher rate."

"The temperature-controlled space, which includes produce haulers, only represents about 15 percent of the overall (transportation) market," Stenderup said. "Produce haulers have always been pretty resilient. There is a lot of seasonality in the produce space with truckers having to go in and out of the market as their normal traffic pattern."

Consequently, he said these independent owner-operators tend to keep a watchful eye on their own costs and don't get overextended. He expects they will be there when the market goes up.

"It's not a matter of if, but when," Stenderup said. "There will be an upcycle. "Right now, truckers are taking rates 15 to 25 percent below their costs. That can't last forever. Rates will climb again and be in the $3 to $4 per mile range."
Anecdotes From a Shipping Contact
Brad, who sent me the above article, offered his observations.
Normally it takes us 4-5 days to book a truck for direct shipments. Right now we're able to get a truck within 24 hours. A couple weeks ago we had one in one hour, a full trucks, not LTL (Less Than Truckload).

Prices are down now 25-35 percent from a year ago or so. Prices are up a bit the last few weeks, mostly from Yellow/Holland shuttering.

RV trailers are also in the basement.
My contact friend ships liquid consumable chemicals to greenhouse and nursery operations for water treatment.
There will be an increase in shipping but will that happen before an industry shakedown with a huge number of bankruptcies? Before a full blown recession?
What will increase the demand for goods with housing in the gutter?
Existing-Home Sales Dip 2.2 Percent in July, Down 16 of Last 18 Months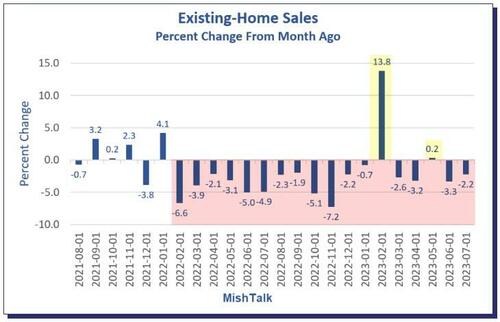 Existing-home sales data from the NAR via St. Louis Fed
Existing Home Sales Long Term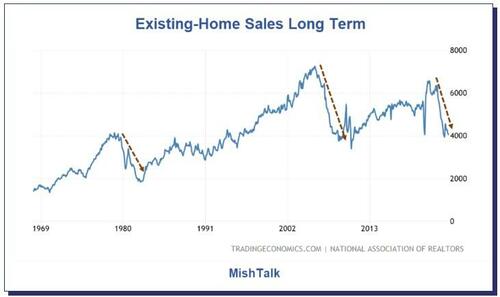 Existing-home sales chart courtesy of Trading Economics.
On August 22, I noted Existing-Home Sales Dip 2.2 Percent in July, Down 16 of Last 18 Months
Transaction Crash

Existing home sales have crashed to a level seen in the mid 1990s. Prices have not crashed but transactions have. Crashes are rare, but we are in one now, from a transaction perspective.
Many people on Twitter tell me there is no housing crash. The above chart proves otherwise. What they really mean is there is no housing price crash.
In many ways, a transaction crash alone is worse.
On a full blown price crash, the Fed would be more prone to cut rates. Instead, interest rates are more likely to stay high, perhaps even rise.
If people are not buying houses, they are not buying as much furniture, landscaping, paint, appliances, cabinets, and lawn mowers, etc., to the same extent if housing was strong.
This means truckers are not shipping as much goods as they would be otherwise.
As long as housing is in the gutter, demand for goods and services related to housing will remain in the gutter and so will demand for shipping those items.
Loading...