---
US Durable Goods Orders Crashed By Most Since COVID In July
After the dramatic surge (biggest in 3 years) in durable goods orders in June (thanks to a massive spike in non-defense aircraft new orders), expectations were for a just as sizable correction (down 4.0% MoM) in preliminary July data released this morning.
It was worse - US durable goods orders tumbled 5.2% MoM in July preliminary data, the biggest drop since COVID lockdowns...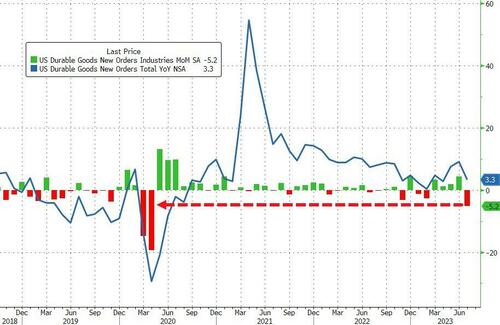 Source: Bloomberg
The driver of the big gains in June and big plunge in July was non-defense aircraft orders...
Source: Bloomberg
Also we see defense aircraft orders also fell (buy some F-16s for Ukraine?)
Which is why Durables Ex-Trans rose 0.5% MoM (better than the 0.2% expectation)
Finally, we note that the value of core capital goods orders, a proxy for investment in equipment that excludes aircraft and military hardware, increased 0.1% last month after a revised 0.4% decline in June
A noisy time series to say the least but we do note that this is nominal prices.
Loading...