---
US Leading Indicators Tumble For 16th Straight Month, Signals "Economic Activity Like To Decelerate"
The Conference Board's Leading Economic Indicators (LEI) continued its decline in July, dropping 0.4% MoM (as expected).
The biggest positive contributor to the leading index was stock prices at 0.15

The biggest negative contributor was ISM New Orders at -0.18
This is the 16th straight monthly decline in the LEI (and 17th month of 18) -  the longest streak of declines since 'Lehman' (22 straight months of declines from June 2007 to April 2008)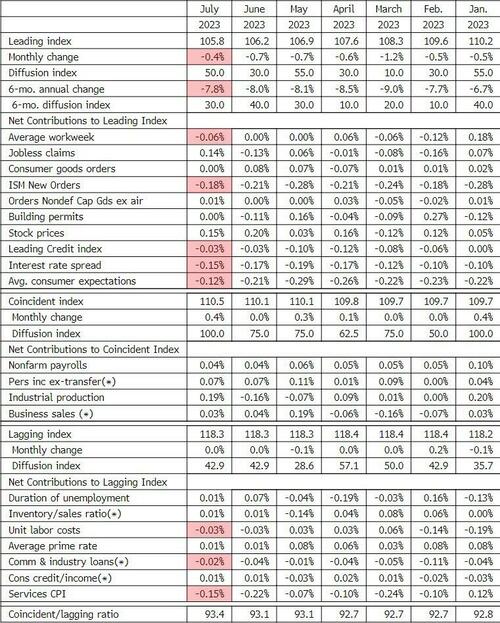 "The US LEI - which tracks where the economy is heading - fell for the sixteenth consecutive month in July, signaling the outlook remains highly uncertain" said Justyna Zabinska-La Monica, Senior Manager, Business Cycle Indicators, at The Conference Board.
"On the other hand, the coincident index (CEI) - which tracks where economic activity stands right now - has continued to grow slowly but inconsistently, with three of the past six months not changing and the rest increasing. As such, the CEI is signaling that we are currently still in a favorable growth environment.

However, in July, weak new orders, high interest rates, a dip in consumer perceptions of the outlook for business conditions, and decreasing hours worked in manufacturing fueled the leading indicator's 0.4 percent decline.

The leading index continues to suggest that economic activity is likely to decelerate and descend into mild contraction in the months ahead."
Despite 'soft landing' hype, the LEI is showing no signs at all of 'recovering', hitting its lowest since Sept 2017 (outside of COVID)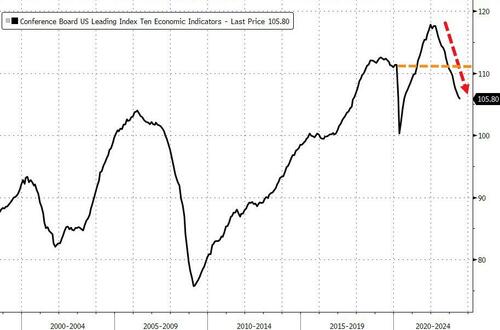 And on a year-over-year basis, the LEI is down 7.5% - close to its biggest YoY drop since 2008 (Lehman) outside of the COVID lockdown-enforced collapse...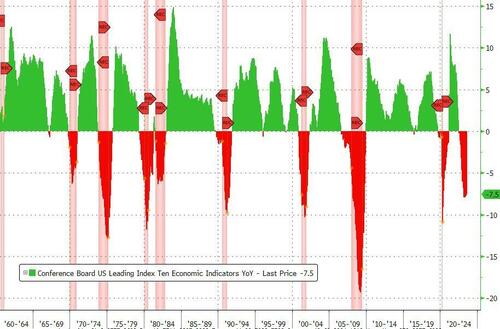 Not a good sign for Real GDP. (The annual growth rate of the LEI remained negative, confirming weaker economic activity ahead)...
The trajectory of the US LEI continues to signal a recession over the next 12 months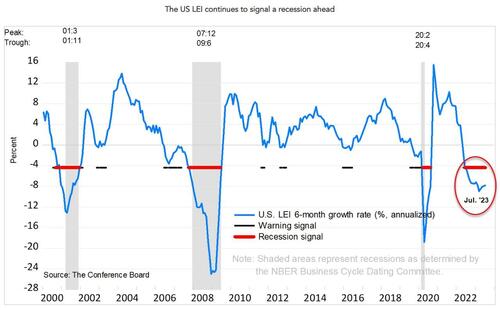 The Conference Board now forecasts a short and shallow recession in the Q4 2023 to Q1 2024 timespan.
Is this the cleanest view of The Fed's tightening impact on the US economy? Certainly doesn't look like a 'soft' landing.
Loading...