---
US PMIs Signal Stagflation: Service-Sector Slump, Price-Pressures Mount
After Europe's (and UK's) disastrous PMIs this morning - showing stagflationary threats rearing their really ugly head - hopes were for some stability in US PMIs... but there wasn't as the flash August print missed across the baord:
Mfg PMI 47.0 Miss, Exp. 49.0, Last 49.0 - 6mo low

Services PMI 51.0 Miss, Exp. 52.2, Last 52.3 - 2mo low

Composite 50.4 Miss, Exp. 51.4, Last 52.0 - 6mo low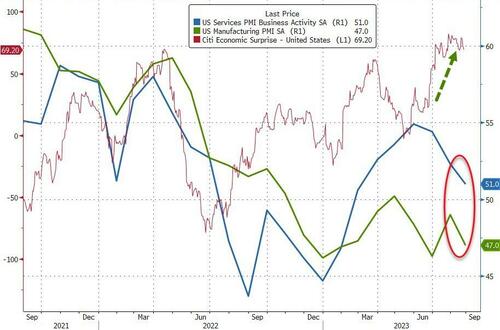 Source: Bloomberg
7 of the last 8 month have now been in contraction for Manufacturing and Services dropped to its weakest since June, catching down to Manufacturing.
Commenting on the data, Chris Williamson, Chief Business Economist at S&P Global Market Intelligence said:
"A near-stalling of business activity in August raises doubts over the strength of US economic growth in the third quarter. The survey shows that the service sector-led acceleration of growth in the second quarter has faded, accompanied by a further fall in factory output.
"Companies report that demand is looking increasingly lethargic in the face of high prices and rising interest rates. A resultant fall in new orders received by firms in August could tip output into contraction in September as firms adjust operating capacity in line with the deteriorating demand environment. Hiring could likewise soon turn into job shedding in the coming months after a near-stagnation of employment in August.

"Rising wage pressures as well as increased energy prices have meanwhile pushed input cost inflation higher, which will raise concerns over the stickiness of consumer price inflation in the months ahead. One upside is that weak demand is starting to limit pricing power, which should help keep a lid on inflation around the 3% mark."
Is bad news, good news again?
Loading...