---
Biden Admin Reduces Savings Estimate For Americans Switching Away From Gas Stoves: Industry Group
Authored by Naveen Athrapully via The Epoch Times (emphasis ours),
The U.S. Department of Energy (DOE) is receiving criticism for its updated data analysis regarding the agency's proposed regulations on gas stoves, which now projects even lower savings for consumers than the already meager numbers.
The new data shows that "savings are even less than DOE originally projected and are almost negligible," the industry group Association of Home Appliance Manufacturers (AHAM) said about the changes in an Aug. 3 press release. "DOE's original proposal was to save consumers 13 cents per month in utility costs over the life of gas cooking products. The revised data reduces consumer savings to just 9 cents per month," it pointed out.
"The changes in energy savings projected by DOE primarily result from DOE recognizing that the currently available cooking products are more efficient than its earlier analysis assumed."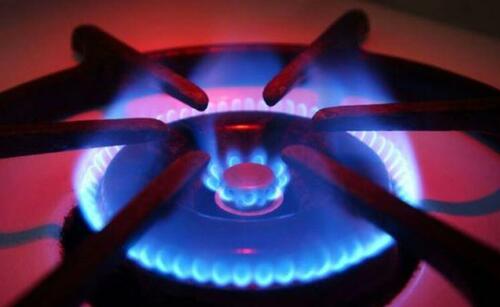 At 9 cents a month, the projected savings will come to just $1.08 per year. Over a decade, that amounts to $10.80 in savings.
The department proposed new energy efficiency standards for gas stoves back in February. In a March 14 opinion piece at Washington Examiner, Rep. Debbie Lesko (R-Ariz.) warned that stringent energy performance standards would mean that 96 percent of conventional gas stoves could potentially be eliminated from the market.
"In fact, it is essentially an outright ban on gas stoves," she said.
Ms. Lesko also highlighted the meager savings resulting from the new standards, arguing that people will not be willing to trade "such substantially decreased functionality and features for minuscule savings."
In its comments submitted to the energy department, AHAM pointed out that many consumer features on gas stoves, like simmer burners and high-input rate burners, must be protected if the department was to implement its energy efficiency proposal.
However, the DOE has "still has not made any changes" to the proposed standards, it said, according to the release.
"This means consumers could still lose access to features and many currently available gas cooking appliance models—in exchange for saving only pennies each month."
Countering Through Legislation
In order to counter the Biden admin's push to restrict gas stoves, a bipartisan group of lawmakers introduced the "Save Our Gas Stoves" Act in the Senate in June
The Act explicitly prohibits the DOE from implementing the energy efficiency standards for gas stoves proposed in February or any similar rule.
"This bill places limits on energy conservation standards for kitchen ranges or ovens under the Energy Policy and Conservation Act. The Department of Energy (DOE) may not prescribe or amend energy conservation standards for kitchen ranges or ovens if they would result in the unavailability of a product on account of the type of fuel the range or oven uses," according to the bill summary.
The legislation was introduced in the Senate by Senator Joe Manchin (D-W.Va.), Chairman of the U.S. Senate Energy and Natural Resources Committee. In the House, Rep. Lesko introduced the companion legislation. It passed the House by a vote of 249-181.
"The federal government has no business telling Americans how to cook their dinner," said Mr. Manchin, according to a June 14 press release.
"I am proud to support this legislation that would help ensure this Administration doesn't eliminate consumer choice and make life even more expensive for the hard-working men and women of this country."
AHAM has backed the Save Our Gas Stoves Act. "Americans, 40 percent of whom live in homes that cook with gas, do not want to give up multiple large burners or spend a full day per year just waiting for water to boil, both of which would be a reality for gas cooking appliances if the DOE's proposal were to take effect," it said in a June 14 press release.
"The DOE's proposal is a major setback for innovation and offers only negligible energy savings in return."
The Epoch Times has reached out to the DOE for comment.
Expensive Transition
During a July 18 hearing of the Subcommittee on Economic Growth, Energy Policy, and Regulatory Affairs, several Republicans argued that DOE proposed rules on gas stove efficiency standards would be burdensome and costly for American citizens, especially low-income groups.
In a May 24 testimony (pdf) to the House Committee on Oversight and Accountability, Matthew J. Agen from the American Gas Association (AGA) highlighted the cost efficiency of gas to everyday Americans.
"Households that use natural gas for heating, cooking, and clothes drying save an average of $1,068 per year compared to homes using electricity for those applications. In fact, the low cost of natural gas has saved families a total of $147 billion over 10 years."
Gas stoves aren't the only fossil-fuel-powered appliance that the Biden administration is targeting. In June, the DOE proposed regulations on gas-powered home furnaces to make them more energy efficient, a decision that could potentially limit consumer choice.
In July, the U.S. Consumer Product Safety Commission (CPSC) proposed a policy that would remove almost all existing portable gas generators from the market.
The new rule restricts the amount of carbon monoxide that generators can emit by forcing these generators to switch off when they reach a certain level of emissions.
Smaller gas generators would have to cut carbon monoxide emissions by 50 percent, and larger generators would have to cut emissions by up to 95 percent. Nearly all models currently available are expected to not be in compliance with the new standard.
Loading...