---
Gasoline: The Price Rally That Nobody Saw Coming
Authored by Charles Kennedy via OilPrice.com,
Gasoline prices have gained around 20% year-to-date.

This week, gasoline topped $2.90 per gallon and may yet reach $3.

In the United States, gasoline inventories are lower than the five-year average both because of the gap between demand and production rates but also because of unplanned refinery outages.
The direction of oil prices is top news material. Everyone follows oil prices. Many also follow the prices of the most traded oil derivatives, and some may have noticed something rather alarming in the trend of one of these derivatives.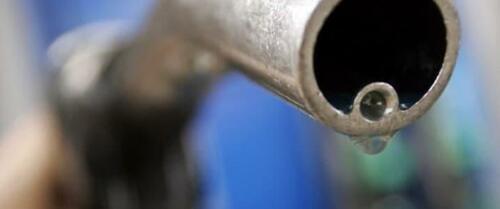 Gasoline, one of the six most traded petroleum contracts on the global futures market, has gained over 20% in the year to date, according to a recent Bloomberg report. This is more than what crude oil has gained—a lot more.
At the start of this year, Brent crude was trading around $78 per barrel. This week, the international benchmark, which now also includes a U.S. crude grade, touched $83 per barrel.
Gasoline, meanwhile, started the year at less than $2.50 per gallon. This week, gasoline topped $2.90 per gallon and may yet reach $3.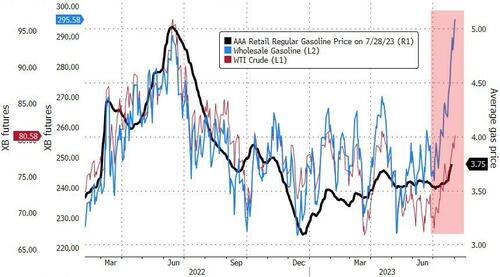 This is a cause for worry for governments around the world because gasoline, along with diesel, plays a lead role when it comes to inflation. When the price of fuels rises, the prices of everything else rises, too, because everything else is being moved from one place to another—from producer to consumer—on vehicles using either diesel or gasoline.
Yet while diesel is a lot more common for goods transportation, gasoline is a lot more popular among regular drivers. Gasoline demand is a closely watched economic indicator that analysts use to gain insight into the state of the economy, among many others.
Right now, the data suggests that gasoline demand is quite healthy, which could be cause for optimism about the global economy were it not for the fact that supply is falling short of expectations. This is fueling concern about more inflation pain despite the efforts of central banks in Europe and North America to tame it with a series of rate hikes.
In the United States, the Federal Reserve announced yet another hike of 25 percentage points for the benchmark interest rate this week. In the same week, gasoline prices moved higher, with the national average adding 4% in a single day. According to the EIA, gasoline stocks are some 7% below the five-year average for this time of the year. And oil drillers are not drilling more. They are drilling less.
In Europe, governments had to step in last year and subsidize fuels amid the energy crunch and the following embargo on Russian crude and fuels. The move drew a lot of criticism from transition advocates who argued the EU is essentially selling out to the oil and gas industry by encouraging the use of its products.
Yet those governments that implemented the subsidies knew very well what they were doing: they were avoiding riots by millions of drivers whose living standard depends quite a lot on affordable fuels.
Meanwhile, the European Central Bank just hiked interest rates to the highest in more than two decades. And gasoline is not going down anytime soon. Because there is simply not enough supply, at least not everywhere.
In the United States, gasoline inventories are lower than the five-year average both because of the gap between demand and production rates but also because of unplanned refinery outages, Bloomberg noted in its report, such as the one at Exxon's Baton Rouge facility from earlier this week. In fact, for this time of year, gasoline inventories are the lowest since 2015...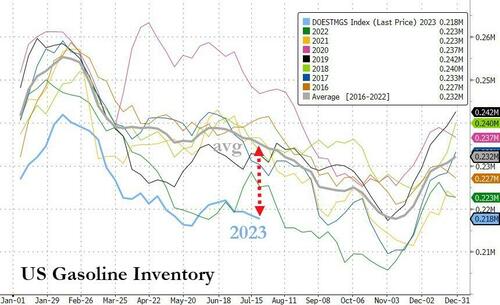 Media reported that a gasoline production unit was down at the Baton Rouge refinery earlier this week. The reports noted that the unit, a catalytic converter, could be down for several weeks. Needless to say, gasoline prices jumped lively at the news.
In Europe, refining and gasoline production has been disrupted by protests in France and then, last month, Shell's Pernis refinery in the Netherlands shut down a unit due to a leak.
That and the shutdown of refineries in the past few years on both sides of the Atlantic have combined to create a tight supply picture even as governments consider bans for gasoline-powered cars.
While they consider these bans and even vote on them, consumption is on the increase. Bloomberg reports that gasoline consumption in France, Germany, Spain, and Italy is on the rise. At the same time, because of the embargo on Russian fuels, feedstocks needed to produce gasoline are in short supply on the continent.
Meanwhile, Chinese refiners are producing millions of barrels of gasoline and diesel. They are, in fact, producing so much that there were recently pressuring refining margins for the whole region. But most of the gasoline and diesel that Chinese refiners produce gets consumed locally. Because although it's the world's biggest EV market, China is also a giant non-EV market. And fuel demand is on the rise.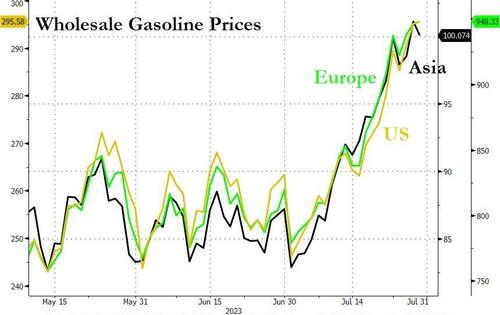 The picture that gasoline supply and demand trends paint is one of prolonged tight supply and high prices.
This, in turn, will likely keep inflation untamed despite the best efforts of central banks—efforts, which also unfortunately make life more expensive.
The silver lining: inflation leads to lower consumption of everything. The risk is slipping into a recession.
Loading...