---
Indonesia Seizes Iran-Flagged Supertanker Over Sanctions-Busting Oil Transfer
The revived 'tanker wars' have continued this summer, as on Tuesday Indonesia seized an Iranian-flagged tanker over allegations it was engaged in an illegal crude oil transfer, according a statement by the Indonesian coast guard. 
Reuters reported based on the source that the vessel is the MT Arman 114, which was carrying over 270,000 barrels of light crude. Authorities say it was planning to transfer its crude to another vessel without permit, which is a common tactic when tankers want to conceal offloading.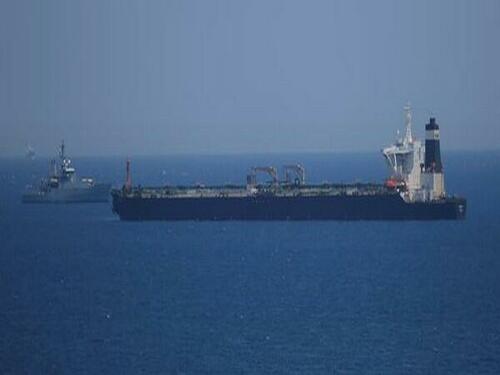 Tehran has long been accused of sanctions-busting activities particularly in southeast Asia, with China in particular as a major buyer, as its crude continues to make its way to international markets.
Reportedly Indonesian coast guard directly caught the MT Arman 114 in the act of transferring its cargo onto a Cameroon-flagged vessel. The Iranian-flagged vessel was also suspected of turning off its transponder, another common tactic of sanctions-evasion.
According to further details, the Iranian tanker briefly attempted to evade the Indonesian coast guard:
When approached, the MT Arman 114 tried to escape before being chased into Malaysia's EEZ.

Indonesian authorities carried out the seizure with the help of Malaysian authorities, who 'deployed special maritime troops using helicopters.'
But Indonesia acting to seize an Iranian tanker remains a rare act - as it doesn't tend to act as a big US sanctions enforcer. 
This could serve to endanger Indonesian ships in the Person Gulf region, as Iran has a tendency to hit back at individual countries' ships in tit-for-tat fashion when they are found in waters off the Iranian coast. 
Additional interesting insight about the crew of the ARMAN 114; being mostly of Syrian citizenship. The vessel's flag is that of Iran. The vessel is still registered in Panama, according to public database, Equasis.https://t.co/3qiJlntpxR

— TankerTrackers.com, Inc. (@TankerTrackers) July 11, 2023
In recent months, Iran has seized three foreign tankers in the Gulf region, including one which had been bound for Houston, as it was transporting crude for Chevron. 
Loading...