---
Iraq Gets US Green Light To Pay $2.76 Billion Gas Bill To Iran
The Iran-Iraq Joint Chamber of Commerce Chairman, Yahya Al-e Eshaq, announced on June 10 that Iraq has released $2.76 billion worth of Iranian funds in gas export money owed by Baghdad. Iraq received a sanctions waiver from the US to make the payment.
According to an unnamed foreign ministry official that spoke with Reuters, Foreign Minister Fuad Hussein got the clearance to make the payment from US State Secretary Antony Blinken on the sidelines of the Riyadh Conference on Thursday.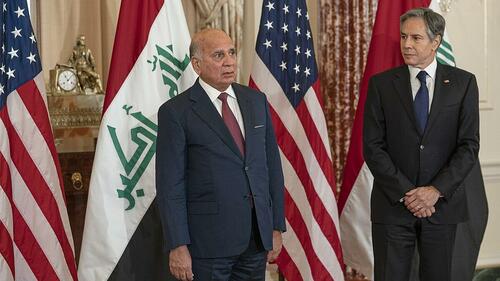 Eshaq told Iranian media on Saturday that the released funds will meet the Central Bank of Iran (CBI) demands and ensure the purchase of goods needed in the country. He added that the funds could significantly help stabilize the foreign exchange market.
"Part of Iran's blocked funds in Iraq has been earmarked for hajj pilgrims, and portions have been used for basic goods," the Iranian trade official told local media.
In April, Eshaq said that Tehran and Baghdad had "found several solutions to receive our debt from the Central Bank of Iraq, so Iraq's outstanding payments to Iran will be cleared gradually within the next three to five months."
The US green light to release the money comes following reports that Iranian and US negotiators recently held "proximity talks" in the Omani capital Muscat, with Omani officials going between them and passing messages.
According to the sources, the talks aimed to deescalate tensions as a basis for future talks on a new nuclear agreement between the parties.
In 2015 Iran and several world powers, including the US, signed the Joint Comprehensive Plan of Action (JCPOA), which placed significant restrictions on Iran's nuclear program in exchange for sanctions relief.
Washington withdrew from the deal in 2018 and launched a "maximum pressure" sanctions campaign against the Islamic Republic.
After months of talks between Iran and the remaining signatories of the JCPOA, last September — under heavy Israeli pressure — the US put an end to any hope of reviving the deal.
Since then, Iran has restored ties with Saudi Arabia under a Chinese-brokered deal and is reportedly working alongside Gulf countries to form a "naval alliance" to protect the northern Indian Ocean.
Earlier this week, Iranian media reported that $24 billion of Iran's frozen assets would soon be released from Iraq and South Korea.
Due to the sanctions on Iran, Iraq is only allowed to receive Iranian energy imports and pay for them via waivers that extend up to 120 days, a policy implemented by former US president Donald Trump and kept in place by Biden. The sanctions have also hampered Iraq's payments for imports, putting it in heavy arrears.
Loading...