---
LNG Tanker Prices Soar Earlier Than Usual Ahead Of Winter
Authored by Charles Kennedy via OilPrice.com,
The pre-winter seasonal rally of LNG tanker charter prices has started earlier than in previous years amid expectations of high demand for the winter and uncertainties over a potential strike in Australia that could curtail 10% of global LNG supply.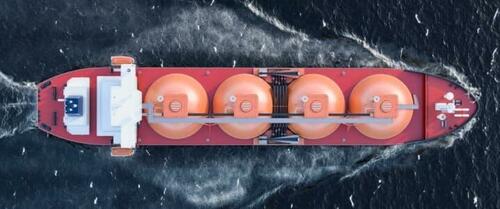 Spot LNG charter rates for the Pacific broke on Thursday the threshold of $100,000 per day for the first time since early January, Spark Commodities, a firm tracking price assessments from LNG shipbrokers, said.
The Spark25 route to the Pacific was assessed at $105,000 per day on Thursday, Spark Commodities said.
The seasonal pre-winter rally of spot LNG tanker rates comes a month earlier than it did in 2022 when the rates in the Pacific region only broke $100,000 per day in the middle of September, the firm notes.
Spot LNG freight rates in the Atlantic are following the Pacific closely, with the spot rate on the Atlantic Spark30 route rising to $97,500 per day on Thursday.
On Friday, spot LNG freight rates exceeded $100,000 per day in both the Pacific and Atlantic basins, Spark Commodities said today.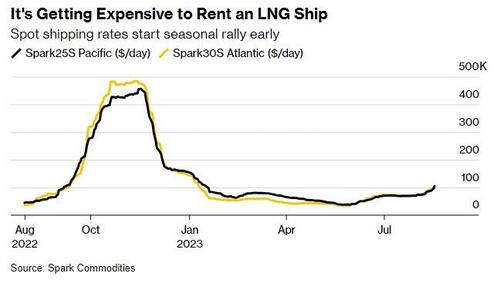 The early rally in LNG tanker rates reflects a steep contango in LNG prices, Spark Commodities CEO Tim Mendelssohn told Bloomberg.
Contango is the market structure in which prices for delivery at later dates are higher than front-month prices and which points to immediate oversupply but expectations of a tight market in the months ahead. 
Winter demand in Europe and Asia is expected to drive prices higher in the coming months, while a potential major supply disruption in Australia's LNG export terminals – accounting for 10% of global supply – could further tighten the LNG market ahead of the winter season in the northern hemisphere.
Workers at the two LNG projects that Chevron operates offshore Australia on Friday will vote on whether they will go on strike after negotiations failed to produce an agreement that would have avoided the industrial action.
"There will be a lot of demand for the winter market. So prices will go up," Oystein Kalleklev, CEO at shipowner Flex LNG, said on the company's Q2 earnings call this week.
Loading...