---
Supplying 65% Of Our Energy, America Must Lead On Oil and Gas
Authored by Rick Whitbeck via RealClear Wire,
Fifty years ago this week, legislation authorizing construction of the Trans-Alaska Pipeline passed both houses of Congress and was signed into law by President Richard Nixon.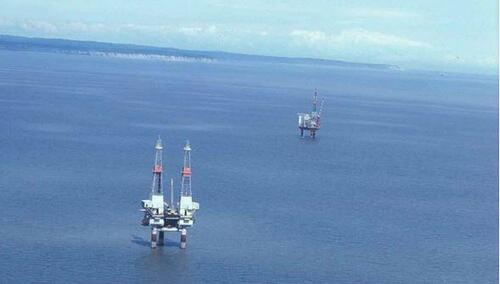 The whole process took all of five days.
Not only was the timeline unprecedented, but so was the fact that the act specifically halted all legal challenges against the planned pipeline. Furthermore, it prohibited federal and state agencies from regulating the construction of the project.
The legislation led to a flurry of construction, and since the first oil flowed through the Trans-Alaska Pipeline in June, 1977, more than 18 billion barrels have been delivered to its Valdez terminus from Alaska's North Slope. The benefits to our state are clear: more than one-sixth of all Alaskan private-sector jobs are tied to oil and gas development throughout the state, and Alaska's economy is driven by oil revenues and investment decisions made via Alaska's Permanent Fund, which increases each via oil and gas royalties.
Half a century ago, a bipartisan congressional coalition and President Nixon knew then what President Joe Biden seems to be oblivious to now: national oil and gas production – and the infrastructure and projects that create energy independence – drives America's superpower status. Without it, we're susceptible to geopolitical events and foreign countries' attempts to undermine the free market, a hard lesson the Europeans have learned since Russia launched its war against Ukraine.
Today, we're seeing continuous attacks on resource development projects that would create American jobs, help Americans live better lives, and enhance American energy independence. Veiled in the cause to save the planet from the 'existential threat' of a 'climate crisis', the activists leading the opposition are weakening America's global standing; making us dependent on others for raw materials and finished goods we are more than capable of creating domestically.
The Keystone XL pipeline's demise is well-known. With a stroke of Biden's pen, hundreds of union jobs vanished from payrolls across the Midwest, and the potential of 510,000 barrels of oil a day hitting refineries did as well.  The Mountain Valley Pipeline only exists today because Congress stepped in and approved its completion as part of the Fiscal Responsibility Act of 2023, but unlike the Trans-Alaska Pipeline, the underlying act didn't prohibit legal challenges from continuing. And make no mistake, there are challenges across the country.
In New York, eco-driven politicians have cancelled four natural gas pipeline projects in the last five years. Governor Kathy Hochul is taking her fight against fossil fuels one step further, banning natural gas stoves by 2026, cancelling permits for natural gas-fired power plants and embracing other climate edicts that experts predict will harm the Empire State's economy.
On the other side of the country, California Governor Gavin Newsom is taking an even more aggressive stance against traditional energy. He's banned combustion-engine vehicles from being sold in the state beginning in 2035 and prohibited fracking in the state beginning in 2024. Even more frightening to Golden State residents should be his chumminess with Chinese President Xi Jinping. With the two leaders collaborating on climate impacts and increasing government-to-government partnerships, one must wonder what CCP-inspired ideas will be released on Californians next?
Returning to my home state of Alaska, and faced with expected shortages of natural gas by the end of this decade, a proposed LNG pipeline that would nearly mirror the route of the Trans-Alaska Pipeline has been in the works for decades. It has the backing of the federal government in the way of loan guarantees, and – aside from providing Alaska's Railbelt with decades of capacity – exporting some of Alaska's gas reserves would help provide other Pacific Rim nations with cleaner alternatives to energy than coal-fired power plants. 
Yet, the eco-zealots pushing back against every possible traditional energy project denigrate the proposed pipeline a 'carbon bomb' and have used every tactic available to stymie its progress. They ignore the lack of reliability and high costs of from alternative sources of energy. With Alaska's weather and cold, dark winters, having reliable power is not only a creature comfort, but a matter of life-and-death.
Fifty years ago, an overwhelming number of legislative and executive-branch leaders came together and did what was right for our nation. The Trans-Alaska pipeline helped the U.S. hold off OPEC aggression in the 1970s, and lead the way in ushering in American energy security. Today, extremism holds many of America's energy projects hostage, denying the country a chance to build domestic supply chains, enhance our way of life, provide generational jobs and secure our energy and national security in the process.  
Without bold leadership and facts-over-fear action, the future of many of these projects dim daily. It doesn't have to be that way. For the sake of future generations, let's change course while we still can.
Rick Whitbeck is Alaska state director for Power The Future, a national nonprofit organization that advocates American energy jobs. Email him at rick@powerthefuture.com, and follow him on X @PTFAlaska
Loading...