---
US Oil Rig Count Plunges To Annual Decline; Jobs & Production Next?
Baker Hughes just reported that the total number of active drilling rigs in the US tumbled by 15 last week to 696 - down 31 rigs on a YoY basis...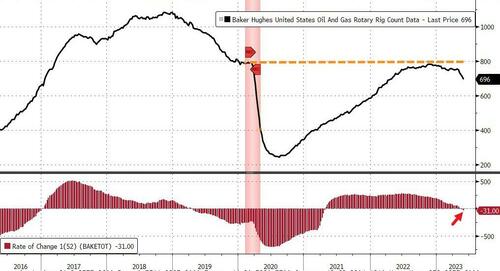 Source: Bloomberg
However the entire rig count drop was driven by oil rigs (gas rigs were unch), which pushed the oil rig count into an annual decline (down for 5 straight weeks)...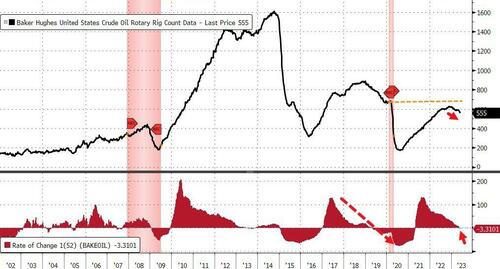 Source: Bloomberg
This is the first annual decline since May 2019.
The first question we have is simple - with rigs now down almost 10% from the February highs - will Oil & Gas Extraction Industry jobs start to decline (after oddly surging last month in today's data)?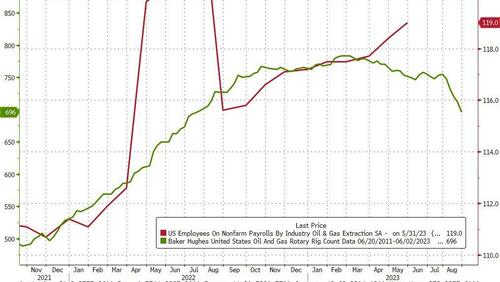 Source: Bloomberg
Specifically, as OilPrice.com reports, Primary Vision's Frac Spread Count, an estimate of the number of crews completing unfinished wells - a more frugal use of finances than drilling new wells, fell by 2 in the week ending May 26, to 260 - the lowest number of completion crews in operation since January. The number of fracking crews have fallen for four weeks in a row, losing a total of 34. Year over year, it is 23 fewer than a year ago.
So what the f**k data is BLS using?
That drop in oil rigs suggests US crude production is due to decline, which should, all things being equal, imply higher prices (but for now it is not).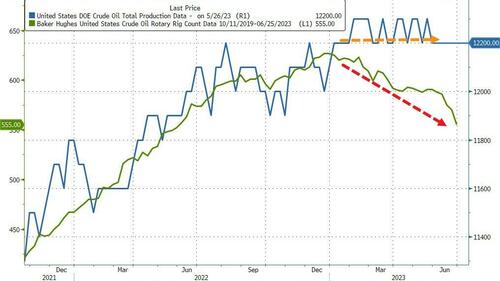 Source: Bloomberg
Oil prices were up again today with WTI above $71.50 (after trading within a tick of a $66 handle mid-week) ahead of this weekend's OPEC meeting.
Loading...