---
WTI Holds Gains After Cushing Stocks Continue Plunge Near 'Tank Bottoms'
Amid carnage across various markets today, oil prices ended notably higher (recovering strongly from an ugly overnight puke) as bearish risk appetites battled (and lost) to the effects of rapidly tightening supplies.
"It looks like nothing is going to get in the way of this oil price rally," said Edward Moya, senior market analyst at OANDA, in emailed comments on Tuesday. "Energy traders know a bullish trend when they see one and it will take a lot more than a strong dollar, softer Russian ban, and weakening demand, to disrupt this rally."

"Oil prices are in backwardation and probably will stay that way a while longer," he added.
Tonight's glimpse at inventories will provide more color...
API
Crude +1.6mm (-600k exp)

Cushing -828k

Gasoline -70k (-200k exp)

Distillates -1.7mm (-1mm exp)
With stocks at Cushing running near tank-bottoms (and overall crude stocks at lows of the year, ex-SPR), all eyes are on the ongoing draws we have seen recently. Crude stocks unexpectedly rose last week by 1.6mm barrels but stocks at the Cushing hub continued to fall, down 828k...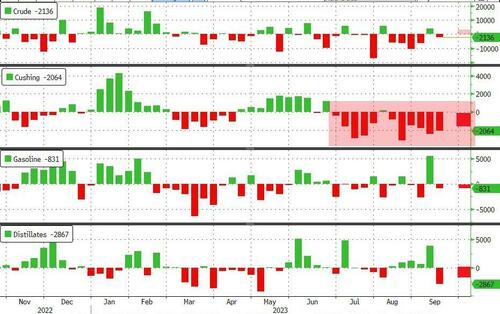 Source: Bloomberg
Tank bottoms looming at Cushing...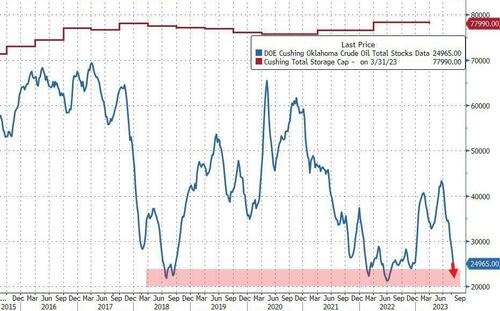 WTI was hovering just above $90.50 ahead of the API data and held those gains...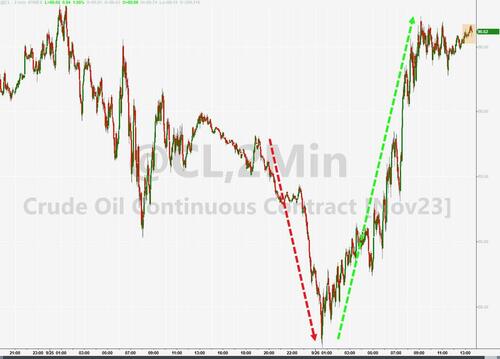 "Crude looks well supported, with today's initial declines being short-lived as the market rebounded around the highs from earlier this month," said Craig Erlam, senior market analyst at Oanda.

"We may still see more of a correction, but there's no clear sign of sentiment turning bearish after such a strong rally over the summer."
Traders continue to see signs of supply scarcity as the premium for near-term US oil barrels is hovering at the most expensive in over a year, indicating a market deficit.
But bear in mind that higher oil prices are also attracting added supply, Robert Yawger, executive director for energy futures at Mizuho, said in a note.
"Iranian barrels may come out of the shadows and return to the open market after diplomatic inroads. Plus, new barrels from Suriname, and Guyana, continue to hit the market," he said.
For the Biden administration, rising oil prices are a known political problem: The president's approval ratings swooned in the summer of 2022 when gas was creeping toward $5 a gallon and became a focus for Americans' discontent over inflation.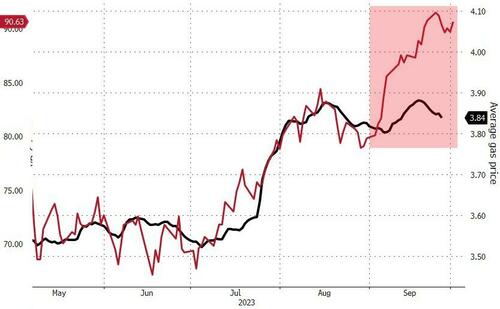 Heading into next year's election, the White House has few good options to appease motorists, having already whittled down the nation's oil stockpile to about half its normal capacity.
Loading...