---
WTI Holds Bounce Above $90 After Across-The-Board Inventory Draws
Oil prices extended losses overnight from yesterday afternoon, but bounced back into the green this morning after WTI found support at $89 after Goldman upgraded its forecast.
"The impressive run-up in crude oil prices had to come to a temporary halt and today's Fed decision on interest rates provides the perfect excuse to bank some money," PVM Oil Associates Ltd. analyst Tamas Varga wrote in a note.
After last week's big product builds, all eyes will be on any signs of demand-destruction. But, more ominously, the decline in Cushing stocks is top of mind for many...
API
Crude -5.25mm (-1.00mm exp)

Cushing -2.56mm

Gasoline +732k (+500k exp)

Distillates -258k (-200k exp)
DOE
Crude -2.14mm (-1.00mm exp)

Cushing -2.06mm

Gasoline -831k (+500k exp)

Distillates -2.87mm (-200k exp) - biggest draw since May
The official data showed inventory draws across all the cohorts with a smaller crude drop than API rpeorted . Cushing saw stocks plunge for the 11th week of the last 12...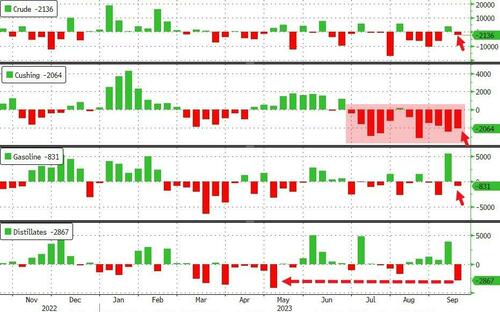 Source: Bloomberg
The 'adjustment factor' is back and surging...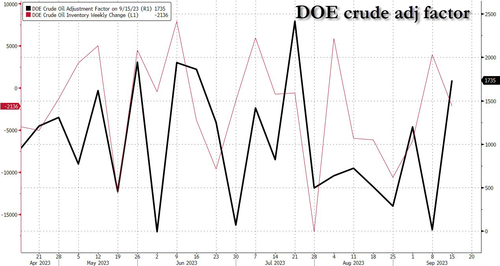 Source: Bloomberg
With the Biden admin claiming that draining the SPR is 'back on the table', they added 600k barrels to it last week...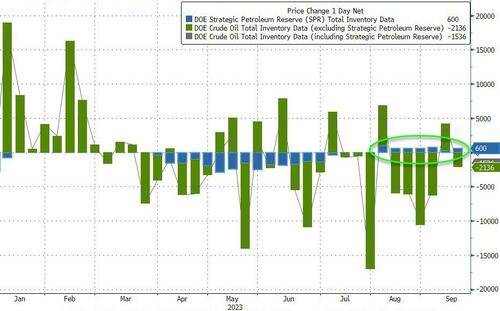 Source: Bloomberg
Traders are starting to worry that Cushing stocks are nearing 'tank bottoms'...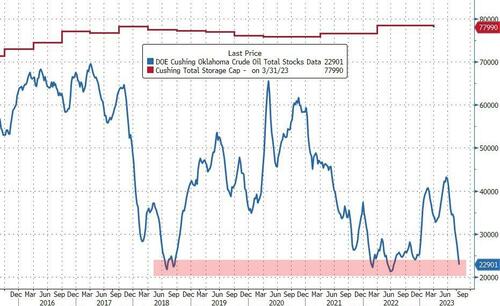 Source: Bloomberg
US crude production was flat at pre-COVID-lockdown highs...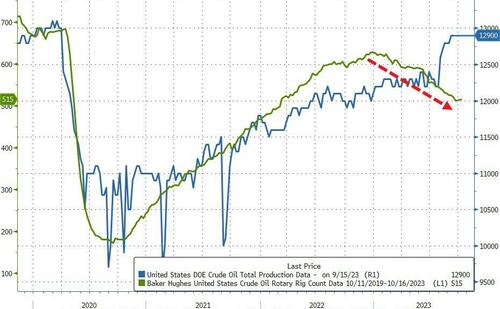 Source: Bloomberg
WTI rallied back up to hover around $90.50 ahead of the official data and held around there after...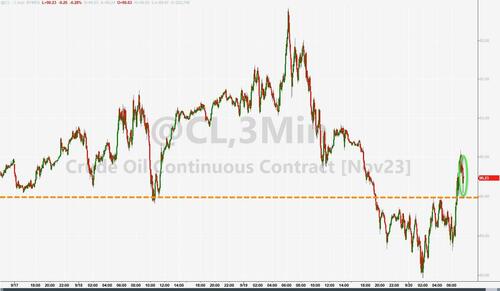 Even one of the market's stauncher bears, Citigroup Inc.'s Ed Morse, said that geopolitics plus technical trading "could push oil over $100 for a short while."
However, a well-supplied market - from producers outside OPEC - should mean that "$90 prices look unsustainable," he added.
"We believe that OPEC will be able to sustain Brent in an $80-to-$105 range in 2024 by leveraging robust Asia-centric global demand growth," analysts Daan Struyven, Callum Bruce and Yulia Zhestkova Grigsby said in the report dated Sept. 20.

At the same time, "OPEC is unlikely to push prices to extreme levels, which would destroy its long-term residual demand," they said.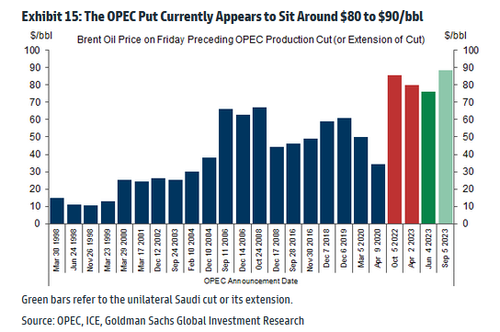 And none of this is good news for The White House or The Eccles Building as gas prices are set to keep soaring...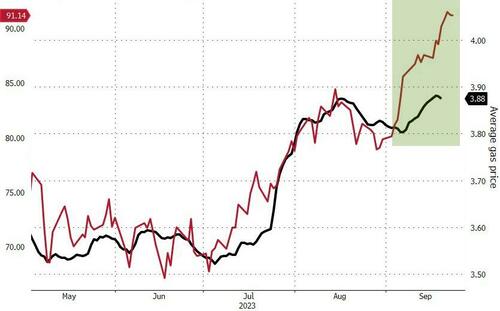 Source: Bloomberg
...a problem for Biden - as Americans see higher pump prices and call 'bullshit' on his IRA claims; and for Powell - who knows what is coming next is a re-ignition of inflation, which will keep them higher for longer.
Finally, as a reminder, history shows that surging energy costs usually play a role in tipping the U.S. into recession... and demand is starting to be impacted...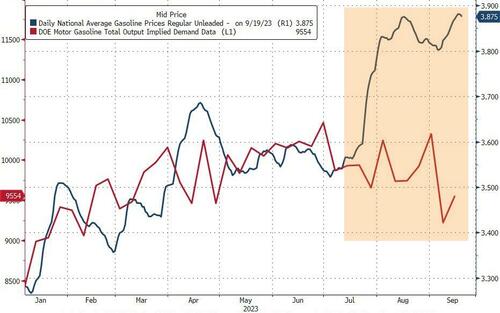 Source: Bloomberg
Meanwhile, Russia is killing it...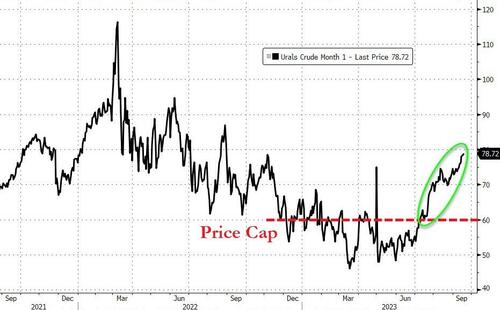 When will 'The West' start fighting back against the price-cap-deniers? (Like Trudeau did yesterday... until absolutely no one else joined him in condemning India).
Loading...