---
As Anti-Farming Climate Activism Builds, 27% Of Global Workforce Employed In Ag
Agriculture has long been the backbone of human civilization, providing sustenance and livelihood to billions of people across the globe.
As of 2021, an estimated 27% of the global workforce was employed in agriculture, though the sector represents only 4% of global GDP.
Using employment and population data from the World Bank, Visual Capitalist's Bruno Venditti and Eiri Ryu created the following graphic to rank the distribution of agricultural workers in the world's most populated countries.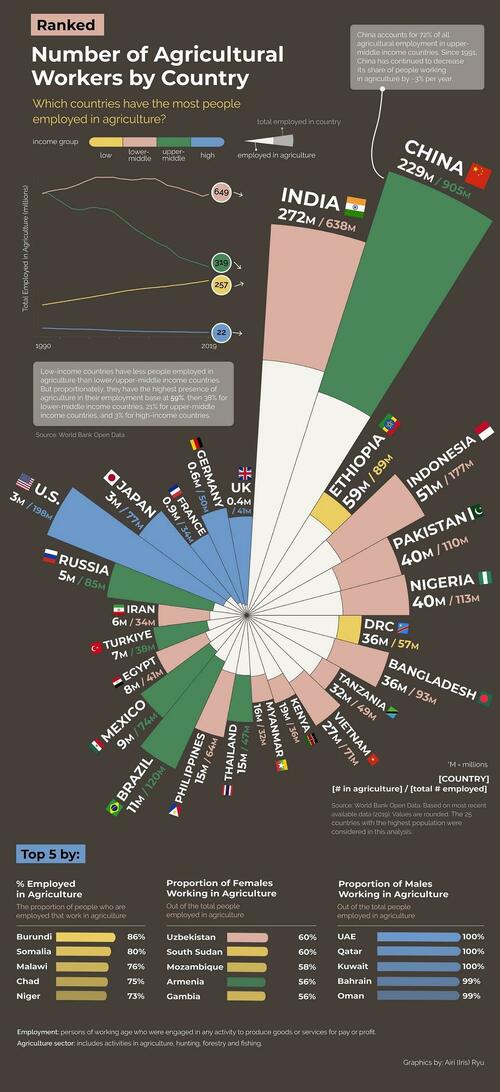 Asia and Africa Have the Most Agricultural Workers
Being the most populous countries, India and China lead the ranking with 272 million and 229 million people employed in agriculture, respectively:
Rank
Country
Agricultural Workers
(2019)
% of Total
Workers
1
🇮🇳 India
272M
43%
2
🇨🇳 China
229M
25%
3
🇪🇹 Ethiopia
59M
66%
4
🇮🇩 Indonesia
51M
29%
5
🇵🇰 Pakistan
40M
36%
6
🇳🇬 Nigeria
40M
35%
7
🇨🇩 DRC
36M
63%
8
🇧🇩 Bangladesh
36M
39%
9
🇹🇿 Tanzania
32M
65%
10
🇻🇳 Vietnam
27M
38%
11
🇰🇪 Kenya
19M
53%
12
🇲🇲 Myanmar
16M
50%
13
🇹🇭 Thailand
15M
32%
14
🇵🇭 Philippines
15M
23%
15
🇧🇷 Brazil
11M
9%
16
🇲🇽 Mexico
9M
12%
17
🇪🇬 Egypt
8M
20%
18
🇹🇷 Türkiye
7M
18%
19
🇮🇷 Iran
6M
18%
20
🇷🇺 Russia
5M
6%
21
🇺🇸 U.S.
3M
2%
22
🇯🇵 Japan
3M
4%
23
🇫🇷 France
0.9M
3%
24
🇩🇪 Germany
0.6M
1%
25
🇬🇧 UK
0.4M
1%
Though countries in Africa have fewer agricultural workers, they have a far greater share of agriculture in employment. Ethiopia (66%) and Tanzania (65%) had the highest share of agricultural workers amongst the most populated countries, with other low income and lower-middle income African countries close behind.
In fact, McKinsey estimates that more than 60% of sub-Saharan Africa's entire population consists of smallholder farmers, with about 23% of sub-Saharan Africa's GDP coming directly from agriculture.
In contrast, agriculture represents significantly less employment in high-income countries. The U.S. and Japan both have an estimated 3 million agricultural workers, accounting for only 3% and 4% of the total employed population, respectively.
In terms of gender balance, women on average represent 37% of all agricultural workers, with a majority share in just 20 countries within Africa and Asia.
Evolution of Agricultural Jobs Over Time
Over the past century, agricultural workers have declined in number due to technological advances, urban migration, land use changes, and economic diversification.

However, they still represent a quarter of the global workforce and even with the modernization of agriculture, workers are still necessary to meet a growing demand.
For instance, a study in Bioscience has suggested that agricultural production will need to increase by at least 25% to meet the food demands of the world's population by 2050.
But, as Eric Utter wrote recently at AmericanThinker.com, special presidential envoy for climate John Kerry recently took time out from flying around the globe in his private jet to warn the world that climate change cannot be conquered without first dramatically reducing the agriculture sector's emissions.
Giving the keynote address at the Department of Agriculture's "AIM for Climate Summit" on August 2, the former secretary of state said:
"A lot of people have no clue that agriculture contributes about 33% of all the emissions of the world. We can't get to net-zero, we don't get this job done unless agriculture is front and center as part of the solution. So all of us understand here the depths of this mission."
Kerry added that "lives depend" on our ability to lower agricultural emissions.
That's simply not true. 
In progressives' parlance, it's "disinformation."  Or, as Trump might say, "fake news." 
Actually, lives depend on people having enough food to eat. 
Dramatically reducing the number of farms - or otherwise making it vastly harder for farmers to be productive - is the dumbest and worst thing we could do at this point.
But elites like Kerry, who ironically came into wealth by marrying the heir to the Heinz ketchup fortune, have no compunction about putting everyone but themselves on starvation diets.  "Let them eat bugs," they say.  Maybe we could smother them in ketchup.
Loading...