---
Anti-Putin Activist Alexey Navalny Handed 19 More Years In Prison
Jailed Kremlin critic and anti-Putin activist Alexei Navalny has been sentenced to 19 years in prison, according to Interfax on Friday. He was convicted on what are being dubbed "extremism" charges.
The sentence will be carried out at a restrictive "special regime" prison, the report indicates, following the closed-door trial conducted in a prison colony east of Moscow, where Navalny is currently confined.
The 47-year old political oppositionist stated Thursday in a social media post that he expected a "Stalinist" sentence that would be long, and urged Russians to fight against "the corruption of Putin and his officials."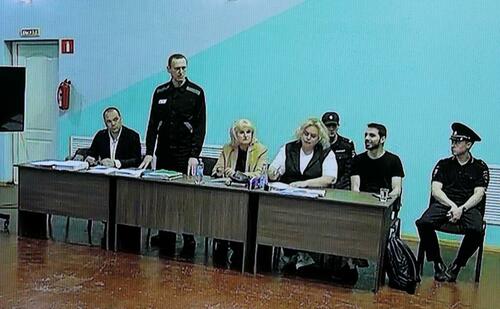 He addressed the broader Russian public in the post, writing the day prior that "When the figure is announced, please show solidarity with me and other political prisoners by thinking for a minute why such an exemplary huge term is necessary. Its main purpose is to intimidate. You, not me."
Navalny's legal team has complained he's been kept in solitary confinement, in a small cell for up to 200 days. Last year and in the past months he's claimed that his prison conditions have left him sick and with ailments. 
Among the latest charges he faced was parole violation. This fresh series of charges are summarized as follows:
The new charges are related to the activities of Navalny's anti-corruption foundation and statements by his top associates. It was his fifth criminal conviction and the third and longest prison term handed to him, all of which his supporters see as a deliberate Kremlin strategy to silence its most ardent opponent.

Russian state news agencies reported that he would serve this new term concurrently with his current sentence on charges of fraud and contempt of court.
At this point, Navalny is looking at what effectively could become a life in prison sentence. 
It must be recalled that he had been living free in Germany. He spent five months there in 2020, recovering for much of that time in a Berlin hospital, for what was an alleged 'assassination attempt' at the hands of Russian intelligence. His supporters say he was poisoned. 
Awkward timing https://t.co/5aA4XtNtTY

— Max Abrahms (@MaxAbrahms) August 4, 2023
But then Navalny agreed to face charges against him (including parole violation stemming from an earlier corruption-related conviction) and flew to Moscow's Sheremetyevo airport on January 17, 2021 - whereupon he was immediately arrested and tried.
Loading...