---
"Antisemitism Has No Place Here" - Harvard President Condemns "From The River To The Sea" Phrase After 1600 Jewish Alum Pull Donations
Following enormous backlash against the University over its initial statement about Hamas' Oct. 7 attack on Israel - with critics condemning Harvard President Claudine Gay's statement for failing to explicitly denounce Hamas and lack of response to a controversial joint letter by Harvard student groups in support of Palestine that called Israel "entirely responsible" for the violence - Harvard has just announced that it will work with its newly established antisemitism advisory group to implement antisemitism education and training for affiliates.
"I affirm our commitment to protecting all members of our community from harassment and marginalization, and our commitment to meeting antisemitism head-on, with the determination it demands," Gay wrote.

"Antisemitism has no place at Harvard," Gay added. "We are committed to doing the hard work to address this scourge."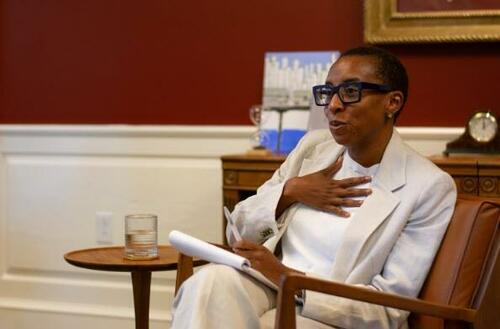 Harvard President Claudine Gay announced plans to implement training around antisemitism in a Thursday email.
Additionally, in her email, Gay explicitly condemned the use of the phrase "from the river to the sea" - a pro-Palestine slogan that prominent alumni have called "eliminationist" and antisemitic.
"Our community must understand that phrases such as 'from the river to the sea' bear specific historical meanings that to a great many people imply the eradication of Jews from Israel and engender both pain and existential fears within our Jewish community," Gay wrote.

"I condemn this phrase and any similarly hurtful phrases."
The Crimson reports that Gay's decision to single out the phrase "from the river to the sea" - which is frequently chanted by the Harvard Undergraduate Palestine Solidarity Committee and other pro-Palestine student groups - almost immediately received backlash from some Harvard affiliates.
Kirsten A. Weld, a professor of History at Harvard, criticized Gay's decision to denounce a specific phrase used by student activists.
"Can't recall any prior instance of a contested phrase/idea receiving official condemnation like this, or having one singular 'specific historical meaning' imputed to it, in my 11 years on this campus," Weld wrote in a post on X.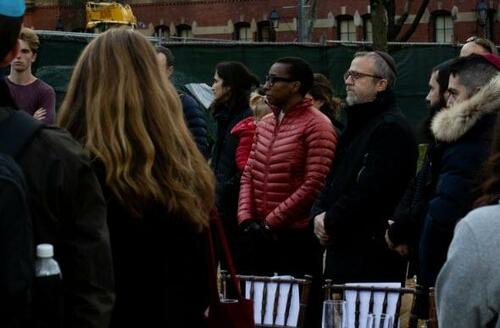 Gay, standing next to Harvard Chabad President Rabbi Hirschy Zarchi, views an Shabbat table installation in the Yard symbolizing the hundreds of hostages held by Hamas.
Gay also confirmed that the FBI and HUPD are investigating a video taken during the Oct. 18 pro-Palestine "die-in" protest at Harvard Business School depicting several protesters confronting a man and escorting him away after he filmed protester's faces.
The protesters shouted "shame" after the man, who other media outlets later identified as an Israeli student.
What could have caused such a sudden and considerable 'flip' in Gay's perspective (or silence) on the jew-hatred being seen at Harvard - and across many so-called 'Ivy League' schools? Doesn't she realize the world is binary - oppressor vs oppressed, victimizer vs victims?
We are sure it is simply a realization that principles matter (and terrorism is bad), and has nothing at all to do with the fact that 1600 wealthy jewish alumni have withdrawn their donations from the once-prestigious learning academy.
As CNN reports, high-profile billionaire alumni like Pershing Square founder Bill Ackman and former Victoria's Secret CEO Leslie Wexner have already said that if Harvard doesn't take steps to fix the problem they could face a donor exodus, but now the largest group yet of alumni - most of whom do not have billionaire status - are threatening to withdraw their donations.
"We never thought that, at Harvard College, we would have to argue the point that terrorism against civilians demands immediate and unequivocal condemnation," wrote members of the Harvard College Jewish Alumni Association (HCJAA) in an open letter to President Claudine Gay and Dean of Harvard College Rakesh Khurana.

"We never thought we would have to argue for recognition of our own humanity."
Philanthropy is the single largest contributor to revenue at Harvard, accounting for 45% of the university's $5.8 billion in income last year. Philanthropic gifts accounted for 9% of the university's operating budget last year and 36% of its $51 billion endowment amassed over decades.
Loading...