---
Arab League Agrees To Reinstate Syria After 12 Years
The Middle East political alignment continues its "reset" away from US influence at a rapid pace, as on Sunday Al Jazeera reported the huge development that the foreign ministers from Arab League member states have agreed to accept Syrian membership after a suspension that's lasted 12 years.
"The ministers voted for Syria's return into the fold at the Arab League's headquarters in Cairo on Sunday," AJ details. "The decision was made in advance of the Arab League Summit in Saudi Arabia on May 19 and amid a flurry of regional normalization of ties with Damascus in recent weeks."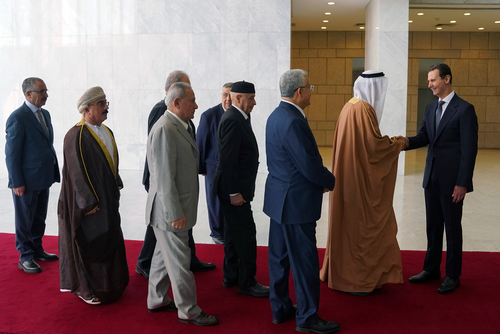 In March Saudi Arabia and Syria agreed to begin the process of reopening their mutual embassies, which followed on the heels of the China-brokered Saudi-Iranian rapprochement.
One analyst was quoted in regional media at the time as saying:
"The prevailing attitude can be defined as, 'times have changed, the Arab Spring is history and the region is transitioning towards a new future, with new geopolitical characteristics,'" the official, who himself recently reconciled with Damascus after defecting to the Syrian opposition in the summer of 2011, added.
The Arab League and many regional countries officially cut ties with Damascus in 2011 as the conflict there erupted. Saudi Arabia and allies like Qatar and the UAE had helped the US spearhead regime change efforts in Damascus. Russia and Iran came to the aid of Syria, however, in a war that took hundreds of thousands of lives and left much of the country in rubble.
President Assad survived and now these same countries are forced to 'play nice' given the centrality of Syria in the regional order. The US and Israel are worried over these developments to say the least.
Just let go man

It is 2023 https://t.co/Pi3ZXvyAlV

— EHSANI22 (@EHSANI221) May 6, 2023
The restoration of ties between Assad and Arab powers has also been hastened due to the tragic earthquake of February 6th which rocked the region. Despite far-reaching US sanctions, countries poured in support in order to aid rescue and relief efforts of the Syrian people.
Loading...