---
Arab States Sour On Israel Peace Pact As Saudis Pivot To Ukraine Mediation
There are emerging reports that Saudi Arabia and its Arab allies are souring on the prospect of peace deals with Israel, three years after Trump's Abraham Accords was struck with several states. This comes at a moment the Saudis have pivoted to greater involvement in the Ukraine crisis, as they are hosting an August summit geared toward getting BRICS countries to move toward support of Kiev.
According to fresh reporting in Bloomberg, "The United Arab Emirates has expressed frustration in high-level contacts with Israel about the outcome of the 2020 Abraham Accords negotiated under the U.S. presidency of Donald Trump, while Bahrain has outlined its disappointment, according to people familiar with the matter."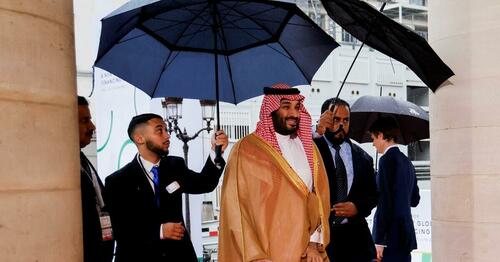 Things have been growing more violent and deadly amid clashes between Palestinians and Israeli police this month and in months prior, given policies of the hardline Netanyahu coalition government.
This is putting new pressure on Arab leadership, as Bloomberg points out further: willingness to pause expansion of the Abraham Accords is "largely due to concerns over Israel's deteriorating relations with the Palestinians — typified by the recent deadly raid on a refugee camp in the city of Jenin and incendiary comments by some far-right Israeli cabinet members."
One analyst is quoted in Bloomberg as saying—
"This is not part of the vision some in the Abraham Accords had — Israel wanted it as an anti-Iranian axis," said Aziz Alghashian, a Riyadh-based analyst who studies Saudi policy toward Israel. "The region is moving in a different direction now."
Indeed the Saudis have already made their separate peace with Tehran, and Iran-aligned Assad of Syria has been "brought in from the cold" - reentering the Arab League to boot.
Few regional analysts pretend that the Saudi royals are serious about standing up for Palestinians or a dream of an independent state of their own, but what Riyadh does want is White House approval and support for a domestic nuclear energy program, including uranium enrichment. Advanced American weaponry is also a bedrock of the relationship. This is the real quid pro quo behind any potential historic peace with Israel, if it ever does happen.
But recent events in Israel, the West Bank, and Gaza threaten to create backlash from among Arab populations against their rulers, making the already risky endeavor of rapprochement and normalization with the Jewish state all the more precarious, and perhaps "not worth it" for the Saudi royals.
"Lukewarm Gulf Arab support for normalization now lukecold," says Mideast analyst and author Aron Lund.
Lukewarm Gulf Arab support for normalization now lukecold, report @FionamMacDonald, @marissalnew, @meyerhenry4. https://t.co/UWsTnSPJLi pic.twitter.com/taUpodwumH

— Aron Lund (@aronlund) July 30, 2023
Below is additional commentary from Michael Every, a Global Strategist at Rabobank [emphasis ZH]...
* * *
Saudi Arabia is to hold a peace summit over Ukraine, without Russia(!), and is potentially interested in a peace deal with Israel, with strings attached for the far-right Israeli government and the White House, which would have to offer a mutual defence treaty, against Iran, and backing for a Saudi civilian nuclear program - those who know the Middle East can see the upsides *and* the downsides of that potential dynamic.
But 'Peace now', then, to match the 'rate cuts soon' vibe? Hardly! Consider: Kyiv may (or may not) have been behind new drone attacks on Moscow; Ukraine's counter-offensive may finally be working; Russia's Medvedev has stated Ukrainian success would require a Russian nuclear response; and, as the Financial Times (and others) warn, 'Putin is looking for a bigger war, not an off-ramp, in Ukraine', the Polish PM and senate suggest the Wagner group may soon stage a provocation at the Suwalki gap between Belarus and the Russian enclave of Kaliningrad to test NATO unity.
In short, far fatter tail risks than another 25bp hike from the Fed or ECB remain present. Even assuming we don't get a bigger war, NATO defence spending needs to surge to keep pace with rising global threats just as some economists are talking about fiscal prudence again. Japan, which just tightened monetary policy, will see its military spending leap from $122.5bn to $310bn over the next five years. Meanwhile, the New York Times warns Chinese hackers placed malware in key US infrastructure, which logically may need to be replaced, alongside ongoing onshoring. In short, markets may like doves but there is no guarantee of either 'peace now' or 'rate cuts soon'.
Loading...