---
Beijing Sees 'Rainbows' & Yellen Touts 'Success' After China Visit, But Deep Uncertainty Looms
US Treasury Secretary Janet Yellen is on her way back to the US from Beijing. By all accounts, her four-day total trip which was packed with meetings of top Chinese officials was much warmer than the generally icy atmosphere of Secretary of State Blinken's trip last month.
Hong Kong-based South China Morning Post and other regional media have highlighted that Beijing even sees "rainbows" after Yellen's visit. The publication posed in a Monday headline: Was China's 'rainbow reception' for Janet Yellen warmer than Antony Blinken's 'snub'?
It did become clear after Yellen's plane touched down last Thursday that both sides would work to rescue and smooth over spiraling US-China relations. The trip also came amid the backdrop of tit-for-tat tech-related export curbs which both sides might consider a lose-lose situation, especially on fears such punitive measures will keep expanding.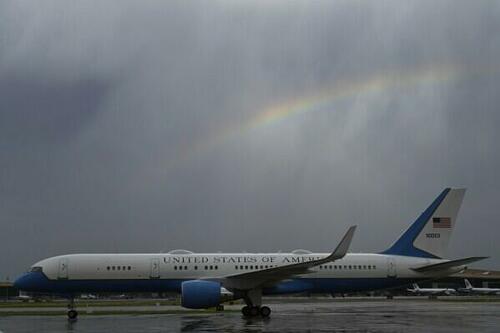 Yellen would by trip's end optimistically tout a "constructive visit" to China with future opportunities for "more frequent contacts". It was the first China trip of her tenure as Treasury boss.
The below is how SCMP and many others are contrasting the 'two trips', after Blinken's June visit: 
The heavenly sign was mentioned again during her meeting with the premier, who told Yellen: "I think it can apply to the US-China relationship too: after experiencing a round of winds and rains, we surely can see a rainbow."

Video clips of the meetings from Chinese media showed Yellen sitting beside Li and opposite He.

Three weeks earlier, Blinken – who did meet Xi – was shown seated on one side of two long tables taking notes while Xi gave a speech at the head of a table.
Her final major US media interview, done from Beijing, saw Yellen emphasize the pragmatic side of positive economic relations, set amid the backdrop of US-China trade reaching a record at $630 billion last year...
And in contrast to Blinken's more controversial stances in defense of Taiwan and other geopolitical sticking points...
"We have a new team on the economic side in Beijing, and it's important to establish person-to-person relationships and to open ongoing channels of communication, where concerns can be aired and discussed," Yellen told "Face the Nation" on Sunday morning. "And I do think my trip has been successful in forging those relationships and creating the opportunity for a deeper set of more frequent contacts at our staff levels."
US Treasury Secretary Jeannette Yellen, who is on a visit to China, is criticized for her excessive friendliness, which was expressed in numerous bows at a meeting with her Chinese counterpart.

Diplomatic etiquette experts at The New York Post note that American officials do not… pic.twitter.com/PoQrLbUMJr

— Spriter Team (@SpriterTeam) July 8, 2023
Meanwhile, noticeably absent - and something which again underscores the desire to calm relations - was any mention by Yellen of "de-risking", "decoupling", or any wordage that might escalate Beijing's anxieties over a possible slide into "winner tank all" competition. Instead, Yellen harped on "diverse" supply chains with Chinese officials. 
But then, as The New York Times underscores, no new policies were in reality offered or discussed. Writes the Times, "Conspicuously missing from a news conference Ms. Yellen held on Sunday, and from a separate statement by China's official news agency, Xinhua, was any suggestion that even one of the many trade, investment and technology issues between the two countries had been resolved."
The report further notes the potential for rockier trade centered on tech ahead, reviewing that:
China placed restrictions last Monday on the export of two critical metals, gallium and germanium, used in computer chips. China produces almost all of the world's supply of both materials. The export controls were widely seen as retaliation for American limits on semiconductor exports to China, although Beijing did not characterize its measure as retaliation. Ms. Yellen, speaking Sunday on CBS's "Face the Nation," said the move was "potentially" retaliatory.

Beijing is also bracing for the long-discussed possibility that the Biden administration may limit American investment in certain high-tech sectors of the Chinese economy. 
After all, this is how the trip ended, rainbow sightings and optimistic metaphors notwithstanding:
Treasury Secretary Janet Yellen on Sunday said she agreed Washington will listen to Chinese complaints about security-related curbs on U.S. technology exports and might "respond to unintended consequences" as she ended a visit to Beijing aimed at reviving strained relations.

Yellen defended "targeted measures" on trade that China's leaders complain are aimed at hurting its fledgling tech industries. She said the Biden administration wants to "avoid unnecessary repercussions" but gave no indication of possible changes.
Gathering storm clouds might be an appropriate alternate metaphor...
New on MoA:
Yellen's Visit To China Has Failedhttps://t.co/c4WgXauEfF pic.twitter.com/BKjOx3PaKL

— Moon of Alabama (@MoonofA) July 10, 2023
Wall Street and major American companies in general have not been happy about a potential further retaliatory move by the Biden administration, and are bracing for the uncertainty that would ensue, with economic relations lingering at their lowest level in decades. 
Loading...