---
Belgorod Governor Says Cluster Bombs Used Against Village In Russian Territory
Russia is alleging that Ukraine has attacked its territory using internationally-banned cluster munitions, shortly after Kiev received its first wave of externally-supplied cluster bombs from the United States.
The governor of Russia's Belgorod region, Vyacheslav Gladkov, said that Ukrainian forces attacked a village near the border on Friday, but no casualties resulted. Gladkov's Saturday statement revealing the episode wasn't accompanied by evidence nor resulted in any statements by Ukrainian authorities. 
"In Belgorod district, 21 artillery shells and three cluster munitions from a multiple-launch rocket system were fired at the village of Zhuravlevka," Gov. Vyacheslav Gladkov said.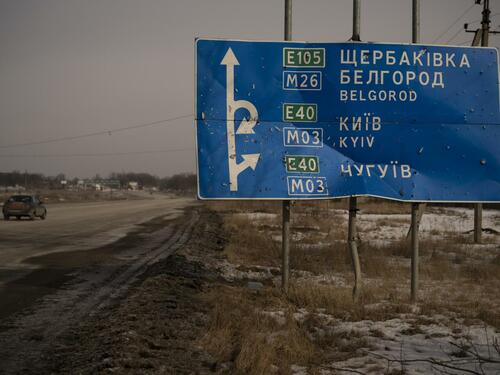 It was only within this past week that both Kiev and the Biden administration confirmed initial deliveries of the munition which is banned in over 120 countries, given that it kills indiscriminately and its bomblets sometimes remain in the ground unexploded, leaving them a deadly hazard for years.
Belgorod, a southern Russian region along the Ukrainian border, has been subject of cross-border Ukrainian attacks for over the past year throughout the conflict. This has most often come in the form of drone attacks or cross-border shelling, most often targeting energy or other civilian infrastructure. 
Ukraine's defense ministry has pledge to only use cluster munitions to dislodge enemy Russian positions, and not against civilians, Reuters had noted earlier this week.
In a separate Saturday incident, the Russian defense ministry is saying four Russian state media war correspondents were struck in a Ukrainian cluster attack in Zaporozhye region. One journalist is said to have died, and the others wounded: 
Four Izvestiya and RIA Novosti reporters were injured in a Ukrainian cluster munitions strike at the Zaporozhye Region, the Russian Defense Ministry said Saturday, adding that RIA Novosti reporter Rostislav Zhuravlyov died during evacuation.

"At about 12:00 on July 22, 2023, Ukrainian forces carried out an artillery strike at a group of Izvestia and RIA Novosti reporters preparing their reports about Ukrainian cluster munition shellings of Zaporozhye Region settlements. A cluster munitions strike caused various injuries to four reporters," the Ministry said.

..."Other reporters' condition is medium, stable. Their lives are not in danger. They are being provided with all necessary medical aid," the Ministry added.
National security spokesman John Kirby had confirmed on Thursday that "U.S.-supplied cluster munitions are in Ukrainian hands and being deployed in the field as part of Kyiv's battle against Russia." Kirby cited that the controversial munitions are already having a positive impact in Ukraine's war effort.
"We have gotten some initial feedback from the Ukrainians, and they're using them quite effectively," Kirby told a briefing. But if these latest attacks on Russian civilians are accurate, Putin could use it to escalate, possibly with large-scale attacks on decision-making centers across Ukraine, as the Kremlin has threatened before. 
Loading...