---
Biden Admin Thinks Israel Seeking Pretext For Wider War In Lebanon: Axios
Some top level members of the Biden administration have warned that Israel could be seeking to provoke a broader war with Hezbollah with an aim toward drawing the United States into a deeper conflict with Iran and its proxies.
Secretary of Defense Lloyd Austin "expressed concern" over escalation with Hezbollah in a Saturday call with his Israeli counterpart, Yoav Gallant - with the White House also citing "growing anxiety" that Israel's military action which could spark war in southern Lebanon.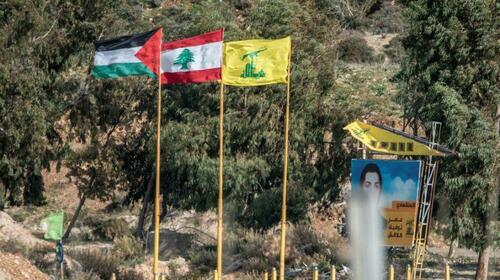 The US has also been warning Hezbollah, as well as the Lebanese government, against escalating attacks on northern Israel, which have left about ten Israeli soldiers and civilians dead since last month. Hezbollah has also revealed that over 60 of its fighters have been killed.
This 'warning' has also come in the form of a US military build-up in the Eastern Mediterranean, which has significantly included a couple of aircraft carrier strike groups and ominously a nuclear-powered submarine.
SecDef Austin's caution conveyed to Gallant about Israeli military actions in Lebanon was first reported in Axios on Sunday, which wrote based on three Israeli and US sources privy to the call: 
Austin's message to Gallant reflected growing anxiety in the White House that Israeli military action in Lebanon is exacerbating tensions along the border, which could lead to a regional war.

Some in the Biden administration are concerned Israel is trying to provoke Hezbollah and create a pretext for a wider war in Lebanon that could draw the U.S. and other countries further into the conflict, according to sources briefed on the issue. Israeli officials flatly deny it.
Israel has already evacuated tens of its citizens from near the border with Lebanon, comprising dozens of towns and settlements, given the exchanges of fire have grown daily.
There have been more clashes today between #Hezbollah and #Israel along the border with Hezbollah targeting Israeli military positions and Israel bombing the outskirts and homes in southern #Lebanon villages like Aita Chaab, Naqoura, Tayr Harfa. #حزب_الله #لبنان #إسرائيل pic.twitter.com/GPFfZlYxyC

— Nicholas Frakes | نيكولاس فريكس (@nicfrakesjourno) November 13, 2023
Meanwhile, the border just witnessed a big escalation, with Times of Israel detailing that "at least 14 civilians were wounded, including one seriously, in an anti-tank guided missile attack by the Hezbollah terror group from Lebanon on Sunday, the military and medical officials said." And a separate attack witnessed seven Israeli soldiers wounded by a mortar.
"The Hezbollah missile struck a number of vehicles near the northern community of Dovev, close to the border. Some of the victims were Israel Electric Corporation employees who had arrived to repair power lines damaged by previous fire from Lebanon," the Israeli report continued.
Loading...