---
Biden Close To Approving Cluster Bombs, Banned In 120 Countries, For Ukraine
President Biden is said to be close to approving controversial cluster munitions for Ukraine. CNN on Friday cites administration sources to say he is "strongly considering" approval of the transfer. 
"Officials told CNN that a final decision is expected soon from the White House, and that if approved, the weapons could be included in a new military aid package to Ukraine as soon as next month," the report says.
"These would undoubtedly have a significant battlefield impact," a US official said to the outlet. CNN further acknowledges that "Cluster munitions, which the US has stockpiled in large numbers since phasing them out in 2016, could help fill that gap, officials said."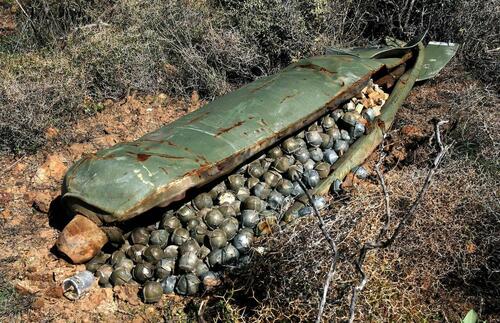 The White House would likely receive significant support from bipartisan lawmakers in Congress, given that's precisely where the initiative to supply Kiev with cluster munitions originated. 
In March a Republican letter to the president chastised the White House's "reluctance to provide Ukraine the right type and amount of long-range fires and maneuver capability to create."
That particular letter had been signed by influential, high-level GOP Congress members, including: Jim Risch, the top Republican on the Senate Foreign Relations Committee, Roger Wicker, the top Republican on the Senate Armed Services Committee, Mike McCaul, the chairman of the House Foreign Affairs Committee, Mike Rogers the chairman of the House Armed Services Committee.
Many Republicans have remained among the most outspoken hawks when it comes to a muscular approach, and massive spending, for anti-Russia efforts in Ukraine. Another, bipartisan letter from Congress was penned last week and submitted Friday: 
But the push to send the artillery-delivered cluster bombs has intensified within the U.S. administration and on Capitol Hill as the Pentagon has sent—or is prepared to send—weapons at the top of Ukraine's checklist, starting with howitzers and culminating with F-16 fighter jets. And with Russia successfully clinging to dragon-toothed trench lines, that push is getting stronger. 

"Transferring DPICMs to Ukraine presents an opportunity to provide the Ukrainian Armed Forces with a powerful capability to use against the Russian army and mercenary forces," the lawmakers wrote to Biden on Friday. "Let us use this untapped, vast arsenal in service of Ukrainian victory, and reclaiming Europe's peace." The letter was sent to Biden before Wagner Group chief Yevgeny Prigozhin staged an abortive mutiny against Russian President Vladimir Putin that managed to take control of a Kremlin military logistics hub in Rostov-on-Don over the weekend before petering out. 
Washington "reluctance" on cluster bombs stems from the fact that some 120 countries have banned cluster munitions as they have long been understood to be more indiscriminate than conventional weapons, given they randomly disperse small bombs over large areas.
Biden's right to not send cluster bombs to Ukraine. They're an insidious weapon. In the 80's I brought kids from Lebanon who'd lost limbs to Israel's use of cluster bombs. We shouldn't have them. They should banned. Using them should be a war crime. https://t.co/Rrc8HbEGI4

— James J. Zogby (@jjz1600) June 26, 2023
For example, the MK-20, which is one of the weapons on Ukraine's wish list, disperses 240 dart-like submunitions or bomblets after being deployed.
"The US had been producing and selling cluster bombs to its allies until a few years ago," Antiwar.com recently pointed out. "In 2016, Textron Systems Corporation stopped producing MK-20s when the US stopped selling them to Saudi Arabia. But there's still an estimated one million of the bombs Pentagon stockpiles."
Loading...