---
Biden Mobilizes 3,000 Reservists To Europe To Augment 'Operation Atlantic Resolve'
President Joe Biden today issued an executive order approving the mobilization of select reserve forces with up to 3,000 personnel, augmenting the armed forces in support of Operation Atlantic Resolve.
By the authority vested in me as President by the Constitution and the laws of the United States of America, including sections 121 and 12304 of title 10, United States Code, I hereby determine that it is necessary to augment the active Armed Forces of the United States for the effective conduct of Operation Atlantic Resolve in and around the United States European Command's area of responsibility.  

In furtherance of this operation, under the stated authority, I hereby authorize the Secretary of Defense, and the Secretary of Homeland Security with respect to the Coast Guard when it is not operating as a service in the Navy, under their respective jurisdictions, to order to active duty any units, and any individual members not assigned to a unit organized to serve as a unit of the Selected Reserve, or any member in the Individual Ready Reserve mobilization category and designated as essential under regulations prescribed by the Secretary concerned, not to exceed 3,000 total members at any one time, of whom not more than 450 may be members of the Individual Ready Reserve, as they deem necessary, and to terminate the service of those units and members ordered to active duty.

This order is not intended to, and does not, create any right or benefit, substantive or procedural, enforceable at law or in equity by any party against the United States, its departments, agencies, or entities, its officers, employees, or agents, or any other person.
Here's the Atlantic Council's description of Operation Atlantic Resolve: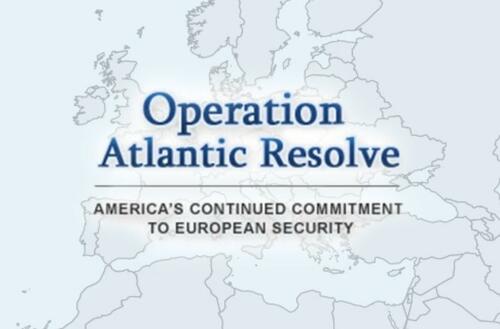 Defense.gov reports that this operation will be designated as a contingency operation, said Army Lt. Gen. Douglas A. Sims II, Joint Staff director of operations, during a press briefing today.
"This new designation benefits troops and families with increases in authorities, entitlements and access to the reserve component forces and personnel," Sims said.

"This [executive order] reaffirms the unwavering support and commitment to defend NATO's eastern flank in the wake of Russia's illegal and unprovoked war on Ukraine," Sims said.
So, first Abrams tanks were 'no', then F-16s were a red-line we wouldn't cross, then cluster bombs were a war-crime, and now as close to 'boots on the ground' as we have been in a war against Russia?
Many questions arise about this action - Why reservists and not active military? (is it somehow less 'boots on the ground'-ish if they are reservists?) Why now? (is another major Hunter Biden headline about to drop?)
At first blush, this may appear to be nothing significant to the casual observer. Maybe the reserves will just be there in a "support" or "advisory" capacity. But they will be there.
And as Lincoln Brown warns via PJ Media, one must ask oneself if a precedent is being set.
It takes an act of Congress to declare war. Historically, the president must go to the legislature and ask for a declaration. But Biden is taking advantage of his office to mobilize select portions of the military and send them to Europe, bypassing the need to even so much as consult with Congress. Is it an attempt to hide or secure something? Or is it merely an act of a self-obsessed and deluded president and cabinet?
Whatever the case may be, one should be disturbed at the thought of Joe Biden and his advisors pushing toy soldiers around a map of Europe. All the while oblivious to what is at stake. Not just for the nation but for the world. In a worst-case scenario, this is not going to be like D-Day, as horrific as that was. This will not be General Patton racing across Europe with his tanks to be the first to cross the Rhine. This will not even be like Vietnam or any of the recent conflicts in the Middle East.
This could potentially be unlike anything we have experienced before. And it is past time that cooler and saner heads on both sides of the aisle made this terrible old man and his ambitious, tone-deaf sycophants stand down.
Finally, bear in mind that Congressman Matt Gaetz has been warning that the Biden administration of "sleepwalking our great country into a world war."
Is this the next escalatory move? Yet another prod of the bear?
Loading...