---
Biden Poised To Sanction West Bank Settlers Attacking, Displacing Palestinians
In the wake of surging violence inflicted against Palestinians by Jewish West Bank settlers, the Biden administration is poised to impose sanctions and visa bans on the perpetrators, according to a directive leaked to Politico and reported by the outlet on Saturday night.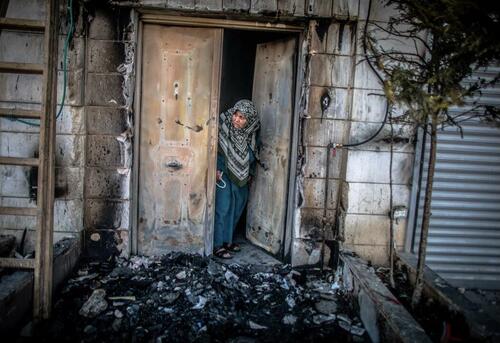 Via the document, President Biden notes that settler violence has destabilizing effect on the entire Middle East, and orders Secretary of State Antony Blinken, Treasury Secretary Janet Yellen and other officials "to develop policy options for expeditious action against those responsible for the conduct of violence in the West Bank." 
Politico hasn't seen the document. Rather, an anonymous senior government official read passages to a reporter. The official said the decision was preceded by intense debate among administration officials. 
Israeli terrorist settlers are now murdering farmers in the west bank. They are armed militias of israel outside of the IDF. Israel is the jewish ISIS. pic.twitter.com/mKCsndlmAX

— Syrian Girl 🇸🇾🎗 (@Partisangirl) October 30, 2023
Even before the Oct 7 Hamas attack on southern Israel, 2023 was already considered the worst year for settler violence in more than a decade. Since, settlers have ramped up their killing of Palestinians, leaving threatening leaflets ordering them to leave their homes, blocking roads with boulders, cutting electricity lines to Palestinians' homes, shutting down water wells and destroying olive trees. 
"Yesh Din, an Israeli rights group, reports that 197 Palestinians in the West Bank have been killed by settlers or Israeli forces since Oct. 7. The United Nations reports that, in the same time frame, at least 121 Palestinian households — about 1,150 people, including 452 children — have been displaced by settler violence and access restrictions." -- Politico 
Biden's directive charges US agencies to target those who "have directly or indirectly engaged in actions or policies that threaten the security or stability of the West Bank," violate human rights, or take "actions that intimidate civilians in the West Bank with the purpose or effect of forcing displacement actions in the West Bank." It's not clear how the Biden administration will identify specific targets for sanctions and visa bans.
#JewishTerrorists Settlers Attack & burn Palestinian property in Deir Sharaf, northwest of Nablus, and attack Palestinian vehicles near the village of Jit, between Nablus and Qalqilya.

Video from Deir Sharaf https://t.co/7GxfLl9D0r pic.twitter.com/hTaWC3hfLx

— Being Human (@Indiandude007) November 11, 2023
Biden's move was foreshadowed earlier on Saturday, when the Washington Post published an op-ed piece with Biden's byline that ventured to outline a path out of the current war. Biden reiterated his opposition to ceasefire demands, despite reports of more than 11,000 Palestinians killed in Gaza -- including more than 4,000 children -- and despite polls showing 68% of Americans want a ceasefire and negotiation.  
Biden also trotted out the usual disingenuous calls for a two-state solution, when Jewish settlements have so riddled the West Bank as to preclude the possibility of contiguous Palestinian state in the territory seized by Israel in 1967. 
Biden also spotlighted the scourge of settler violence:   
"I have been emphatic with Israel's leaders that extremist violence against Palestinians in the West Bank must stop and that those committing the violence must be held accountable. The United States is prepared to take our own steps, including issuing visa bans against extremists attacking civilians in the West Bank."
"I hugged the olive tree… I'd raised the tree like my child."

On November 27, 2005, a Palestinian woman was photographed hugging an olive tree after it was attacked by Israeli settlers.

Get to know the story behind this iconic image. pic.twitter.com/YUS57QjrFc

— Al Jazeera World (@AlJazeeraWorld) November 10, 2023
Loading...