---
Biden, Xi Rumored To Announce Crackdown On China Fentanyl Trade At APEC
Chinese President Xi Jinping departed Beijing on Tuesday to attend the Asia-Pacific Economic Cooperation summit in San Francisco. During the summit, he intends to have discussions with President Biden about addressing the fentanyl trade between China and the US, as per a new report.
Bloomberg, citing those familiar with the talks, said the deal could involve China regulating the production and export of fentanyl. This would be a major win for the Biden administration. They noted the agreement, which is in its final stages, would involve China targeting domestic chemical companies to curb the distribution of fentanyl and source materials. 
The deal is on a quid pro quo basis. This means the Biden administration would lift restrictions on China's forensic police institute, an agency Washington says is responsible for human rights violations, the people said. 
A deal should be announced on Wednesday when Biden and Xi meet on APEC's sidelines. Separate reports indicate China could also announce a new commitment to purchase Boeing 737 Max jets. And another report last week suggests the two leaders will discuss restoring military communications. 
The timing of the possible crackdown comes as Soros-backed DAs nationwide and radical progressive mayors have failed to enforce law and order, transforming many metro areas into lawless hellholes of open-air drug markets, homelessness, and soaring violent crime. 
Also, the White House has embraced open southern borders, allowing an invasion of unvetted illegals from around the world to flood the nation by the millions. Illegals entered the country on the same routes used by Mexican drug cartels to sneak fentanyl and other drugs into the US.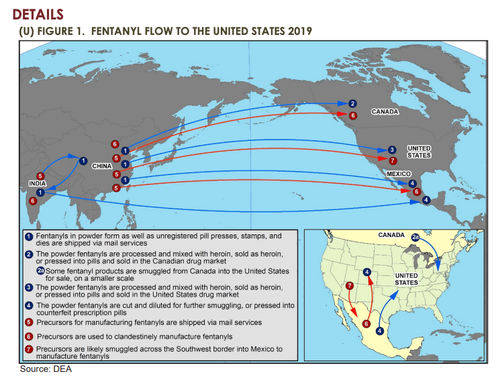 Meanwhile, Democrats have prioritized a 'woke' agenda over the health and safety of the majority.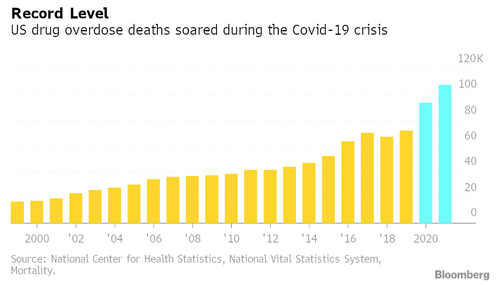 Don't forget San Fran Mayor London Breed demonstrated in the last week she was entirely capable of restoring law and order, bowing down to Xi rather than her constituents by placing more cops in the city, pressure washing shit-covered streets, dissolving open-air drug markets, and kicking the homeless out of the downtown area near APEC. 
If the Biden administration manages not to screw up before a deal with Xi, then they will parade the agreement around for the 2024 presidential election cycle. 
For those who have lost loved ones because of the drug crisis and lack of law and order by Democrats nationwide, Biden's agreement won't bring back those who have tragically perished. It's time for Americans to hold Democrats accountable at the polls for their disastrous policies.
Loading...