---
Biggest Drone Attack On Russia Since War Began Destroys At Least 4 Military Planes
Another huge drone attack on Russian territory has taken place in overnight and early hours of Wednesday morning, this time against an airport in the north-western Russian city of Pskov, which hosts military planes. It came amid broader drone attacks on six Russian regions.
Crucially, Pskov is a mere 20 miles from NATO member Estonia's border, which sparked internet rumors that Estonia could have been involved, also given the city of Pskov is over 400 miles from Ukraine itself. International outlets are citing Russia's TASS to report that at least four military transport planes were damaged in the attack.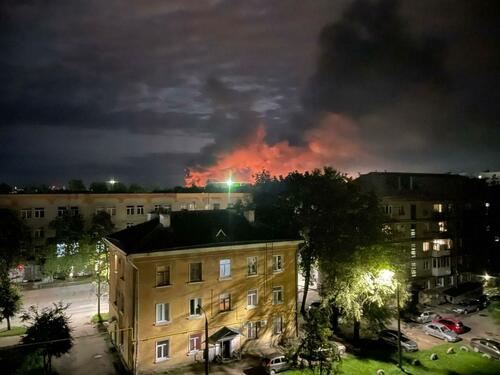 Four Il-76 transport planes were damaged as drones pummeled the airport. "As a result of the drone attack, four Il-76 aircraft were damaged. A fire broke out, and two planes burst into flames," TASS reported.
Given the apparent direct hit on no less than four large military planes, this marks one of the biggest and successful cross-border attacks from Ukraine since the war began. Crimea has also in the last days come under waves of drone attacks, and overnight Bryansk Oblast was also targeted, as well as the capital of Moscow and other locations.
In total the unprecedented overnight drone operation included strikes on the following:
Pskov's "Kresty" Airport hit 
Bryansk: One of Russia's largest microchip plants hit
Oryol
Ryazan
Moscow
Sevastopol, Crimea
Pskov airport following reported UAV attack pic.twitter.com/oe4isl9IEr

— Faytuks News Δ (@Faytuks) August 29, 2023
But Pskov regional governor Mikhail Vedernikov downplayed the significance, emphasizing that the airport will resume operations by Thursday and that there were not civilians hurt.
"According to initial assessments, nothing serious has occurred but it is hard to determine that at night. If everything is in order, the airport will resume normal operations on Thursday," he said.
Pskov's Kresty Airport is very close to NATO-member Estonia's border...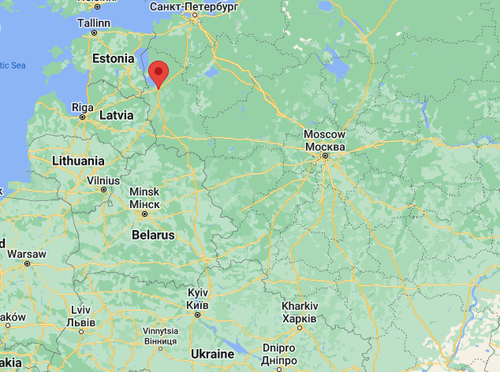 "The defense ministry is repelling a drone attack on Pskov's airport," the governor had written previously as the attack unfolded.
According to The Independent, which analyzed circulating footage of the aftermath:
Footage shared by the governor showed smoke billowing over the city of Pskov and a large blaze. Unconfirmed media reports said between 10 and 20 drones could have attacked the airport.
A much better quality video of 2 burned down IL-76 military transport planes at the airfield attacked by Ukrainian drones in Pskov during the night. These drones are taking off from within Russia, just several kilometers away from their targets. 4x IL-76 and 1x Tu-22 destroyed. pic.twitter.com/jhoVH5N0Jg

— Igor Sushko (@igorsushko) August 30, 2023
Russian retaliation was swift, the same report said:
Moscow retaliated on Wednesday by launching a "massive combined attack" on the Ukrainian capital using drones and missiles, that killed two people and injured another.
It remains unclear what Kiev hopes to gain in strategic terms from such risky attacks deep into Russia's territory, given it certainly escalates things without translating into any gains along the front lines for Ukraine.
Ukraine attacked 6 regions of Russia with drones. What is known so far:

- at about 0.30 Moscow time, the governor announced that a drone attack on the airport in Pskov was repulsed, there were no victims or injured. Flights at the airport were canceled for runway inspections.… pic.twitter.com/z2dGJmDjeH

— Victor vicktop55 (@vicktop55) August 30, 2023
Washington has long claimed that it does not "enable or encourage" such attacks inside Russia; however The Economist reported Sunday that intelligence provided by Western partners is frequently relied upon for such cross-border operations. Satellite targeting help is also likely a key factor.
Loading...