---
'Blatant Provocation': China Lashes Back After Biden Labels Xi A Dictator
On Wednesday China lashed back at US President Joe Biden for his earlier referring to Chinese leader Xi Jinping as a dictator. The timing of Biden's Tuesday night remarks, issued at a fundraiser, were especially awkward given he had just dispatched Secretary of State Blinken for a two day visit to China where he met with Xi.
"That's a great embarrassment for dictators. When they didn't know what happened," Biden said while speaking on recent tensions at the California event, and while referring to the Chinese spy balloon shootdown in early February.
The irony, obvious and yet perhaps lost on Biden, is that Blinken's trip was a desperate attempt of administration to rescue spiraling US-China relations, and with Biden's one single "dictator" comment these efforts have likely come to nothing.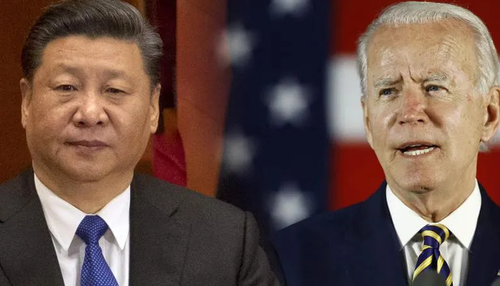 China's foreign ministry blasted Biden's dictator comment as "extremely absurd and irresponsible."
FM spokesperson Mao Ning said Biden's words "go totally against facts and seriously violate diplomatic protocol, and severely infringe on China's political dignity."
"It is a blatant political provocation. China expresses strong dissatisfaction and opposition," Mao told a daily briefing. "The U.S. remarks are extremely absurd and irresponsible."
Biden's full remarks on Xi being caught 'unaware' by the spy balloon incident were as follows: 
"That's what's a great embarrassment for dictators, when they didn't know what happened. That wasn't supposed to be going where it was. It was blown off course up through Alaska and then down through the United States. And he didn't know about it," Biden said. "When it got shot down, he was very embarrassed. He denied it was even there."
This has prompted the Chinese foreign ministry to repeat its rejection of Washington's narrative regarding the balloon and its purpose: 
Mao reiterated China's contention that the balloon was for meteorological research and had been accidentally blown off course.

"The U.S. should have handled it in a calm and professional manner," she said. "However, the U.S. distorted facts and used forces to hype up the incident, fully revealing its nature of bullying and hegemony."
Meanwhile, also on Wednesday China is engaged in some muscle-flexing off its coast, sailing its Shandong aircraft carrier and a grouping of warships through the Taiwan Strait.
Per regional media, "Beijing has ramped up sea and air incursions in recent years around Taiwan, which it claims as its own territory, but the deployment of the Shandong through the waterway separating the island from China is a rarity."
Loading...