---
Blinken's $1BN More For Ukraine Includes Seized Assets Of Russian Oligarchs
Update(1539ET): Maui? East Palestine? No, Blinken is in the capital of Ukraine where he just announced $1 billion more in US aid to the the country.
"The U.S. commitment includes more military assistance, but also funds to bolster its future defense and its own democracy and economy," the NY Times noted following the Secretary of State's remarks to the press.
This includes, interestingly enough, some half-billion dollars for "cleaner, more resilient" energy infrastructure, and over a couple hundred million more for civilian and city infrastructure, including for clean water, food, medical support, and home generators. And then there's this detail: seized funds from Russian oligarchs will be included as part of this round of aid...
US: FUNDS TO UKRAINE INCLUDE $5.4M IN FORFEITED OLIGARCH ASSETS
.@SecBlinken: Americans will "invest more than $520 million" to make Ukraine's energy infrastructure "cleaner, more resilient" pic.twitter.com/s9SAamq9CU

— Tom Elliott (@tomselliott) September 6, 2023
* * *
US Secretary of State Antony Blinken made a surprise visit to Ukraine on Wednesday at a moment of waning Western faith in the ability of the counteroffensive to make any breakthroughs. It marks the highest level visit by an American official since last February President Biden visited Kyiv for the first time.
Like with prior trips, Blinken came bearing gifts, announcing over $1 billion in new US aid - while Moscow has charged that Washington will fund Kyiv until the "last Ukrainian". But Blinken's message is: "We want to make sure that Ukraine has what it needs, not only to succeed in the counteroffensive, but has what it needs for the long term, to make sure that it has a strong deterrent," he told reporters.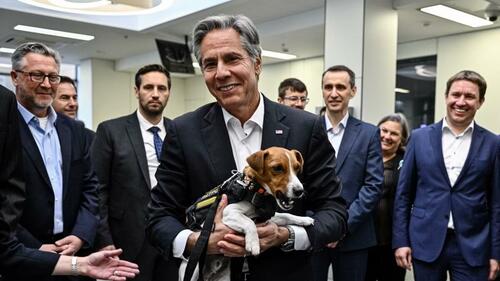 The trip and announcement seems to confirm that the Zelensky government's latest bold moves related to anti-corruption "house cleaning" was done at the behest of Washington and NATO, likely for the sake of PR and to keep US taxpayer dollars flowing into Kiev's coffers.
"I'm here first and foremost to demonstrate our ongoing and determined support for Ukraine as it deals with this aggression," Blinken assured.
To review of the immediate context, only in the past days and week...
Ukraine's government cracked down on corrupt army recruiters
Zelensky sacked his defense minister amid a long-running corruption probe related to overpriced contracts for military items
Zelensky in an interview said a presidential election during wartime is impossible, but hinted there could be a path forward if the West funds it
Interestingly, the newly appointed defense minister to replace Oleksii Reznikov is a Tatar Muslim originally from Crimea (was he another diversity hire?) named Rustem Umerov, and he's been swiftly approved by parliament. Umerov had previously been chairman of Ukraine's State Property Fund.
The Parliament of Ukraine has appointed Rustem Umerov @rustem_umerov as the new Minister of Defense of Ukraine.
He took the oath of Member of the Cabinet of Ministers of Ukraine at the plenary of the Parliament.
Welcome aboard, Minister.
🇺🇦 pic.twitter.com/PQx9qaYMNV

— Defense of Ukraine (@DefenceU) September 6, 2023
A meeting between Blinken and Zelensky is expected to happen Wednesday evening (local time). Like other Western leaders, Blinken flew into Eastern Europe and completed the final leg of the trip to Kyiv by train.
Blinken's trip is taking place just after a new major aerial assault by Russia reportedly killed at least 16 in the city of Kostiantynivka in eastern Ukraine, according to an update by Zelensky. On Telegram he condemned "The audacity of evil" and what he further called "The brazenness of wickedness. Utter inhumanity."
"At this moment, the attack by Russian terrorists has killed 16 people…a regular market. Shops. A pharmacy. People who did nothing wrong. Many wounded. Unfortunately, the number of casualties and injured may rise. My condolences to all who have lost loved ones!" Zelensky added in the written statement, "The Russian evil must be defeated as soon as possible."
As for the faltering counteroffensive, the NY Times has tried to paint a rosier picture than what's been featured in the last months:
Mr. Blinken was expected to meet with President Volodymyr Zelensky on Wednesday evening. His visit comes as the Ukrainian counteroffensive in the southeast has gained some traction after three months of grueling, bloody fighting. Ukrainian troops have broken through a main line of Russia's defenses in one location, Ukraine's Army has said, and are turning their attention to breaking through in another heavily defended patch of territory.

The State Department official cited Ukraine's "impressive progress" on the battlefield in recent weeks. But swift gains are unlikely, military analysts say...
⚡️US Secretary of State Antony #Blinken may announce today in #Kyiv a new aid package for #Ukraine worth $1 billion, Reuters reported.

Blinken's visit to Ukraine will last for two days.

📷: CNN pic.twitter.com/KmYyX73IAq

— KyivPost (@KyivPost) September 6, 2023
Meanwhile, it should be noted that many of the earliest pics of Blinken's surprise visit to hit the web and news feeds featured him posing with a cute dog. Was this meant more for American public consumption? Per the NYT:
Soon after arriving in Kyiv, Mr. Blinken was introduced to Patron, a mine-sniffing Jack Russell Terrier that is a much-loved mascot for Ukraine's war effort. Mr. Blinken petted and held Patron, a video posted by RBK, a Ukrainian news outlet, showed.
Cute doggy and US billions.
Blinken showing humanity as he brings the courageous Ukranians 1bb$ in aid. He should be praised.

— Billy Snider (@sniderstyle) September 6, 2023
Zelensky previewed what's expected to be discussed during his meeting with Blinken, having said earlier, "All requests from the warriors will be addressed by senior generals, government officials and our international relations officials."
Loading...