---
Checking In On NATO-Liberated Libya: Foreign Minister Fired For Meeting With Israel
Libyan Foreign Minister Najla al-Mangoush met with her Israeli counterpart FM Eli Cohen last week in Rome.
Upon reports of the "controversial" meeting, mass protests have erupted across the country, which since Muammar Gaddafi's overthrow at the hands of NATO-backed rebels has been in a state of internecine conflict and chaos.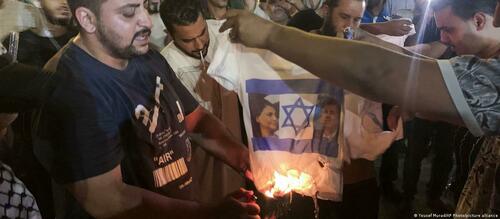 FM Mangoush represents Libya's Government of National Unity (GNU) in Tripoli, which is the United Nations and US-backed authority in Libya, following years in-fighting among rival Libyan factions ruling western, eastern, and southern parts of the country. 
The North African country has never recognized nor had diplomatic relations with Israel. Any dealings with Israeli are punishable by imprisonment, according to the Libyan penal code. 
Al Jazeera is reporting Monday that Foreign Minister Mangoush has been fired, which is a deeply ironic situation given the Tripoli government was literally installed after the US-NATO military intervention in 2011.
In wake of the controversy, both governments are now trying to downplay the Rome meeting as more of a chance encounter, but regional sources have pointed out the following:
Reporting from West Jerusalem, Al Jazeera's Harry Fawcett said: "[An Israeli] foreign ministry spokesman said that it was a coordinated meeting, it was not something accidental bumping into, it was a deliberate, direct session of talks with Italian foreign minister in attendance."
Over a decade after Obama pledged to bring "democracy" to Gaddafi's Libya, by bombing it in support of NATO-armed rebels, the new government dismisses ministers for merely meeting with close US-ally Israel.
The Associated Press has revealed that no less than CIA Director William Burns was earlier this year dispatched by the White House to urge Tripoli to enter diplomatic relations with the Jewish state:
A Libyan government official said normalization of relations between the countries was first discussed in a meeting between the Tripoli-based prime minister, Abdul Hamid Dbeibah, and CIA Director William Burns, who visited the Libyan capital in January.

According to the official, Burns proposed that Dbeibah's government, which is recognized as Libya's internationally backed government, join the group of four Arab countries that normalized relations with Israel under the U.S.-brokered Abraham Accords in 2020. The Libyan premier gave an initial approval, but he was concerned about public backlash in a country known for its past support for the Palestinian cause, the official said. 
Hard to imagine a better illustration of how the Israel obsession warps U.S. Middle East policy than sending the CIA director to pressure one of Libya's two rival governments to normalize ties. Does it even fit on a Top 20 list of U.S. interests in Libya? https://t.co/k9WRqwX57H

— Aron Lund (@aronlund) August 28, 2023
Back in 2011, then Secretary of State Hillary Clinton was considered the "architect" of the war, which many pundits have also called "Obama's Iraq". Like with US policy in Syria, it resulted in arming and empowering jihadists and other fanatical Islamists. 
Rather than stemming the expansion of terrorism in the Mideast/North Africa (MENA) region, Washington's "Arab Spring" era interventions served to exacerbate and spread terrorism in the region.
Loading...