---
China Brings Taliban Out Of Total Isolation In Sending New Ambassador
The Taliban government of Afghanistan is seeking to break loose from its isolation on the world stage, with a little help from Communist China, of all countries. 
For the first time since the Taliban seized power in August 2021 amid the disastrous and bloody rapid American pullout, Kabul has welcomed a new Chinese ambassador to Afghanistan.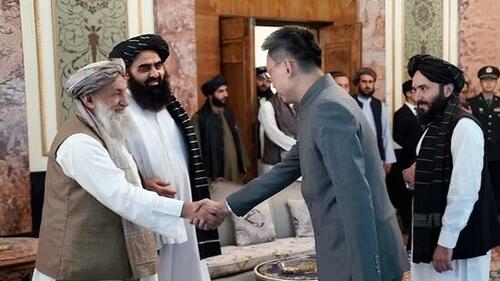 The Taliban apparently pulled out all the stops Wednesday in creating a lot of fanfare to greet Ambassador Zhao Sheng, with The Associated Press observing that his "car swept through the tree-lined driveway of the Presidential Palace escorted by a police convoy," after which he was "greeted by uniformed troops and met top-ranking Taliban officials, including Mohammad Hassan Akhund, who heads the administration, and Foreign Affairs Minister Amir Khan Muttaqi."
"It is the first time since the Taliban takeover that an ambassador to Kabul has been afforded such lavish protocol," the report noted. 
While the vast majority of countries around the world, including the US, have not formally recognized Taliban rule, China has remained among the few that have maintained a diplomatic mission in Kabul. 
China as the globe's second largest economy has expressed a desire to better ties with Afghanistan, especially on a commercial and investment front, also given the potential for Belt & Road related infrastructural works. But it remains that security and terror attacks have plagued the country. 
Attempting to put on a new positive face for the world to see of 'responsible rule', Taliban spokesman Zabihullah Mujahid had this to say:
"It also signals to other countries to come forward and interact with the Islamic Emirate," said Mujahid. "We should establish good relations as a result of good interactions and, with good relations, we can solve all the problems that are in front of us or coming in the future."
Once upon time when the Taliban leaders used to be strictly against pictures and videos. They reformed themselves here. China's new ambassador presented his credentials to Afghanistan's interim Mullah Mohammad Hasan Akhund in Kabul. pic.twitter.com/PkhgaEnd57

— Mushtaq Yusufzai (@MYusufzai) September 13, 2023
Within months after the US-NATO pullout from the country, following a more than 20-year occupation, there were widespread rumors that China was eyeing moving troops into abandoned US military bases. This never materialized, but it's likely Beijing is more interested in the central Asian country's rare earth minerals.
One CNN headline noted that the Taliban is sitting on at least $1 trillion worth of rare earth minerals, but extracting this in the long term amid a deteriorated security environment is quite another story. China could be positioning itself to provide the kind of technology and infrastructure needed for such future projects.
Loading...