---
China Likely Providing Military Aid To Russia: US Intelligence Report
Authored by Andrew Thornebrooke via The Epoch Times (emphasis ours),
Chinese technology is driving Russia's ongoing war in Ukraine and helping Moscow to evade international sanctions, a new government report says.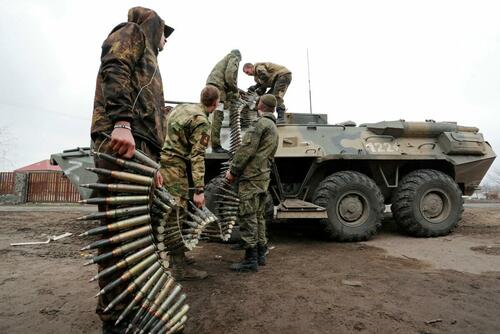 China's communist regime is helping Russia to evade sanctions and likely providing Russia with military and dual-use technology for use in Ukraine, according to a newly released unclassified report (pdf) compiled by the Office of the Director of National Intelligence (ODNI).
"[China] is providing some dual-use technology that Moscow's military uses to continue the war in Ukraine, despite an international cordon of sanctions and export controls," the report says.
"The customs records show [China's] state-owned defense companies shipping navigation equipment, jamming technology, and fighter jet parts to sanctioned Russian Government-owned defense companies."
China and Russia Continue to Unite Against US, Allies
The Chinese Communist Party (CCP), which rules China as a single-party state, denies sending any military equipment to Russia. However, the two authoritarian powers have vowed to uphold a "no-limits" partnership throughout the war, up to and including strategic coordination.
The burgeoning alliance between the CCP and the Kremlin has been a growing concern to Western officials since CCP General Secretary Xi Jinping and Russian President Vladimir Putin first announced their partnership on Feb. 4 last year.
Since then, Mr. Xi hasn't joined in international sanctions on Russia for the invasion of Ukraine, and the CCP has consistently taken the position that global financial actions against Russia are invalid, thus providing Russia with a vital economic lifeline in Chinese markets.
Despite Beijing's claims to the contrary, however, multiple reports have suggested that the regime could be funneling lethal aid to Russia through proxies in the Middle East.
According to a February report by German media outlet Der Spiegel, the Chinese regime falsified shipping documents to disguise military aviation equipment bound for Russia as civil in nature and used intermediaries in the United Arab Emirates to deliver dual-use drones to Russia.
Similarly, the White House has acknowledged that Chinese companies have directly supported Russia's war in Ukraine and issued sanctions on Chinese entities accused of backfilling Russia's defense industry but stopped short of saying that such support amounts to state-directed lethal aid.
The new ODNI report builds on that by saying that the CCP has become "an even more critical partner" to Russia over the course of the war in Ukraine.
The report also says that China and Russia are increasing the share of bilateral trade between them that is settled in China's yuan currency, boosting it against the dollar, and China is further increasing its importation of Russian energy exports, including oil and gas that it reroutes from Europe.
Still, the report is not without its shortcomings. ODNI says that much of the information cited is owed to either media reports or other open-source intelligence, raising the concern that even the nation's intelligence community is struggling to understand the CCP regime's inner workings.
"The Intelligence Community lacks sufficient reporting to assess whether Beijing is deliberately inhibiting United States Government export control end-use checks, including interviews and investigations, in [China]," the report says.
Report Raises Alarm on Chinese Aid to Russia
The Biden administration has raised the alarm that communist China may deliver lethal aid for Russia's war of conquest against Ukraine, and is reportedly considering declassifying and releasing intelligence about the issue.
Read more here...
Loading...