---
China Says It Caught CIA Spy Working For Military Company
China says it has arrested a worker from a military industrial group on suspicion of espionage, alleging the person has received money from the US Central Intelligence Agency.
The country's Ministry of State Security made the announcement Friday in an official posting to WeChat. Identifying the detained suspect only as "Zeng" - the statement alleged he passed military secrets to the CIA and in return received "large sums of money".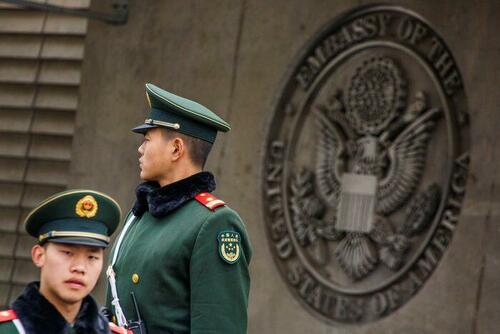 "The Chinese spy agency said that Zeng, 52, was sent to Italy by his employer but met with an official with the U.S. Embassy who turned out to be a CIA agent," The Associated Press quoted of the ministry statement.
The military industrial group Zeng worked for reportedly allowed him to access important classified information. The statement explained that while studying in Italy, the employee struck up a friendship with a US embassy official, who later turned out to be CIA. 
The two developed a "close relationship" through social outings in Italy, including attending dinner parties together. The Chinese statement also said that upon returning to China, he met with CIA personnel several times, and ended up providing "a large amount of core intelligence" on China's military.
The CIA hasn't commented, and it typically doesn't issue statement or acknowledgement when alleged CIA assets or spies are caught.
The timing of China's supposed spy bust is interesting and suspicious, and suggests Beijing is attempting to "answer" last week's Pentagon announcement that two US Navy sailors had been charged for handing sensitive military info to Chinese intelligence. 
Jinchao Wei, a 22-year-old sailor, was arrested on espionage-related charges, specifically conspiracy to provide national defense information to Chinese officials. He is attached to the San Diego-based USS Essex, an amphibious assault ship which is known to operate in the Pacific region, and even waters off Southeast Asia.
In a separate but similar case, 26-year old Wenhen Zhao was also charged over allegations he handed off sensitive US military videos and photos to Chinese intelligence. The DOJ specified the timeframe for the alleged espionage happened between August 2021 through this May (and possibly beyond). The two sailors, especially Zhao, allegedly provided material exposing classified information related to large-scale US Navy exercise in the Indo-Pacific region.
As broader US-China relations continue to be strained, despite recent but diplomatic efforts to find common ground which didn't go very far, there will likely be more 'spy scandals' in tit-for-tat fashion. 
Loading...