---
Reports Say China Scrubbed Israel From Online Maps
China's scathing criticisms of Israel's military campaign in Gaza, where the death toll has surpassed 8,500 mostly civilians, have grown of late - but this week escalated to a new precedent. 
The Wall Street Journal has confirmed internet users' deepening suspicions that the country of Israel has disappeared from several online maps after the 'mistake' began to gain increased attention. "Internet users in China are expressing bewilderment that the name Israel doesn't appear on leading online digital maps from Baidu and Alibaba, an ambiguity that matches Beijing's vague diplomacy in the region and contrasts with its attentiveness to maps generally," WSJ writes Tuesday. But some pundits have said the claim is misleading, stressing that many Chinese maps don't label "disputed areas" by default.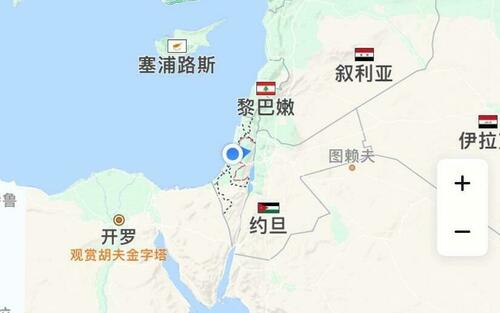 The internationally recognized borders of the Israeli state are also missing. The report says that Israel may have gone 'missing' on the popular maps since the start of the Oct.7 conflict and Israel's subsequent bombing campaign on Gaza. 
But as WSJ also points out, neither major Chinese company has publicly acknowledged the missing country information:
The same is true with online maps produced by Alibaba's Amap, where even small nations like Luxembourg are clearly marked. Neither company responded to questions on Monday. It is unclear whether the development is new, though it has been discussed by Chinese internet users since war broke out.

China's government has over the years cried foul and levied fines over maps published elsewhere online, such as on hotel websites, for failing to strictly adhere to Beijing's territorial claims, like leaving off a nine-dotted line stretching around the South China Sea that isn't internationally recognized.
Indeed this could be a subtle game of 'retaliation' for when Western sources publish maps which Beijing vehemently disagrees with, such as depicting Taiwan as independent from the Chinese mainland.
Israel has disappeared from China's online maps - The Wall Street Journal

Users have noticed that the country's name does not appear on online digital maps provided by companies such as Baidu and Alibaba. They show Israel's recognized borders, Palestinian territories, and key… pic.twitter.com/HgCqkkW9Uh

— NEXTA (@nexta_tv) October 31, 2023
Additionally, China has increasingly aligned its foreign policy with the Global South in recent months, and the Gaza crisis is a further demonstration of this trend.
In statements from the foreign ministry, Chinese officials have consistently highlighted Israel's bombing of Gazan civilians, instead of focusing on denunciations of the Oct.7 terror attack by Hamas (as the US and much of the West has done). "Every country has the right to self-defense, but every country should abide by international humanitarian law and protect the safety of civilians," FM Wang Yi told his Israeli counterpart Eli Cohen a week ago.
And then there's this provocative tweet from the Chinese embassy in France, rejecting Western claims of "genocide" against Uyghurs in Xinjiang, while highlighting that Gaza lies in ruins...
Sans titre. pic.twitter.com/JolIpmyZbA

— Ambassade de Chine en France (@AmbassadeChine) October 30, 2023
"As long as [any resolution] is conducive to peace, China will firmly support it; as long as [any resolution] is conducive to Palestinian-Israeli reconciliation, China will do its best," Wang had said. It will be interesting to see what becomes of the clearly deteriorating Israel-China relations by the end of this current crisis. 
Loading...