---
Civilians Killed & Wounded As Rival US-Backed Syrian Factions Continue Warring
Authored by Connor Freeman via The Libertarian Institute,
Fighting between the Kurdish-led Syrian Democratic Forces (SDF) and the Arab tribesman aligned with Deir Ezzor Military Council (DEMC) erupted again Monday night in eastern Syria, reports The New Arab. Both sides used to be united in the fight against the Islamic State (IS). However, now that the terrorist group is all but vanquished, ethnic tensions amongst the two groups exacerbated by the illegal US occupation have turned into clashes during recent weeks.
Per local sources speaking with the outlet, in the town of Abu Humam, SDF drone strikes killed an elderly man while he was working on his agricultural land. Further SDF drone attacks on the banks of the Euphrates River, close to Abu Humam, injured two men and three children. An unidentified drone, likely belonging to the SDF, targeting a vehicle in the area and wounded two civilians.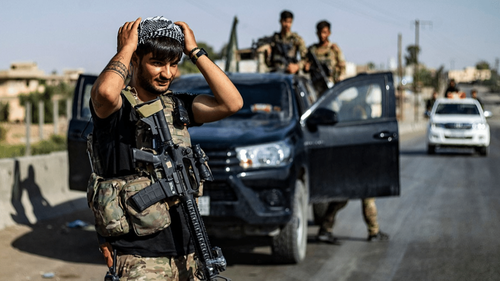 The sources added that the fighting resumed in the eastern Deir Ezzor province because the SDF attempted to breach the Al-Latwa neighborhood located in the town of Dhiban. After the SDF suffered casualties, the attack ceased.
Prior to fighting with resisting tribal militias in Al-Latwa, the SDF claimed it had seized full control over Dhiban.
Though Washington has backed some Sunni Arab groups such as the DEMC in the region, the US mostly relies on the SDF to control roughly a third of Syria along with the majority of the country's oil and wheat resources. There are about 900 US troops and an undisclosed number of contractors embedded with the SDF.
In Deir Ezzor, Damascus controls the area west of the Euphrates River, while Washington and their SDF proxy occupy Deir Ezzor east of the river. As a result of the illegal occupation, the Kurds have dominated the area much to the disliking of the Arab population.
Syrian journalist Ibrahim Muhammad has explained most people living in the province "categorically refuse to be ruled by the Kurds." The fighting started late last month when the SDF arrested the leader of the DEMC, Abu Khawla. Since then, over 100 people have reportedly been killed.
ISIS took over large swathes of eastern Syria and western Iraq as a result of a failed regime change operation which saw the CIA arming and funding rebel groups including al Qaeda affiliates. The proxy war killed hundreds of thousands of people but ultimately failed in its attempt to overthrow the Syrian government.
Oil-rich Deir Ezzor's Arab tribes are fighting US-backed PKK/YPG-led SDF in eastern Syria, signalling their deep resentment toward Washingtonhttps://t.co/VuobDr89ip

— TRT World (@trtworld) September 6, 2023
The terrorist group was all but destroyed by Damascus with its Russian and Iranian allies. The American occupation is instead designedly depriving Syria of vital resources amid Washington's economic war.
Loading...