---
Corrupt Billionaire Behind Zelensky's Rise To Fame & Power Arrested
With an estimated fortune of just under $1.7 billion, Ihor Kolomoisky is among Ukraine's top five richest citizens. Over the weekend he was arrested by Ukraine authorities on an array of fraud and money laundering charges, at a sensitive moment the government is trying to show the world it can tackle deeply rooted corruption.
A Saturday statement from the Security Service of Ukraine (SBU) said that the billionaire, referred to as the "de facto owner of a large financial and industrial group" – had allegedly tried to launder over 500 million Ukrainian hryvnia ($13.5 million) by "transferring it abroad, while using the infrastructure of banking institutions controlled by him."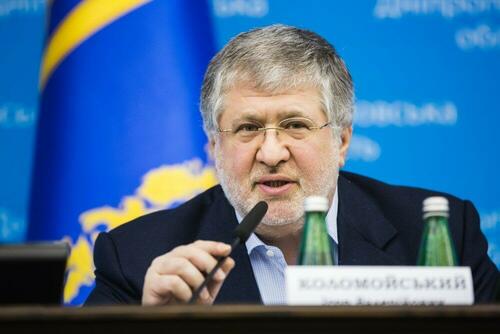 A Kyiv court has ordered him to pretrial detention for two months amid an ongoing investigation, with bail having been set at a whopping $14 million.
Importantly, The New York Times in its Tuesday coverage of Kolomoisky's arrest highlighted that he was an early major backer of now President Volodymyr Zelensky who had a hand in bringing him to power. He's also widely believed to have funded extremist private militia armies at various times.
Writes the NY Times: "His business interests have included oil and banking, and he was once considered a patron of Mr. Zelensky, a former comedian whose popular shows were broadcast on Mr. Kolomoisky's television channel before he successfully ran for the presidency."
And further very revealing details are included in the Times report as follows:
Suspicions of corruption and embezzlement have dogged Mr. Kolomoisky for years. In 2017, he left Ukraine for Switzerland and Israel after the government of then-President Petro O. Poroshenko seized a bank he co-owned and accused him of a large-scale fraud that threatened to destabilize Ukraine's economy.

He returned in 2019 after Mr. Zelensky's defeat of Mr. Poroshenko, raising fears that his ties to the new president would help him regain his economic and political clout.
So naturally, Western mainstream press is now presenting this as a "big fish" prosecution showing Zelensky is getting "tough" and finally going gloves-off on exposing long-standing corruption.
The timing is also interesting given Zelensky just sacked his own defense minister, an announcement which came the same weekend as billionaire Kolomoisky's arrest. "This week, parliament will be asked to make a personnel decision … I have decided to replace the minister of defense of Ukraine. Oleksii Reznikov has gone through more than 550 days of full-scale war," Zelensky said over the weekend. 
And guess who was degrees of separation away from Hunter Biden, related to shady Bursima relationships? "Besides being connected through the Burisma energy giant, Hunter Biden did business with Igor Kolomoisky's bank," one prior report reads.
Hunter Biden's Ukraine contact allegedly a 'fixer' for shady oligarchs https://t.co/lrUrcSiJWR pic.twitter.com/RJuG7HxFWb

— New York Post (@nypost) October 31, 2020
As for the dismissed defense minister, Reznikov was at the center of an anti-graft probe into the military's paying inflated prices for imported items, sometimes at triple or more the cost, the profits of which are believed to have lined the pockets of top military officials. There's also the recent recruiting scandal, where top military recruiters were given large bribes to allow individuals to avoid conscription.
In the backdrop is Ukraine's application to join the European Union. Of course, the fact that Ukraine tops the list of Europe's most corrupt societies will remain a major hurdle likely for years to come.
Russian media has meanwhile pointed out that Kolomoysky has personally entered the political arena at times, and that his money has hugely impacted the country in ways known and unknown:
Kolomoysky burst on to the political scene in 2014, when he was appointed governor of the southeastern Dnepropetrovsk Region following a Western-backed coup in Kiev. A year later, however, he was dismissed from his post over a conflict with then-Ukrainian President Pyotr Poroshenko amid a struggle for control of Ukrnafta and state-owned oil pipeline operator Ukrtransnafta.

In 2016, Ukrainian authorities also nationalized Kolomoysky's PrivatBank, after declaring it a major threat to the country's financial system, following allegations of large-scale fraud.

Kolomoysky is also widely considered to have played a major role in the rise to power of President Vladimir Zelensky. Before launching his political campaign in 2019, Zelensky was a comedian, whose show was hosted by a Kolomoysky-controlled media holding. The magnate himself said he "wanted" Zelensky to become president, but denied close contacts with him.
In this particular case it's very likely Washington has brought pressure to bear on Kyiv, given that as far back as 2021 the US State Dept. sanctioned Kolomoysky and his family members. A US statement at the time said he was engaged "in corrupt acts that undermined rule of law and the Ukrainian public's faith in their government's democratic institutions."
Ukrainian oligarch Igor Kolomoisky faces charges related to fraud and the laundering of unlawfully acquired assets, according to reports from the Security Service of Ukraine (SBU).

The SBU's findings indicate that during the period spanning 2013 to 2020, Igor Kolomoisky… pic.twitter.com/uHUOPPp1P1

— Zlatti71 (@djuric_zlatko) September 2, 2023
He may have at one point even been stripped of his Ukrainian passport, but he's personally dismissed these reports as well as the widespread allegations of corruption as being "nonsense" and without merit.
Ukraine is so corrupt the USA just made them fire their DEFENSE MINISTER for stealing.

All the untold thousands you've paid the IRS over your lifetime of hard work is equal to what they piss away on coke and whores in a night.

— Scott Horton (@scotthortonshow) September 5, 2023
* * *
Perhaps this is why it was easy for Zelensky to now (after all these years of "open" corruption) deliver him to the courts? Starting in 2019 Kolomoisky began making some pro-Moscow statements, in a major reverse-course...
Ukraine should give up on the West and go back into Russia's fold, influential Ukrainian billionaire Ihor Kolomoisky said in an interview with The New York Times Wednesday.

Kolomoisky's business ties to Ukrainian President Volodymyr Zelenskiy have been under heavy scrutiny since the start of the former comedian's election campaign this year. Both men have rejected suggestions that Kolomoisky has behind-the-scenes influence over Zelenskiy. 

The Moscow Times picked out quotes from Kolomoisky's emotional and profanity-laced interview that The New York Times says marks a "remarkable change of heart" for Russia's former opponent.
Meanwhile...
As Ukraine announces that it will now start to conscript women into the armed forces you can be fairly certain that the daughter of the head of the Ukrainian Chernigov region conscription office, Alexander Sapon won't be recruited.

Here she shows off her luxury lifestyle... pic.twitter.com/lHLTrQBkb7

— Dean O'Brien (@DeanoBeano1) September 5, 2023
Loading...