---
"Davos In The Desert": UAE Becomes Global ATM As Western Finance Dries Up
Five years ago, virtue-signaling American finance executives peeled out of a Saudi Arabian event in Riyadh following the murder of Washington Post columnist Jamal Khashoggi in the Saudi consulate in Istanbul.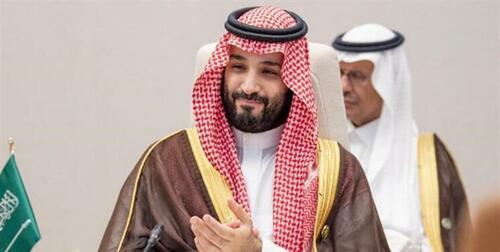 Now, with Western financiers hampered by rising interest rates and a reduced appetite for dealmaking, private equity, venture capital and real estate funds have come back with hats-in-hand to tap into the Middle East's vast wealth - which has been bolstered by higher energy prices thanks to Russia's invasion of Ukraine.
It turns out nothing heals old wounds like money... as major Western financial firms scramble to set up offices in the Middle East to win local investments.
While the Middle East steps on the gas, the traditional backers of investment funds—pension plans and college endowments—are in retreat. The global shift to higher interest rates caused losses in the biggest parts of their portfolios—especially stocks and bonds.

Investors put $33 billion toward U.S.-based venture capital funds in the first half of 2023, less than half the $74 billion in the same period in 2021, according to PitchBook. Global fundraising for all private funds fell 10% last year to $1.5 trillion, according to Preqin—a decline many expect to continue.  -WSJ
"Fundraising has become much, much harder over the past 12 months," said Brenda Rainey, an executive vice president at Bain & Co. who advises private-equity funds, in a statement to the Wall Street Journal.
But not in the Middle East...
To wit, this year's Future Investment Initiative Institute, known as "Davos in the Desert," will take place on Riyadh, and is expecting so much demand that it's charging $15,000 per head to attend, the Journal reports.
Saudi Arabia's Public Investment Fund (PIF) has seen commitments rise to $56 billion in 2022, a significant jump from $33 billion last year.
"Now, everybody wants to go to the Middle East—it's like the gold rush in the U.S. once upon a time," according to fundraising advisory firm CEO Peter Jädersten of Jade Advisors. "It's difficult to raise money everywhere."
Gulf funds now have the upper hand in negotiations, able to be "very thoughtful and selective" about things such as stakes in the fund managers themselves, or side-by-side investments, as per Ibrahim Ajami of Abu Dhabi state fund Mubadala.
All eyes on Abu Dhabi
One of the most influential dealmakers to emerge in the last few months is Abu Dhabi's national security adviser, Sheikh Tahnoun bin Zayed Al Nahyan, who has been using the country's $1.5 trillion investment war chest to make runs at buying Standard Chartered and Lazard, as well as recent deals to buy a $1.2 billion UK healthcare giant and a nearly $6 billion Columbian food company, according to Bloomberg.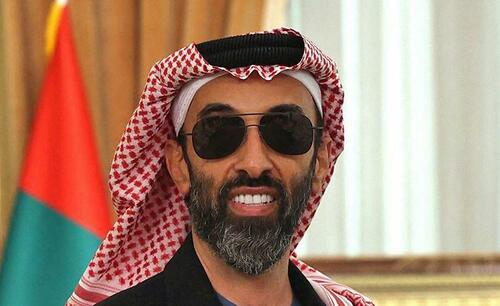 In March, Tahnoon was handed control of the Abu Dhabi Investment Authority (ADIA) following a March reshuffle. The $993 billion wealth fund is among the world's largest, and now ranks as the second-largest spender on deals among regional peers since the beginning of last year.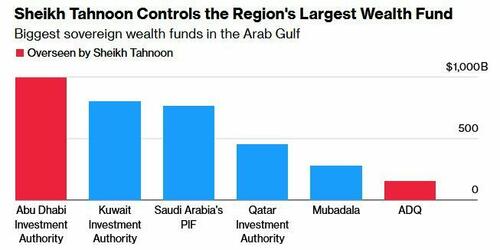 Born in the late 1960s, just after the discovery of oil in Abu Dhabi, Sheikh Tahnoon bin Zayed Al Nahyan has graduated from the close-knit circles of the UAE's royal family to become one of the world's most potent financial juggernauts.
Over the past few months, he has been on a capital-injecting spree, drawing billionaires like Ray Dalio into his vortex. According to Karen Young, a senior research scholar at Columbia University, "The UAE leadership has recognized its most important source of statecraft is financial. Sheikh Tahnoon is now the strategist behind multiple economic statecraft tools."
Over the past few months, Sheikh Tahnoon bin Zayed Al Nahyan has gained control of the largest sovereign wealth fund in the United Arab Emirates, expanding the assets he oversees to almost $1.5 trillion. He's proceeded to bankroll billions of dollars in deals via an expanded empire of private and state entities. Drawing in titans of finance such as Rajeev Misra and billionaire Ray Dalio, Sheikh Tahnoon — one of Abu Dhabi's two deputy rulers, the UAE's national security adviser and brother to its president — has sought to invest in everything from technology to finance, with varying degrees of success.

Known to be a fan of Brazilian jiu-jitsu, cycling and chess, Sheikh Tahnoon now helms two wealth funds, the region's most important private investment firm, the country's largest lender and its biggest listed corporate. That's made him the defacto business chief of the wealthy Al Nahyan family, with access to seemingly endless reserves of cash in OPEC's third-largest producer — an unusual amount of financial firepower even in the oil-rich Persian Gulf.
Other notable deals Tahnoon has been involved with include an investment in TikTok's Chinese owner ByteDance, a $10 billion fund targeting tech opportunities, and a deal to bankroll Softbank Vision Fund's key architect Rajeev Misra's new $6.8 billion fund. Another of Tahnoon's entities, G42, is partnering with Nvidia competitor Cerebras Systems, which just completed the first of nine AI supercomputers aimed at taking a run at Nvidia.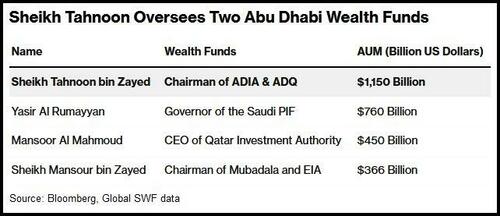 That said, it's not all a cakewalk for Sheikh Tahnoon. Navigating the intricate labyrinths of international regulations has proven to be a challenge. As Abu Dhabi inches closer to Beijing, with intentions of joining the BRICS bloc, it's raising eyebrows across Washington corridors.
Lynn Ammar, an Abu Dhabi-based partner at law firm Cleary Gottlieb warns, "The broad geographic scope is likely to continue to attract attention from FDI authorities, such as CFIUS, who may be concerned about potential information flow to China." This comes as the United States puts foreign investments under the microscope, tightening scrutiny over deals tied to the Chinese government.
What's more, Tahnoon isn't just the de facto business chief of the wealthy Al Nahyan family, he's also the UAE's national security adviser, wearing a dual hat that integrates economic and geopolitical strategy. Recent reports indicate significant UAE investments in Asian and African economies, marking a clear orientation toward emerging markets.
Wonder if this would be happening under a second Trump term and no Ukraine invasion?
Loading...