---
France Deploys 7,000 Soldiers After Teacher Murdered; Louvre, Versailles Evacuated Over Bomb Threats
France has deployed 7,000 soldiers to beef up security after a schoolteacher was stabbed to death and three others wounded, according to France's interior minister, who said that the suspected Islamist attack was linked to the Israel-Hamas conflict.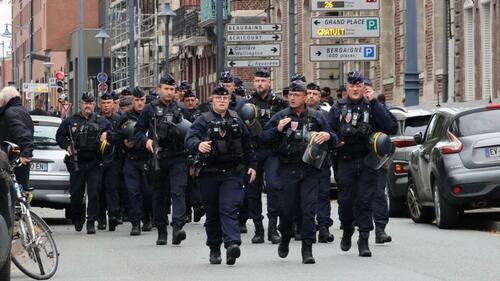 Breaking News France: 7000 Soldiers are being deployed across France as #HamasTerrorist supporters continue to cause chaos and the French authorities scramble to prevent further killings. #France Mass uncontrolled #Illegals being allowed into the country are causing… pic.twitter.com/1PdVT61Ovw

— Jim Ferguson (@JimFergusonUK) October 14, 2023
A 20-year-old Russian-born Chechen, Mohamed M, was arrested shortly after the Friday attack at a secondary school in the northeastern city of Arras, roughly 115 miles north of Paris. According to interior minister Gerald Darmanin, who added that authorities have detained 12 people near schools or places of worship since the Hamas attack on Israel, Sky reports.
⚡Graphic Video

THE SCENE OF THE MURDER OF A TEACHER IN FRANCE

The suspect is a Chechen. Today he killed a teacher in the courtyard of a school in France. He was arrested and taken into custody.#France pic.twitter.com/BjhMFJfX8Q

— ⚡NOW⚡ (@warinsightshq) October 13, 2023
The teacher's murder comes nearly three years to the day after a Chechen Muslim beheaded a French teacher on Oct. 16, 2020, near his school in a Paris suburb.
"Three years after the assassination of Samuel Paty, terrorism has struck a school again and in a context that we all know," said French President Emmanuel Macron.
Of note, France has banned all pro-Palestinian protests. Despite this, hundreds of demonstrators gathered in central Paris on Thursday.
"Pro-Palestinian demonstrations must be prohibited because they are likely to generate disturbances to the public order," said Darmanin, who called on police to protect all locations visited by French Jews, such as synagogues and schools, and that any foreigner committing acts of anti-Semitism on French soil will be "immediately expelled."
Meanwhile, the Lourve and the Palace of Versailles were both evacuated over bomb threats.
Le Louvre évacué en catastrophe après une alerte à la bombe.

L'invasion et l'islamisation du pays, ardemment voulues par les dirigeants de droite et de gauche depuis 40 se paient très cher.

Et ce sont les Français qui passent à la caisse.#attentat #islamisme #terrorisme… pic.twitter.com/h5ygei1Jxv

— Jean MESSIHA (@JeanMessiha) October 14, 2023
Alarms rang out through the Louvre, a vast space also in a former royal palace Paris overlooking the Seine River, when the evacuation was announced, and in the underground shopping center beneath its signature pyramid.

Police cordoned off the monument from all sides, and the underground access, as tourists and other visitors streamed out. Videos posted online showed people leaving, some hurriedly and some stopping to take photos, others apparently confused about what was happening. -AP
The Palace of Versailles, Louvre Museum, as well as several other Tourist Locations in Paris, France are currently being Evacuated following a reported Bomb Threat. pic.twitter.com/qL9nP5ucSY

— OSINTdefender (@sentdefender) October 14, 2023
BREAKING: Bomb alert at Palace of Versailles in France, people evacuating pic.twitter.com/ujLoclDM5t

— Insider Paper (@TheInsiderPaper) October 14, 2023
The Lourve welcomes some 30,000 - 40,000 visitors per day.
Loading...