---
France Evacuating EU Citizens From Coup-Hit Niger, Escalation Looms
European countries are initiating emergency evacuation plans for the their citizens currently in Niger, following last Friday's coup events which saw the country's military leadership declare President Mohamed Bazoum removed from power, overthrown by his own presidential guard.
"France is preparing the evacuation of its citizens and (other) European citizens who want to leave the country," the French foreign ministry said in a statement, noting it will begin immediately. At least three other European countries have followed suit.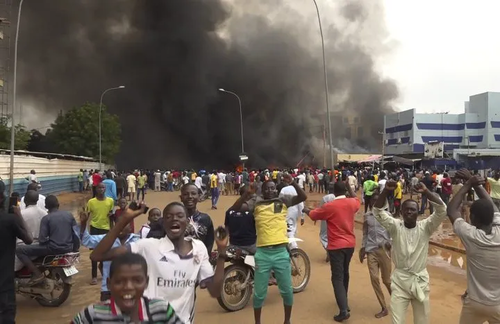 "Considering the ongoing coup in Niger and the fact that the situation continues to be worrying, we decided to make sure that the French citizens who want to leave Niger can do so," French Foreign Minister Catherine Colonna told a national broadcaster.
Germany's foreign ministry too noted that France has "offered, within the limits of available capacity, to take German nationals on board their flights from Niger". The government is imploring for Germans to take that offer.
Italian foreign minister Antonio Tajani has also announced a "special flight to Italy" to evacuate its nationals. Spain too is reportedly making emergency plans. 
There are believed to be at least multiple hundreds still in Niger from these EU countries, likely with the most being French. A number of French companies, importantly French nuclear fuels company Orano, have plants in Niger.
The French Foreign Ministry has announced that it has made the "Necessary Agreements" with the Military Junta in Niger to begin the Immediate Evacuation of French and European Nationals in the Country; they have been told to wait at Hotels in the Capital City of Niamey and to… pic.twitter.com/LGRoNWrEml

— OSINTdefender (@sentdefender) August 1, 2023
Orano has said its operations are continuing, chiefly through its predominantly Nigerien workforce. 
As for the Western troop presence in the country, which has long worked with Niger's military on counterterror operations, Reuters has noted that "The United States, Germany, and Italy have troops in Niger on counter-insurgency and training missions. There has been no announcement of troops being evacuated so far."
In addition to Niger's resources like uranium and gold, one of the reasons the US is so angry about the nationalist coup is the Pentagon spent $110+ million there building a massive drone base it uses to control the Sahel.

The CIA also has a base in Nigerhttps://t.co/TpnyjMsYIz

— Ben Norton (@BenjaminNorton) August 1, 2023
The security situation, particularly in the capital of Niamey, has continued to unravel particularly after over the weekend pro-coup demonstrators stormed at set fire to the French embassy. Reports then emerged that the overthrown government in exile was calling on France to intervene militarily. 
Meanwhile, the European Union on Monday issued a scathing attack on the junta headed by Gen. Abdourahmane Tchiani, while announcing new sanctions:
The EU said Monday it would hold Niger's putschists responsible for all attacks on civilians, diplomatic personnel and embassies after pro-coup demonstrators rallied outside the embassy of former colonial ruler France.

EU foreign policy chief Josep Borrell said in a statement that the European Union will also "quickly and resolutely" apply the decision of the West African regional bloc ECOWAS to apply economic sanctions on Niger.
At this moment there remains the threat of Niger's current turmoil spilling outside its borders and into a greater West Africa confrontation...
Burkina Faso🇧🇫 and Mali🇲🇱, two nations which have also fought to come out from under French domination, have said that they will consider an attack against Niger🇳🇪 by West African ECOWAS states de-facto carrying out France's bidding to be a declaration of war. pic.twitter.com/rBROx6gJdq

— Going Underground (@GUnderground_TV) August 1, 2023
Washington has reportedly sought the intervention of Chad to mediate a restoration of the democratically elected government of Bazoum, but each day that passes makes that prospect more and more unlikely.
From the West's perspective, looming large in the background is expanding Russian influence in Africa. Already there are hyped headlines claiming Putin is now eyeing extending his influence to Niger and across West Africa. Additionally, France is heavily dependent on uranium from Niger, with the coup government having declared the suspension of uranium and gold exports on Monday.
Loading...