---
France Negotiating With Junta For Withdrawal Of Its Troops From Niger
France is mulling a military withdrawal from Niger in the wake of the July 26 coup, and as a stand-off unfolds over the demand to withdraw its ambassador from the country.
France has some 1,500 troops in Niger, along with other Western allied troops - including Americans - but their presence has been unwelcome given Paris has supported threats from the Economic Community of West African States (ECOWAS) to intervene militarily to reinstate ousted president Mohamed Bazoum.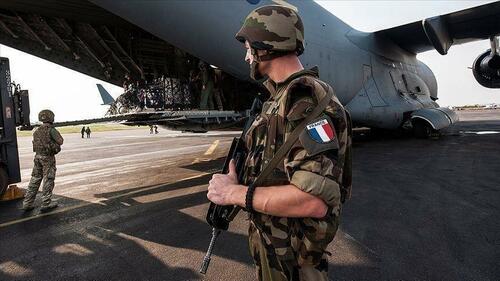 France has sought to stress that any formal talks with the junta led by Gen. Abdourahamane Tchiani should not be taken as recognition of the coup government.
According to new details in Al Jazeera:
France is reported to be in talks with Niger's military about possible withdrawal of French troops from the West African nation in the wake of the fraying of ties following a coup in July, according to French media reports.

Confirming the news, former French ambassador to Mali and Senegal Nicolas Normand told Al Jazeera that according to his sources, talks were ongoing between the French and Niger militaries to "partially" withdraw troops.
The ECOWAS are still threatening military intervention, but this has been on the table for weeks and they appear to be waffling, given Niger's military has reportedly bolstered its border defenses.
Any potential intervention by the West African nations would likely happen along Nigeria's some 1,000-mile border with Niger.
Niger's military-appointed prime minister said Monday that the junta is hoping to reach a deal with ECOWAS to de-escalate tension and avoid war. "We have not stopped contacts with ECOWAS, we are continuing contacts. We have good hopes of reaching an agreement in the coming days," Ali Mahaman Lamine Zeine stated.
"We are bracing to be attacked at any time. Every preparation has been taken. It would be an unjust war. We are determined to defend ourselves if there is an attack," he said.
Europe fears that previously cheap but vital resources from Niger may skyrocket in price...
France bought Uranium from Niger's former Bazoum regime at 80 cents per kilo. Now #Niger is selling it for 200 euros per kilo, at its actual trading price i.e. like that of Canada.
France used to rip off Niger with 250 times below Uranium's trading value.https://t.co/GWHOYOw0Uu

— Marwa Osman || مروة عثمان (@Marwa__Osman) September 6, 2023
Negotiations are centered on a reported plan to commit to a timeline for potential transition to civilian government, possibly nine months or up to three years.
Meanwhile, after a near month of closure, the junta has reopened airspace for commercial flights across the entire country, in a sign of potential de-escalation of regional tensions.
Loading...