---
FSB Alleges Ukraine Plotted Dirty Bomb Attack On Russian Territory
Russia's Federal Security Service (FSB) has alleged that Ukraine's military intelligence mulled plans to detonate a "dirty bomb" on Russian territory as retribution for the ongoing invasion. 
The FSB released a Tuesday statement claiming that Ukraine's Main Directorate of Intelligence (GUR) considered a high stakes plan to utilize a light aircraft capable of flying at low altitudes to fly saboteurs into Russia as well as a dirty bomb, or explosive device covered with radioactive material capable of dispersing contamination over a large area.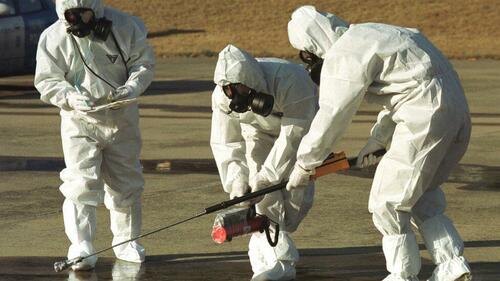 The statement said the "terrorist attack" was under preparation but never happened, and the alleged information appears to have been gained in part after interrogation of a captured Ukrainian pilot. 
This comes at a time of near daily cross-border attacks on Russian regions lying near Ukraine, including artillery and rocket attacks, and now multiple instances of ground raids by Kiev-aligned militia men in Belgorod.
According to further details of the alleged plot described in state media:
The Russian agency released footage of an interview with an alleged Ukrainian pilot who was intercepted while flying one such mission. Identified as Dmitry Shimansky, he was detained in May in Tula Region some 200km south of Moscow, when his plane landed to deliver drone parts and explosives for a planned attack on a Russian military airfield.

The pilot claimed that the GUR leadership had considered using the same tactics to prepare a dirty bomb attack in Russia. A dirty bomb is a conventional explosive device covered with radioactive material, which contaminates a large area around it after detonating.
The significant, though unverified, allegation by the FSB comes a day after CNN issued a bombshell report describing how Ukraine is overseeing a network of agents and sympathizers inside Russia who are conducting covert sabotage campaigns inside the country.
Ukraine's military and intelligence has begun providing the agents with drones to heighten the impacts of the attacks they are staging, CNN was told by multiple US intelligence sources.
"US officials believe these pro-Ukrainian agents inside Russia carried out a drone attack that targeted the Kremlin in early May by launching drones from within Russia rather than flying them from Ukraine into Moscow," CNN wrote.
The report underscored that "cash works wonders" - given the impact of the ongoing war and the chaotic nature of border security at this point:
A European intelligence official noted that the Russian-Ukrainian border is vast and very difficult to control, making it ripe for smuggling – something the official said the Ukrainians have been doing for the better part of the decade that they've been at war with pro-Russian forces.

"You also have to consider that this is a peripheral area of Russia," the official said. "Survival is everyone's problem, so cash works wonders."
CNN, citing U.S. intelligence sources:

Ukraine has created a network of agents in Russia who receive drones and carry out sabotage. pic.twitter.com/nJsA72W7Rd

— Clash Report (@clashreport) June 5, 2023
This without doubt sets the stage for greater unpredictability and escalation in the war, with President Putin having recently vowed "mirror actions" and retaliation for these attacks on Russian territory. But the cross-border raids from Ukraine are also meant to have a demoralizing effect on the Russian populace, and put it on edge, building pressure on Kremlin decision-makers. 
To some degree this demoralization strategy is having a serious impact, given for example Wagner is using the events in Belgorod to continue its scathing critiques of the Russian military command and top decision-makers.
Loading...