---
FT Discovers 71-Year-Old Ukrainian In NATO Training Program
By year's end, it's expected that up to 10,000 Ukrainian soldiers will have gone through a NATO training program hosted in Germany and run by Danish, Dutch, and German officers.
The Financial Times interviewed officials involved in the training program in a fresh report, and underscored that all are acutely aware of the serious setbacks the Ukrainian counteroffensive has faced. The publication reviewed persistent problems of training as well, from translating and communication issues, to sharp disagreements between Kiev and the West over military strategy and tactics. 
But there is one admission in the FT report which is most revealing, and shocking. While it's long been known that Ukraine has had to tap untrained recruits and throw them into battle amid staggering losses as well as attempts of young men to dodge military service, the FT report mentions - almost in passing - that Kiev has been sending elderly soldiers to "train".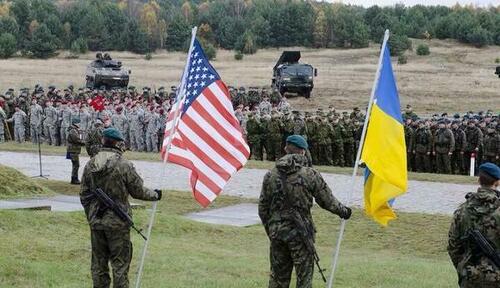 According to the section of the FT report in question: 
By the end of the year, European trainers were full of praise for the "tremendous motivation" of the recruits, despite the stress of the brutal war they are fighting and the daily dangers to friends and family back home. 

But they also said that the age and ability of the soldiers they are sent varies wildly, as Ukrainian commanders on the front line are often unwilling to spare their best men. One volunteer who turned up in Germany was 71 years old.
...that's right: FT identified a 71-year-old Ukrainian in the ranks of the NATO-sponsored training program. While perhaps admirable in terms of the individual elderly man's courage and willingness to defend his country, the whole scenario underscores the sad state of affairs within Ukraine military ranks, given they are sending geriatrics. 
Ukraine's military in its social media posts has, to the surprise of many, even admitted that old men and retirees are increasingly showing up in their ranks and on the battlefield...
In their 50s, 60s & beyond, these Ukrainian soldiers defy their advanced age by carrying out combat missions with dedication.
Calmly and carefully, they work to dismantle & destroy the enemy.
"We will stand and win!" they say.

📷Territorial Defense Forces of Armed Forces of 🇺🇦 pic.twitter.com/avCtd7gGmW

— Euromaidan Press (@EuromaidanPress) August 28, 2023
This shows one particular line in the FT report to be a huge understatement...
"Teaching inexperienced soldiers how to operate a tank on the front line in just six weeks was never going to be easy," the publication says. We might add that teaching 65+ year-olds how to become hardened and efficient soldiers was also "never going to be easy". 
Russia has of late sought to capitalize on Ukraine's manpower woes, producing wartime propaganda videos attempting to convince untrained Ukrainian soldiers to lay down their arms and save their own lives, instead of sacrificing for a government that doesn't care about them. The following video out of Russia has been widely circulating...
‼️ "This is your last chance"

Russians make an appeal to all Ukrainians dragged into the counteroffensive:

You still have a way out. pic.twitter.com/dFqTkZmQzQ

— What the media hides. (@narrative_hole) August 28, 2023
While young men try to hind from Ukraine's forced conscription, the country's defense ministry strangely "boasts" that... "In their 50s, 60s & beyond, these Ukrainian soldiers defy their advanced age by carrying out combat missions with dedication."
* * *
But it's not the first time this phenomenon has been documented...
In Ukraine conflict, even the elderly are getting ready to fight https://t.co/DFj8Z9EMYR pic.twitter.com/oCWgTkQE3D

— Reuters (@Reuters) February 20, 2022
Loading...