---
Israeli Cabinet Approves Major Hostage Deal, Multi-Day Ceasefire With Hamas
Update(2100ET): In a rare moment of positive news, Netanyahu's cabinet has approved the hostage release and ceasefire deal which has been long in development in the early hours of Wednesday morning (local). Below are the developing details of the deal (in an official govt. statement), which will see a multi-day ceasefire take effect - the first of the more than one-month long war which has claimed over 13,000 Palestinian lives and over 1,200 Israeli lives:
"The Israeli government is committed to bringing all the abductees home. Tonight, the government approved the outline for the first stage of achieving this goal, under which at least 50 abductees – women and children – will be released over a span of four days, during which there will be a lull in the fighting," the statement said.

"The release of every ten additional abductees will result in an additional day of respite," it added.

"The Israeli government, the IDF and the security forces will continue the war to return all the abductees, complete the elimination of Hamas and ensure that Gaza does not renew any threat to the State of Israel."
A prisoner swap is a key feature of the deal. According to Israeli media, "Israel also agreed to release Palestinian women and minors from prison and let them return to their homes, mostly in the West Bank and East Jerusalem."
"Israel has avoided offering a specific number, but Hebrew media has placed the figure at 150," writes Times of Israel. "A Palestinian Authority minister told Al Arabiya on Tuesday that 350 jailed Palestinian minors and 82 jailed Palestinian women would be freed in the swap."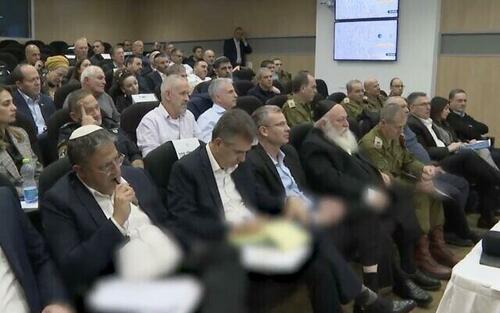 So clearly the deal has been structured (with Qatari mediation) to be extended based on how the initial phase of the captive/prisoner releases goes.
* * *
Update(1417ET): Further details as reported in Israeli media, and as Netanyahu cabinet votes on approving the Qatar-mediated deal:
Government meets on proposed deal to release some 50 Israeli hostages over 4 days of ceasefire
Deal provides for more releases later
Palestinian prisoners to be freed, but not murderers
However, even if the deal does get approved, and it is expected to, Israel's military is vowing this won't hinder its goal of eradicating Hamas.
IDF Spokesman Rear Adm. Daniel Hagari said Tuesday, "The goal of returning the hostages is significant. Even if it results in the reduction of some of the other things, we will know how to restore our operational achievements." He said this means the IDF will still focus on eliminating Hamas.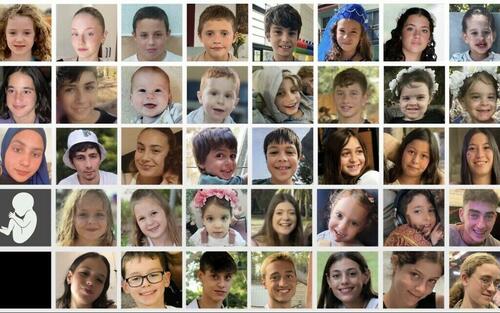 The White House this week issued rare, albeit somewhat tame, criticism of Israel's bombing campaign...
This may be one of the first US criticisms of a mass-casualty strike in Gaza, but it's still insufficient.

If a pause in fighting and release of (hopefully many) hostages is coming, @POTUS must use it to insist that Israel not resume bombing that even he called "indiscriminate." https://t.co/51lCRmiqId

— Dylan Williams (@dylanotes) November 21, 2023
* * *
For the first time of the Gaza conflict, both Israeli and Hamas sources agree that a major deal for the mass release of hostages is "closer than it has ever been" and is in the "final stages" - according to a US official cited in Reuters Tuesday.
Hamas leader Ismail Haniyeh has agreed that they are "close to reaching a truce agreement" with Israel, and an official with PM Netanyahu's office said "An announcement of a deal may be imminent." CNBC is citing the Israeli prime minister's office as saying a deal has been reached.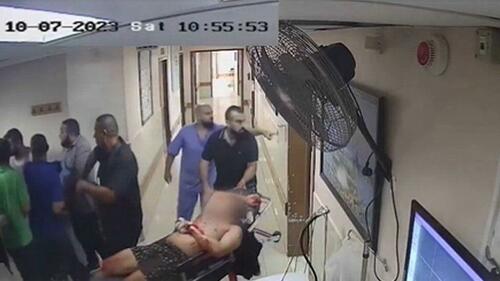 Sources in Reuters indicated the pending deal is to include a multi-day pause in fighting, with a prisoner exchange potentially seeing Hamas release some 50 Israeli civilian hostages. The Israelis, for their part, are expected to free female and minor-ages Palestinians in its custody.
Since Oct.7, Hamas has demanded the release of several thousand Palestinians who have long been in Israeli custody, some of them without having ever been charged.
Netanyahu on Tuesday issued his most optimistic statements yet regarding a deal: "We are making progress on the release of the hostages. I hope we will have good news soon," he told a group of military reservists.
He's reportedly holding a series of urgent Cabinet meetings to mull the details of the pending deal...
Israeli PM Netanyahu's office has announced they will be holding a series of special Cabinet meetings today following reports that a deal with Hamas was close.

"An announcement of a deal may be imminent," a diplomat with knowledge of the talks tells @keirsimmons. pic.twitter.com/VwH8m09aXv

— MSNBC (@MSNBC) November 21, 2023
Details reported by Axios based on diplomatic sources privy to the Qatar-mediated talks have been revealed:
In the first phase of the two-phase deal, Hamas is expected to release 50 Israeli women and children held in Gaza, while Israel is expected to release around 150 Palestinian prisoners, mostly women and minors. Some of the Israeli hostages are dual citizens.
The release of hostages and prisoners in the first phase of the deal would take place over four days of ceasefire in Gaza, one of the sources told Axios.
As part of the deal, Israel would allow around 300 aid trucks per day to enter Gaza from Egypt.
A potential second phase of the deal could see 50 more released, and the ceasefire would be extended for multiple more days, per Axios:
Israel would also release Palestinian prisoners at the same 3:1 ratio to the number of hostages freed.
While Tuesday has witnessed very optimistic international headlines and reporting, there have been several false starts concerning prior deals that proved premature, as the instance of a Washington Post story correction highlighted Monday.
Washington Post issues correction after wrongly reporting a U.S.-brokered deal to pause Israel-Hamas conflict https://t.co/Yvuoh3X8vL

— Fox News (@FoxNews) November 20, 2023
developing...
Loading...