---
German FM Admits Some Of Berlin's Weapons To Ukraine Are Outdated, "Not Really Functioning"
At a moment some key European allies, Poland chief among them, have shown signs they could scale back defense aid to Ukraine (Poland chief among them, which recently declared it's done), Germany's Foreign Minister has admitted that some "advanced" Germany systems supplied to Kiev are faulty. 
Annalena Baerbock admitted in a fresh interview with CNN that some Leopard 1 tanks sent to Ukraine are outdated and "not really functioning". She said this when pressed over why Berlin has thus far rejected approval for supplying Taurus long-range missiles. 
Sophisticated journalist Amanpour asks 560 Baerbock about faulty Leopard tanks.
560 Baerbock replies, some German systems were 'really old fashioned' and not 'functioning.' pic.twitter.com/8xnnBtnEUr

— Alex Christoforou (@AXChristoforou) September 26, 2023
"We have to be clear on every detail, how does it work, who can actually operate them (the missiles)," Baerbock told CNN's Christiane Amanpour. "Yes, it takes some time. I totally understand there is not enough time in Ukraine, but when we deliver it, it has to work."
Her logic was that given past German systems have not been effective and even proved faulty, there should be no rush to provide even more, especially if they are sophisticated missile systems.
In many cases Ukrainian operators have been rushed through hasty training programs, and problems become more acute when not enough time is spent. And it's not just operators that have to be caught up to speed, but the necessary assisting and support crews. 
She said in the interview that all this can be explained by Europe not having been confronted "with a brutal war lately."
It must be recalled that the German government was among the first to declare that it wouldn't "stand in the way" in Eastern European countries like Poland if they wanted to transfer German-produced tanks to the Russia-Ukraine war zone.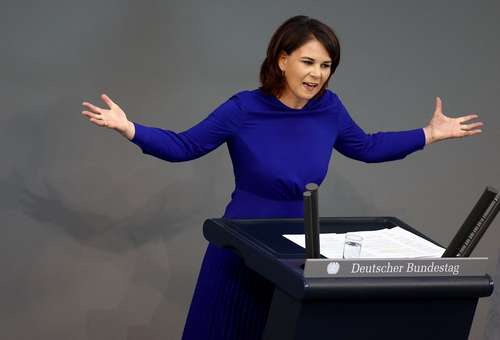 Since then, Russian media has aired multiple examples of Leopard tanks being destroyed and burning while declaring a 'victory' over West-supplied main battle tanks. 
Baerbock's surprise admission of sending faulty and old tanks to Kiev comes the same week that the Zelensky government announced the arrival of M1 Abrams tanks from the US. In this case too, training provided by US instructors out of Germany was likely hasty - given it takes sometimes years for crews to be combat ready. 
Recently, Baerbock was humiliated in a press conference while standing alongside a frustrated and irate Ukrainian foreign minister, who said this....
Kuleba wipes his feet on Annalena Baerbock. When asked if she gave him any hope that Germany will supply Ukraine with Taurus missiles:

"No, she didn't go beyond the official position of the German government... but you'll do it anyway, it's just a matter of time"

Embarrassing. pic.twitter.com/9oSChwxJ1e

— Olga Bazova (@OlgaBazova) September 11, 2023
Loading...