---
Americans Killed By Hamas Rises To 27, Over A Dozen Captive, As US Arranges Evacuation Flights
Update(1355ET): The White House has confirmed that it has hostage negotiation experts in Israel working with the government and advising on hostage recovery. This as the death toll of Americans killed in the Saturday Hamas attack has risen to 27.
The numbers of missing Americans now stands at 14, according to a briefing by National Security Council spokesman John Kirby. These are presumed to be in captivity in Gaza. "The U.S. does not know anything about the condition of the U.S. hostages held by Hamas," Kirby confirmed.
Additional developments from various news wires and breaking headlines:
Israel says it has dropped 6,000 bombs in six days of bombardment
Israeli minister says no electricity, fuel or humanitarian aid into Gaza until Hamas releases all captives taken in unprecedented attack.
UK to send navy ships, surveillance planes to support Israel
Hamas calls high civilian death toll from Saturday assault "collateral damage" - 'Things went out of control': Hamas addresses high Israeli civilian death toll
After Blinken, Pentagon chief to also visit Israel
Blinken in Tel Aviv: As long as US exists, Israel won't have to defend itself alone
Two Israeli police officers wounded, one seriously, in shooting near Old City in Jerusalem
Blinken says none of $6 billion in Iranian funds in Qatar have been spent or accessed
Netanyahu: Unity government sends a 'huge message'; Israel will wipe out 'barbaric' Hamas
US to arrange charter flights for citizens to depart Israel
Marine unit leaves Kuwait exercise early because of 'emerging events'
'No conditions' on use of US military support to Israel: Defence Sec. Austin
Families of UK citizens held hostage in Gaza beg for help: Captors 'have no mercy'
Kirby: we support X taking down some misinformation on conflict
Kirby: grateful that X removed misinformation on Israel attack
Russia: Israeli airstrikes on Syria are a gross violation of sovereignty of Syria and basic norms of international law
The IDF build-up ahead of an expected ground assault into Gaza continues...
Sderot is probably about to become a military staging ground. https://t.co/Nm878jgK4S

— Aurora Intel (@AuroraIntel) October 12, 2023
Testy media exchanges grow...
On Sky news ex Israeli PM Naftali Bennett was asked-

"What about the babies in incubators in Gaza who's life support has been turned off because the Israelis have cut off the power"

His answer - Are you serious asking about Palestinian civilians? What's wrong with you? pic.twitter.com/mxKfuBnQo1

— Chay Bowes (@BowesChay) October 12, 2023
More calls for US action against Iran...
Another call to bomb Iran https://t.co/I4x5tGKTWw

— The_Real_Fly (@The_Real_Fly) October 12, 2023
Pushback against prevailing Western media coverage from Al Jazeera...
Israel's govt does not want int'l sympathy; it wants to manufacture a "red line" incident with bogus claims of beheaded babies

It ultimately wants to trigger US military support for a war on Iran through constant escalation

I outlined Israel's real goals on @AJEnglish pic.twitter.com/jizOmrbIbi

— Max Blumenthal (@MaxBlumenthal) October 12, 2023
New IDF footage of elite team...
IDF publishes footage showing troops of the Navy's elite Shayetet 13 commando unit retaking the Sufa military post on the Gaza border from Palestinian terrorists on Saturday. pic.twitter.com/hthv0sWPXY

— Emanuel (Mannie) Fabian (@manniefabian) October 12, 2023
Hamas may have released a family from captivity. The following aired on Al Jazeera yesterday...
Footage released roughly an hour ago by Hamas which is claimed to show an Israeli Woman and her 2 Children being Released today from Captivity in Gaza, according to Sources is actually from this Past Saturday with this Family only being Temporarily Captured and Released but never… pic.twitter.com/0oIWtnDfks

— OSINTdefender (@sentdefender) October 11, 2023
Growing outrage over mounting Gaza civilian deaths...
"Moral clarity." https://t.co/D3TvmgwQF1

— Tim Shorrock (@TimothyS) October 12, 2023
* * *
Update(0948ET): Iranian state sources say foreign minister Hossein Amirabdollahian's plane has landed in Baghdad. It's unclear whether he will continue on his trip to visit Syria, which some reports say is scheduled for tomorrow.
State media said his trip is "in light of the current Palestinian events, the crimes committed against Gaza and their dangerous ramifications." At this moment, it appears the only functioning major airport in Syria is in Lattakia, or there would also be the possibility of the Iranians utilizing the Russian airbase. Syria also has military airports.
The plane carrying #Iran's foreign minister belonging to the Islamic Republic of Iran's Meraj Airlines (IRAN05), landed at Baghdad airport a few minutes ago. pic.twitter.com/lqvhE9qbI9

— IRNA News Agency (@IrnaEnglish) October 12, 2023
The Iranian aircraft that turned around just as Israel attacked the Syrian airports does not appear to have been the government plane carrying the Iranian FM.
Iran's FM is not on the plane that turned around, oddly enough he's on the government plane that's about to land in Iraq. pic.twitter.com/5DnAznUv5R

— Aurora Intel (@AuroraIntel) October 12, 2023
* * *
Two days ago rockets were fired from Syria into the Israeli-occupied Golan Heights, which regional media sources said was in "solidarity" with the Palestinian cause as war rages in Gaza. Likely it was a Syrian Army strike, but there remains the possibility of associated militias having conducted it, such as 'Iran-linked' groups.
IDF Spokesperson Jonathan Conricus said at the time, "Attacks, rockets were fired from Syria into Israel. We do not yet know if these rockets were fired by the Syrian National Army (SNA), by any of the many Iranian militias that exist and are welcomed by the Syrian regime or Hezbollah or any other faction. What we do know is that we retaliated towards the sources of fire and currently the situation there is quiet and let's hope that it remains that way."
But it seems Israel is indeed holding the Syrian government under Bashar al-Assad responsible, as on Thursday the IDF has struck back against Syrian targets. Syrian state television is now confirming that Israel has launched attacks on the country's two main international airports, in the capital of Damascus and Aleppo in the north. It happened while an Iranian plane was inbound.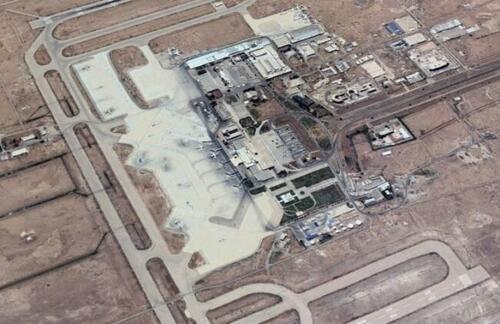 According to Reuters, "Local media channel Sham FM said Syrian air defenses were launched in response to both attacks. It said here had been damage but no casualties at the Aleppo airport, but did not give any information on the impact of the strike on Damascus Airport."
State media has confirmed that the Israeli strikes hit runways and have left both airports out of commission. It's not the first time Israel has attacked these airports, but them being both hit in a simultaneous operation appears a first. The Israeli army spokesman has also announced, "We bombed Damascus and Aleppo airports in response to the firing of mortar shells from Syria."
There are reports that an Iranian plane has turned around due the the strikes on both airports, with Israeli newspaper Haartz writing,
"An Iranian plane turned around towards Tehran following airstrikes at the international airports in Damascus and Aleppo."
Some aviation monitoring sources have speculated this may have been the plane of the Iranian foreign minister; however, there have been somewhat routine Tehran to Syria flights. Israel's fresh attacks have sent a message to Tehran along with being retaliation for the earlier Syrian attack on the Golan Heights.
Mahan Air 146 (usual a Tehran - Aleppo flight), returns to Tehran following reported attack on Aleppo and Damascus
EP-MMC pic.twitter.com/sZIKeRwbgm

— avi scharf (@avischarf) October 12, 2023
"The attacks came a day before Iran's foreign minister, Hossein Amirabdollahian, was due to visit Syria," Reuters notes. "On Thursday, technical teams were out to determine the extent of damage at both sites, Syria's transport ministry said."
Both Washington and Israel have issued strong warnings to Iran, Syria, and Lebanese Hezbollah to not enter the Hamas-Israel conflict.
Iran's Foreign Minister had announced trips to Iraq and Syria from Tehran. Israel bombed the Damascus and Aleppo airports (Syrian) and the Iranian plane turned around. pic.twitter.com/TLxob14w8Y

— Gabriel Noronha (@GLNoronha) October 12, 2023
There have been emerging reports in Western media saying that the Iranians may have actually been taken by surprise with Saturday's major Hamas incursion into southern Israel. The intelligence consensus out of US officials speaking to the media has been that while Iran has financed Hamas for years, it likely didn't have direct involvement in the operation.
Loading...