---
Israel Conducts First Drone Assassination In West Bank Since 2nd Intifada
On Wednesday, Israel carried out the first targeted assassination in the occupied West Bank since the Second Intifada ended 18 years ago, killing three Palestinian fighters north of Jenin via drone strike.
The attack targets were Al-Quds Brigades Commander of the Jenin Battalion Suhaib Adnan al-Ghoul, Al-Aqsa Martyrs' Brigades leader Muhammad Bashar Owais, and Ashraf Murad al-Saadi of the Jenin Battalion.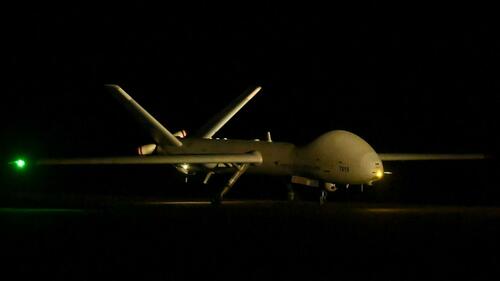 Al-Quds Brigades is the military wing of the Gaza-based Palestinian Islamic Jihad (PIJ), while the Al-Aqsa Martyrs Brigades is loosely affiliated with the West Bank-ruling Fatah political party.
The Israeli army and the Shin Bet intelligence agency said in a statement that the three resistance fighters were responsible for a shooting operation at the Jalameh Checkpoint, north of Jenin, earlier in the night.
"We identified a vehicle shooting at the checkpoint and removed the threat," army spokesman Rear Admiral Daniel Hagari told reporters on Wednesday night, stressing that the assassination was "not a targeted killing."
Israeli Defense Minister Yoav Gallant personally authorized the strike, as it represents a marked escalation in the violence gripping the occupied West Bank.
"We will use all the means at our disposal, and we will exact the heaviest price from every terrorist or terrorist emissary," Gallant told reporters.
This is the second aerial strike in the occupied West Bank in less than a week. Following the attack, the spokesman for the Palestinian group Hamas, Hazem Qassem, warned that it "would not go unpunished."
Video: The Israeli military assassinated on Wednesday night three Palestinians in their car near the occupied West Bank city of Jenin using the Elbit Hermes 450 drone, the first by the Israeli military in the West Bank since 2006. pic.twitter.com/8UEsaR70Rg

— Quds News Network (@QudsNen) June 22, 2023
"The Zionist enemy's use of aircraft to assassinate our people is a dangerous escalation that confirms their efforts to ignite the situation after failing to resolve the battle through direct confrontation on the battlefield," Qassen said. "The assassination in Jenin will receive a response and will not go unpunished from our people and the resistance," he added.
Tel Aviv launched the rare drone strike mere hours after gangs of masked settlers descended on the Ramallah village of Turmus Aya under the protection of the Israeli army, torching homes, stores, and vehicles and assaulting Palestinians along the way. At least one Palestinian was killed during the Israeli pogrom. While the military "condemned" the violence, no arrests were made.
Wednesday's rampage came less than a day after settlers stormed several areas of Nablus and set fire to around 140 vehicles, as well as huge swathes of Palestinian farmland.
Loading...