---
Israel Delays All-Out Assault On Gaza Amid Growing International Pressure, As Civilians Flee To South
Update(1710ET): International pressure, including from the United States, for Israel to allow more time for Palestinian civilian evacuations of the northern half of Gaza Strip has grown. There appears to be some level of delay at this moment on the part of Israel's military. Currently, there's widespread expectation that Al Awda Hospital is about to be bombed, but Israel has extended an earlier 2-hour evacuation warning and deadline, it appears: 
The humanitarion organization had previously said they were given only two hours two evacuate. They now say the order has been extended to 6am local (03 GMT). "The evacuation of patients remains complicated," the organisation said on X
ALSO: I'm told the first charter flight has already departed the region – approximately 100 people evacuated.

US officials believe interest in leaving may increase in the coming days - right now, there is initial planning for a cruise ship option

— Jacqui Heinrich (@JacquiHeinrich) October 13, 2023
Hamas as well as Palestinian media have alleged that Israeli forces have killed some 70 men, women, and children as they were trying to flee to safety. There has been no response from the Israeli government regarding these specific allegations.
An Israeli i24 News anchor has also posted the following allegation:
GAZA: 70 people have been killed in Israeli air strikes on convoys fleeing Gaza City.

An additional 200 have been injured. pic.twitter.com/i2zd44GkQ0

— Hamdah Salhut (@hamdahsalhut) October 13, 2023
i24 has also highlighted the following new to emerge video from the Saturday music festival massacre by Hamas:
GRAPHIC VIDEO: Hamas terrorists methodically shoot at every portable toilet at the Israeli desert rave to make sure no partygoers survive pic.twitter.com/SVWFgN6dOy

— i24NEWS English (@i24NEWS_EN) October 13, 2023
* * *
Update(1425ET): Fears of an imminent all-out ground and aerial assault are growing, after one of northern Gaza's main hospitals has sent out an SOS message. Hospital officials say they've been given two hours to evacuate. The WHO has decried this as life-threatening for patients there:
🔴BREAKING:

Israel has given Al Awda Hospital just two hours to evacuate. Our staff are still treating patients.

We unequivocally condemn this action, the continued indiscriminate bloodshed and attacks on health care in Gaza.

We are trying to protect our staff and patients.

— MSF International (@MSF) October 13, 2023
A Gaza activist organization describes of the hospital: 
Al Awda Hospital, established in 1997, is the first-line hospital in the Gaza Strip and provides health services to all inhabitants in the northern part of the region. Al Awda is the main provider of maternity services in the northern part of the Gaza Strip and is the only provider of Fluoroscopy services. It is also authorized as an educational hospital from some universities in the Gaza Strip to train nursing students.
But where will they go?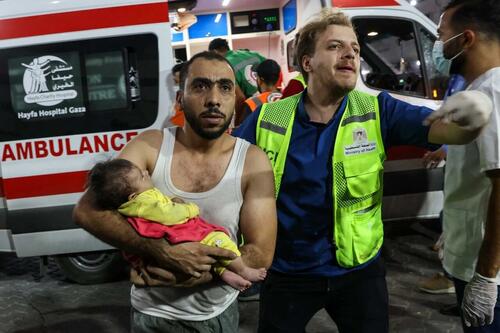 Over 40 US lawmakers in the House have sent an urgent letter to President Biden:
More than 40 U.S. lawmakers urged the Biden administration to push Israel to follow international law amid Israel's looming military campaign in Gaza and to establish a humanitarian corridor.

"We are deeply concerned about the order to evacuate over a million civilians out of northern Gaza and the devastating humanitarian consequences that would ensue," wrote the House members.

"As both the European Union High Representative for Foreign Affairs and the United Nations Commission on Human Rights said, imposing a complete siege on Gaza and depriving 2.3 million Palestinian civilians who have nowhere else to go — half of whom are children — of food, water, and electricity, would be a violation of international humanitarian law," they added.
* * * 
Update(1240ET): As a number of countries, especially regionally (as well as UN representatives), continue calling on Israel's military to halt its impending ground offensive of Gaza given the likelihood for immense civilian casualties, the IDF has announced "localized raids" have begun.
This has included limited incursions into Gaza by infantry and tank units, to both prepare for a broader offensive and in efforts to locate hostages. The IDF said intelligence could be gained by these raids "that may help in the effort to locate the missing."
"The IDF says the troops also killed a number of terrorists in the area, including a Hamas cell that launched anti-tank guided missiles at Israel," Times of Israel reports. "The troops did not enter deep into Gaza."
The IDF further said the infantry has already "thwarted anti-tank guided missile squads that intended to infiltrate into Israeli territory." A statement added: "The forces located findings that may help in the effort to locate the missing."
"We will continue to make every effort to find every detail about the missing and hostages," a spokesman said of the anywhere between 100 to up to 200 people taken hostage in the weekend Hamas raids into southern Israel.
To the north, fighting along the border with Lebanon continues to intensify. Israel has shelled locations in southern Lebanon, reportedly resulting in casualties among journalists, including a Reuters team. This has been confirmed by Reuters in a new statement:
We are deeply saddened to learn that our videographer, Issam Abdallah, has been killed. Issam was part of a Reuters crew in southern Lebanon who was providing a live signal. Our thoughts are with their families at this terrible time.
Media coverage: " New footage showing the aftermaths of an Israeli strike, which targeted a group of journalists in south Lebanon, killing 1 journalist and wounding 2 others." pic.twitter.com/ltL1ohD85L

— Quds News Network (@QudsNen) October 13, 2023
Footage from today's IDF aerial campaign over Gaza:
Footage from an IDF drone captures the launch of rockets from Gaza into Israel and the subsequent airstrike. pic.twitter.com/RCQFwmHwja

— Aurora Intel (@AuroraIntel) October 13, 2023
The IDF has further confirmed growing military action at the Lebanese border: "An IDF UAV is currently striking terrorist targets belonging to Hezbollah in Lebanon," a spokesman said.
The Pentagon has meanwhile confirmed departure of the first evacuation flights of US citizens out of Israel:
FIRST US CHARTER FLIGHT HAS DEPARTED FROM ISRAEL: KIRBY
And a new White House statement:
WHITE HOUSE SPOKESMAN KIRBY THERE IS NO SPECIFIC INTELLIGENCE INDICATING THREAT TO U.S. STEMMING FROM HAMAS ATTACK
* * *
Starting about six to eight hours ago, Israel's military began announcing that all Palestinian civilians in Gaza have 24 hours to evacuate from the north of the strip to the south. Leaflets are also being mass airdropped over the area. The northern part of Gaza constitutes over one million people, out of a total Gaza population of 2.3 million, all in the densely packed and blockaded strip of land.
"The IDF calls for the evacuation of all civilians of Gaza City from their homes southwards for their own safety and protection and move to the area south of the Wadi Gaza, as shown on the map," the Israel Defense Forces alert said. Israel has mobilized some 300,000 reservists and has been engaged in a large-military build-up in the south of the country, readying a presumed major ground assault. 
⚡️Occupation planes dropped thousands of leaflets on Gaza City moments ago pic.twitter.com/KKMjrIMMIg

— War Monitor (@WarMonitors) October 13, 2023
"Hamas terrorists are hiding in Gaza City inside tunnels underneath houses and inside buildings populated with innocent Gazan civilians," the warning said additionally. "Civilians of Gaza City, evacuate south for your own safety and the safety of your families and distance yourself from Hamas terrorists who are using you as human shields."
"You must evacuate your homes immediately and go to the south of Wadi Gaza," leaflets in Arabic being dropped over Gaza City read. Wadi Gaza is about 8 miles southeast of the city center.
The IDF is now claiming that Hamas is preventing civilians from evacuating. Hamas did issue a call for Palestinians to say in their homes and not heed the Israeli 'propaganda' campaign and "psychological war" being waged.
Hamas urges residence to "remain steadfast in your homes and to stand firm in the face of this disgusting psychological war waged by the occupation," AP reports. Gazans say they have nowhere to go, also after the lone Raffah border crossing with Egypt has at this point been bombed multiple times.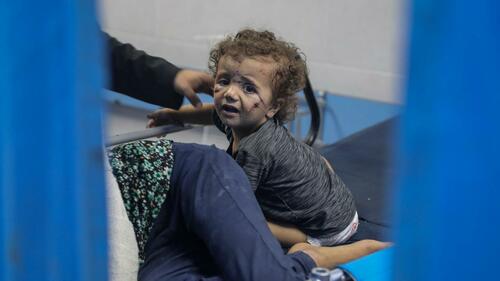 So far, the United Nations says that at least 400,000 Gazans have already been displaced. At over 1,500 Palestinians killed and over 6,600 wounded, it's already a humanitarian disaster in the making, also with possibly between 100 and 150 Israeli and foreign hostages still being held by Hamas somewhere in the strip or in underground tunnels. 
The UN has been urging Israel to rescind its evacuation order for Gazans, urging restraint: 
A U.N. spokesman in New York estimated that there are 1.1 million people in northern Gaza—about half of the strip's total population—and urged Israel to rescind its announcement to avoid "a calamitous situation."
Critics of Israel's policy say this could be the start of a deliberate mass displacement of Palestinians and an ethnic cleansing campaign. The IDF has shot back that Hamas is using Gazans as human shields:
The IDF is calling for the evacuation of all civilians of Gaza City from their homes southward for their own safety and protection.

Hamas is telling Gaza residents to ignore our safety instructions. pic.twitter.com/hKUkSJ5p0g

— Israel Defense Forces (@IDF) October 13, 2023
But the US and others are standing by Israel as this all unfolds. "This is no time for neutrality, or false equivalence, or for excuses for the inexcusable. There is never any justification for terrorism, and that is especially true after this rampage by Hamas," US Secretary of Defense Lloyd Austin said in fresh statements while meeting with Israeli leaders in Tel Aviv. "Hamas does not speak for the Palestinian people."
"The world has just witnessed a great evil," he added of the terror attacks of Saturday into Sunday, which left some 1,300 Israelis and foreigners dead (also from the rocket attacks).
Mass exodus of Palestinians from Gaza city to the south after Israeli warning pic.twitter.com/EnTLZ7s0k2

— Ragıp Soylu (@ragipsoylu) October 13, 2023
"Make no mistake. The US will make sure that Israel has what it needs to defend itself," Austin said, further agreeing with Netanyahu that "Hamas is ISIS" - as the Israeli talking point has been asserting.
Air raid sirens have been blaring in northern Israel as of Friday afternoon, also as southern towns have continued to face rockets fired from Gaza. Also heavy clashes between Palestinian demonstrators and Israeli police have been reported in West Bank towns.
Loading...